Local
Kim Janey highlights achievements in emotional farewell speech as Boston's acting mayor
"We achieved historic milestones together."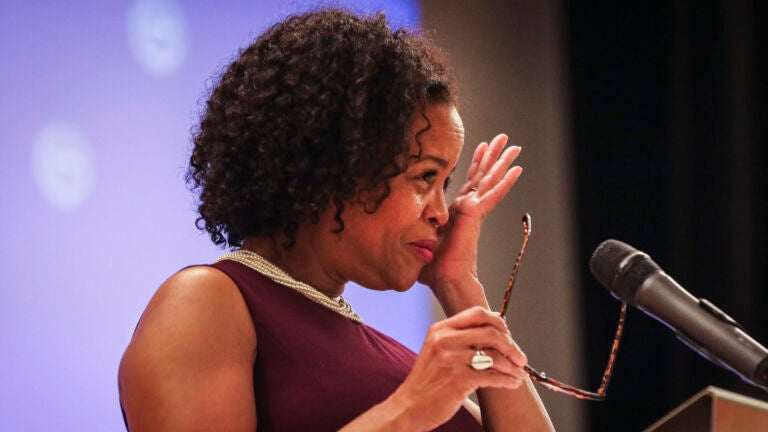 Acting Mayor Kim Janey's barrier-breaking tenure leading the city of Boston may have been less than eight months, but it wasn't short on long-lasting accomplishments.
With less than a week until Mayor-elect Michelle Wu takes control of City Hall's fifth-floor corner office, Janey delivered a farewell address Wednesday evening at Hibernian Hall in her home neighborhood of Roxbury, celebrating her time as the first woman and the first Black person to serve as Boston's mayor — and highlighting a number of the actions she took during the relatively short period.
Janey recalled how she hung two prints in her office after becoming acting mayor in March: a framed cover of Boston magazine's iconic April 2013 cover following the Boston Marathon bombing and a photo featuring Vice President Kamala Harris and civil rights activist Ruby Bridges, both of whom were — like Janey — on the "frontlines" of school desegregation battles in the 1970s.
According to Janey, the two prints were symbolic of her goals as acting mayor: provide stability during a time of unprecedented crises exacerbated by the COVID-19 pandemic and lead Boston — a city with such inequality that it has been reduced to a soundbite — to become "more equitable, just, and resilient."
"When I was sworn in, following former Mayor Walsh's confirmation as US Labor Secretary, we were in the midst of a global pandemic and a national reckoning on racial injustice," Janey said during an at-times emotional speech. "It was a time of uncertainty in our country, but Boston stayed strong."
While the powers of an acting mayor are somewhat limited, the second-term District 7 councilor was never simply going to serve in a caretaker role, given the context. And indeed, she launched a bid for a full term, falling short in the five-way preliminary mayoral election; theories abound as to why she lost.
Still, as Janey noted Wednesday, she launched a number of initiatives and changes that will long outlast her time in City Hall.
Early on, Janey launched an "All Inclusive Boston" tourism campaign to highlight attractions and offerings across the city, including in neighborhoods of color — and not just the well-trafficked sites near the Freedom Trail.
In an effort to close the racial wealth gap, her administration quadrupled the money available through the city's Homebuyer Program to provide up to $40,000 in down-payment assistance to lower-income, first-time homebuyers in Boston.
Janey launched a fare-free pilot program on the MBTA's 28 bus line, which Wu plans to extend and expand. She signed an executive order to effectively replace Columbus Day with Indigenous Peoples Day in Boston going forward. She moved to permanently abolish late fees at the Boston Public Library. She launched a green jobs training program for young adults. And she signed into law new energy standards for large buildings that her office called the "single most impactful initiative to curb Boston's carbon emissions."
Janey also imposed a COVID-19 vaccine requirement for city workers and credited her administration's "tireless efforts" to make shots available in hard-hit neighborhoods for Boston's status as "one of the most vaccinated big cities in America." And she enacted a citywide eviction ban and foreclosure relief fund, after a federal moratorium was struck down.
Of course, it wasn't all smooth sailing, and Janey acknowledged there was much work left to be done.
After she fired Boston's newly appointed police commissioner over decades-old domestic assault allegations, the department is still in need of a permanent leader. Despite a spate of violence in recent days, Janey said crime in Boston is at its lowest in five years.
"While we celebrate this downward trend, we also understand that any homicide is one too many," Janey said. "We must continue to address trauma, which is often the root cause of violence."
Wu will also take office in the midst of the city's controversial effort to clear the growing homeless encampments around the intersection of Massachusetts Avenue and Melnea Case Boulevard. Despite criticism and a pending lawsuit, Janey said Wednesday that the city had connected close to 70 people to housing, shelter, and residential treatment, and that there had been zero arrests.
"Addressing the challenges of our city takes courage and commitment because these issues can only be solved when we all work together to create systemic change," Janey said. "From managing a public health crisis to confronting institutional racism, we achieved historic milestones together."
Janey teared up at one moment during the speech, while thanking her staff and Boston's thousands of city workers, pausing so that WCVB host Karen Holmes Ward could hand her a tissue.
"Working with you over the last eight months has been an honor and I am proud to have served with you," Janey said.
Janey, who did not seek re-election to the City Council due to her mayoral bid, will return to the chamber to preside as Council president for the final month of her term. And she expressed confidence that Wu will continue her work to "lift up those who have been left out of power."
"While I am proud to be Boston's first woman Mayor and first Mayor of color, I am also very proud to know that I will not be the last," Janey said.
Janey concluded her speech Wednesday with a tribute to the people of Boston.
"What I love most about Boston is her people: from the small business owners to the seniors; from our veterans to our teachers; from our restaurant workers to our public servants; to ordinary people who do extraordinary things every single day that often go unrecognized," she said. "Our city is better because of you."
Newsletter Signup
Stay up to date on all the latest news from Boston.com