Local
How supply, labor shortages will affect Thanksgiving
Staples might be hard to get, and it will cost more to put them on your table.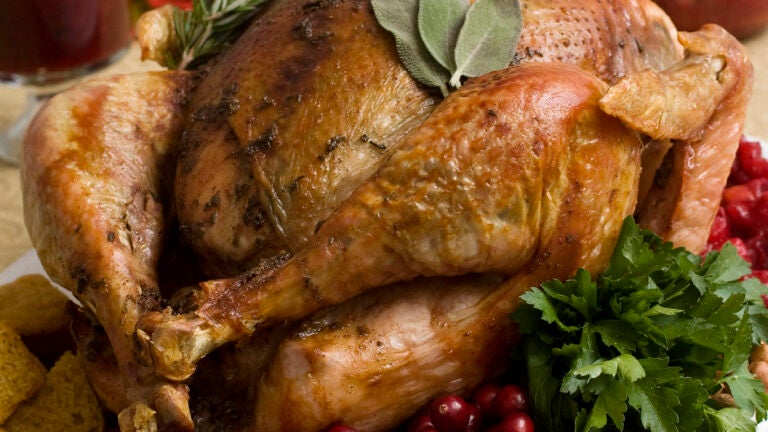 As Thanksgiving approaches amid supply and labor shortages, it's going to cost more to put the holiday feast on the table, and everyone from food pantries to upscale restaurants is preparing to meet the challenge.
Cheryl Schondek, senior vice president of operations and food supply for the Greater Boston Food Bank, said the agency is experiencing delivery delays from suppliers like so many others. Still, it hasn't seen any long-term food shortages.
In the days before Thanksgiving, the nonprofit distributes hundreds of thousands of complete holiday meals.
"We are, unfortunately, paying higher prices for holiday meal staples than last year," Schondek said.
Turkey prices are up 10 percent from last year, squash has increased 17 percent, and the price for sweet potatoes has risen by 28 percent, she added.
The food bank is also facing the challenge of delivery delays. The traditional 1-7 day lead time is no longer, Schondek added. "We are getting products, but the non-perishable items are taking up to 2-3 weeks longer to arrive at our facility."
The supply shortages and cost increases have caused the food bank to get creative, Schondek said, and make adjustments like they have been doing since the pandemic started.
"We've had to pivot," she said. "I have to find a way to keep that pipeline full."
The agency has expanded its supplier base to ensure that it can provide for its clients and find an alternative when they encounter shortages. For example, Schondek may not know what type of citrus is coming, but she knows some type of fruit will be delivered, she said.
"If I can't find enough butternut squash, I switch to acorn," Schondek added.
The food bank began thinking about the Thanksgiving meals last spring, she said, and began to make bookings with suppliers and wholesalers months earlier than they have in the past.
Restaurants across the region also began planning for the holidays earlier this year, as Thanksgiving has become a popular day to visit a restaurant.
Steve DiFillippo, the chef/owner of Davio's Northern Italian Steakhouse, said the restaurant group will once again offer a traditional Thanksgiving menu at their 10 locations. Customers can choose to dine-in or order the meal to-go. For an additional price, guests can add to their order a turkey sandwich for the next day, complete with stuffing, cranberry sauce, and gravy.
"That's my favorite thing," DiFillippo said. "When you go out to eat, you miss the sandwich the next day."
While skeptics questioned the decision for the steakhouse to serve Thanksgiving dinner, DiFillippo said the day has become one of their busiest.
The restaurant group uses all-natural turkeys from Vermont, which are tender and juicy, he said. They placed their order in September.
"We order thousands," DiFillippo said. "I can't go to Vermont; I took all the turkeys."
The larger of their restaurants can serve over 1,000 guests, and the smaller location in Lynnfield can serve about 700, he added.
"In the last 10 [years], it just went off the charts," he said.
While the orders for supplies went in early, DiFillippo said they are paying about 25 percent more in costs than last year.
"It's not just the turkey, it's everything else," he said.
Bambara Kitchen and Bar executive chef Adam Resnick said the Cambridge eatery is seeing price increases across the board as they prepare their classic Thanksgiving dinner menu. To offset the increase, the restaurant did have to raise their prices a bit, Resnick said, while staying at a reasonable level.
The restaurant will still donate a portion of its proceeds from the day to the No Kid Hungry charity.
This year, customers can either dine-in or take a meal kit home to enjoy. Last year, Bambara only offered take-home kits.
"We're excited to bring people back for Thanksgiving this year," he said.
Jim Rischer, owner of Raymond's Turkey Farm in Methuen, said business is strong, and he expects to sell most of the birds they have. The all-natural gourmet turkeys are selling for $4.29 per pound, up from $4.09 per pound last year.
"Our prices have increased 20 cents. It probably should've been 50," Rischer said.
His costs have gone up in multiple areas, including packaging and feed, he said. The farm is also trying to fill some staff positions.
But the demand for their products is strong.
"We sell homemade turkey pot pies, and we sell out every day by 10 a.m.," he added. "We can't keep up."
Last Thanksgiving, when people stayed home and didn't gather with family, turkey pot pies were a popular choice since large birds weren't needed. Customers found out they are an easy alternative to an entire bird.
While Raymond's is still taking some orders, Bob's Turkey Farm in Lancaster was already sold out of holiday turkeys last week.
"The demand was very high," said Jenn Brezniak. Orders began pouring in at the end of September. "We're almost out of frozen ones too, which is unheard of."
Brezniak said the small farm has encountered the same challenges plaguing all turkey farmers in the area — mainly a huge struggle to find help.
They have also had problems getting certain ingredients for their homemade stuffing and even lids for their turkey pie containers.
"It's been very random things," she said.
Newsletter Signup
Stay up to date on all the latest news from Boston.com