Local News
Meet the canine 'mayor of Somerville' whose cancer diagnosis has generated support the world over
Sparkle, 11, has made many friends, especially since a photo of her went viral on Twitter.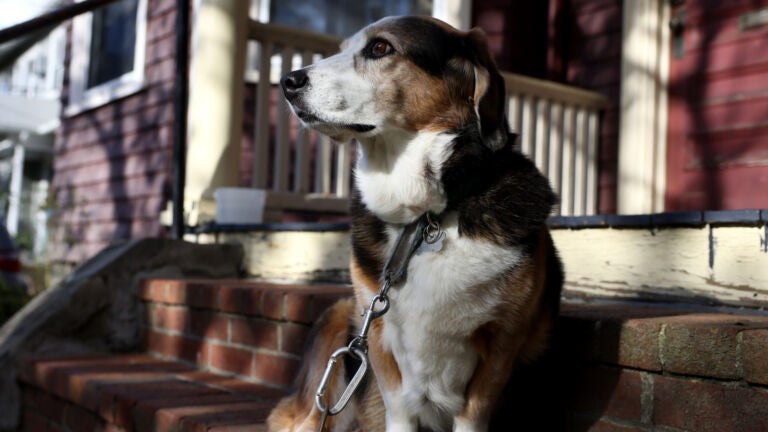 A popular Somerville pooch, known for sitting outside and accepting pats from those who walk by, sadly has been diagnosed with cancer.
Eleven-year-old Sparkle, a Corgi mix, has incurable jaw cancer, but that doesn't mean she's given up her greeting duties, according to The Boston Globe.
In fact, the beloved canine has recently become somewhat of a celebrity, capturing hearts throughout the country. Sparkle's mom, Melora Rush, told the Globe she has been shocked by all of the attention her fur baby has received.
A tweet with a photo showing Sparkle in her yard next to her signs went viral last Tuesday. As of this Tuesday, it had over 227,000 likes and about 22,500 retweets.
And Sparkle has appeared on CNBC, as well as local news sources.
A sign stands in Sparkle's front yard, along with hand sanitizer for visitors to use before and after they pet her. There's also a new one telling fans not to touch the side of her snout due to her jaw cancer diagnosis.
Rush has been keeping fans updated via a Twitter account, @MayorSparkle. She also has her own Instagram, @sparklemayorofsomerville.
People began showing up and standing in line to pet Sparkle over the weekend, Rush told the Globe. Some of her more frequent visitors said they went to see her, but then saw the line.
"Just to meet her and see her, people are just really, really touched by her," Rush said.
Newsletter Signup
Stay up to date on all the latest news from Boston.com