Local
A Colombian couple asked if anyone in Boston would share Thanksgiving with them. Neighbors across the city responded. 
"My husband and I want to understand or learn from American culture."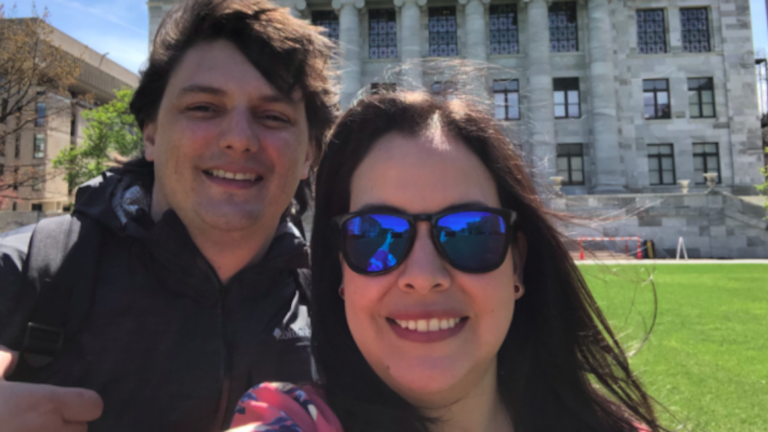 Every year, as Thanksgiving rolls around, international students studying in the United States are left wondering what their plans will be as their fellow classmates return home to celebrate the quintessential American holiday. Usually, these students are faced with the options of either treating the fourth Thursday in November like any other holiday, celebrating amongst themselves, or getting an invitation to an American household for the big meal.
For Harvard Medical School student Susana Orrego Villegas, Thanksgiving seemed like the perfect opportunity to embrace the culture of the new country she lives in.
Orrego Villegas arrived in Boston with her husband in August from her home country, Colombia, to study medical sciences in Global Health Delivery. They are living in Brookline while she completes her two years of study for the masters program at Harvard.
Upon hearing her classmates talk about their plans for the November holiday, Orrego Villegas felt she needed to experience her first American Thanksgiving dinner.
In Colombia, she said, there are no traditions similar to Thanksgiving.
"I think it's part of understanding the culture," Orrego Villegas told Boston.com. "For me, it's important to understand what happened with the population, what they celebrate … My husband and I want to understand or learn from American culture."
But without family in the country, Orrego Villegas looked to her local neighborhood for some help by posting on Nextdoor, an app for local tips and buy-and-sell transactions. On Oct. 26, she posted a photo of herself and her husband, asking if anyone would share Thanksgiving dinner with them. She offered to share Colombian dishes and specialities for the meal.
Orrego Villegas said she mostly expected people to respond with recommendations for restaurants serving a Thanksgiving-style dinner.
What came next was unimaginable for her.
Within a few days, more than 100 comments were left under her post. Multiple people invited the couple to have Thanksgiving dinner at their homes. And still more strangers, who could not host the couple for Thanksgiving, offered instead to meet and share a meal with them on another day.
"We would be happy to invite you to share Thanksgiving with us," wrote one commenter.
"You sound like you have enough dinner invitations for Thanksgiving," another person wrote. "I love to cook and would love to have you over any time for cooking and dinner if you run out of options."
Orrego Villegas and her husband ultimately chose to accept an invitation to eat Thanksgiving dinner with a family in Jamaica Plain. But the couple has already met up with two other families they connected with through the Nextdoor post.
"In Boston, sometimes you say hello to people, and people don't reply, so I thought people are probably not too friendly," Orrego Villegas said. "But after [posting this], my mind changed completely."
Newsletter Signup
Stay up to date on all the latest news from Boston.com