Local
Mayor Michelle Wu moves to eliminate fares on three Boston bus routes for at least two years
Wu's office aims to begin the fare-free pilot by the beginning of the new year.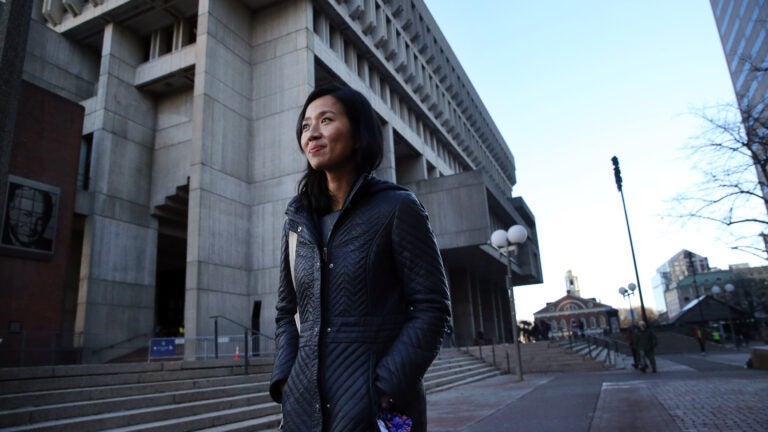 A day after being sworn in, Boston Mayor Michelle Wu is taking a first step on one of her trademark campaign pledges: fare-free transit.
Wu's office filed an appropriations order Wednesday afternoon to use $8 million in federal COVID-19 relief funds to make three MBTA bus routes running through Mattapan, Dorchester, and Roxbury free to riders for at least two years.
The move would expand the city's current fare-free pilot on the 28 bus — which was launched in August under former acting mayor Kim Janey and extended through the end of the year — to two additional nearby routes: the 23 bus and the 29 bus.
Wu's order needs approval from her former colleagues on the Boston City Council, which will hold a hearing on the subject and could vote to authorize the two-year pilot as soon as the first week of December.
Sarah Anders, a spokeswoman for Wu's office, told Boston.com that the city is aiming to sign a Memorandum of Understanding with the MBTA to begin the fare-free pilot by the beginning of the new year.
The $8 million in funding would come from the $558 million that the City of Boston received from the American Rescue Plan Act.
According to Anders, the city still has more than $360 million to allocate from the bill, and federal guidelines say the money is eligible for a wide range of uses, including the expansion of fare-free transit to help communities that were hardest hit by the pandemic.
Wu's office noted that the 23, 28, and 29 buses serve a diverse ridership, and all three routes travel along large stretches of Blue Hill Avenue, which was identified by Livable Streets Alliance as one of the corridors most in need of improvements to increase reliability and boost ridership.
Specifically, the 23 bus runs between Ashmont, Dorchester Center, Grove Hall, and Ruggles; the 28 bus runs from Mattapan Square up Blue Hill Avenue to Nubian Square and Ruggles; and the 29 bus runs from Mattapan Square up Blue Hill Avenue to Jackson Square.
Wu's office said the two-year pilot will allow officials to further measure the benefits of fare-free bus service, such as increased ridership, faster buses, less traffic, and potential business development along the route. Since fares were eliminated on the 28 bus route in late August, city officials have reported a noticeable boost in ridership, making the line the most popular in the system. While overall bus and subway ridership is at 53 percent of pre-pandemic weekday ridership, the free 28 bus has seen ridership jump back to 92 percent of normal levels.
Wu's office said the two-year length of the experiment would also increase public awareness and give riders the opportunity to integrate the fare-free buses into their daily routines. Her team also said it sets a foundation from which Wu could build regional and state-level support for her broader calls for fare-free transit, beginning with buses.
"I am excited to take this key step towards a brighter transit future," Wu said in a statement.
During the City Council meeting Wednesday, several city councilors — including Michael Flaherty, Kenzie Bok, and Lydia Edwards — spoke out in support for suspending the rules and approving Wu's order immediately without a hearing.
"Quite frankly, with the holiday break coming up, we'd really love to get this in motion, no pun intended," Flaherty said.
Bok added that it was an opportunity for city government to be "responsive" and "move more swiftly than we usually do," particularly given the "mandate" Wu received from her landslide election victory earlier this month.
However, the motion was blocked by City Councilor Andrea Campbell, who called for a hearing on the order under the normal process. While she expressed general support for Wu's proposal and even proposed eliminating fares on all local MBTA buses during her own 2021 mayoral campaign, Campbell said "residents should have an opportunity to weigh in."
"I'm happy that these particular lines were picked," the Mattapan councilor said. "Most of them are in my district. I think it is an equity issue. But I think people should have an opportunity to weigh in."
Campbell also said that Janey's administration "overpaid" for the $500,000 three-month free 28 bus pilot, which was later extended an additional month. That, she argued, merited further discussion about the exact price of Wu's order.
"Does this overpay as well? I have concerns," she said. "It's a legitimate question, and I think should be addressed during a hearing."
Flaherty pressed Campbell to reconsider her objection if the Council's transportation committee committed to addressing her concerns, noting that the city has been criticized for not distributing ARPA funds quickly enough.
Campbell held firm, however, adding that while she thinks the two-year pilot is a "great idea," the councilors have a responsibility as "fiscal stewards."
"This hearing could happen this week or next week," she said. "I'm not trying to delay this. Do it as quickly as possible."
Council President Pro Tempore Matt O'Malley said the hearing could potentially be held next week, with a subsequent vote at the Council's next meeting Dec. 1.
The news Wednesday came shortly after Wu met with Gov. Charlie Baker, who has expressed opposition to using state funding to eliminate fares on the MBTA. In her calls for more widespread fare-free public transportation, Wu has suggested both state and federal support would be necessary.
However, the city already has the funding it needs for the new two-year pilot.
"What the City of Boston is demonstrating is that we don't need dozens of studies and public meetings to advance free transit," Stacy Thompson, the executive director of Livable Streets Alliance, said in a statement. "The best method is to simply move forward with pilots, measure their success and then continue to expand the effort."
Newsletter Signup
Stay up to date on all the latest news from Boston.com