Local
Mayor Wu explains why she still plans to ride the MBTA
For Wu, it's a faster commute. But also a potential learning opportunity.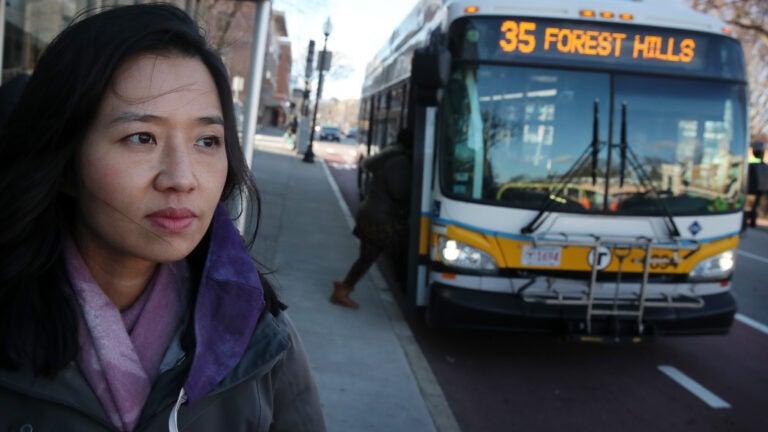 When newly elected Mayor Michelle Wu arrived at Boston City Hall for her first full day on the job Wednesday, she didn't step out of the side door of a car. Rather, she emerged from a packed train at State Street.
The reason, she said, was simple
"If I have to get from Roslindale to City Hall during rush hour, the T is the fastest way to get here," Wu told reporters minutes later outside City Hall.
However, it wasn't solely a choice of convenience. While the new mayor has access to a free parking spot like many other state and local elected officials, the outspoken public transit advocate said she plans to "continue taking the T wherever and whenever possible" to keep tabs on service.
"It is a chance also to understand how the T itself is working," Wu said.
Before her swearing-in ceremony Tuesday afternoon, Wu and her family traveled to City Hall via the Green Line — her sons' favorite line, no less.
On Wednesday, it was the Orange Line — from Forest Hills to State Street in downtown Boston (indeed, while the MBTA trip is estimated to be roughly 20 minutes, a car trip along the same route during the morning commute can vary between 20 to 55 minutes, according to Google Maps).
"Today the train came quite quickly — was not delayed at all at any of the stops — but it was quite full already," she said. "And we are back approaching ridership that I remember pre-pandemic in the morning commute. Sometimes you couldn't even get on the train at certain points. And so we are seeing that there's a huge, huge demand as our businesses are opening back up."
While MBTA ridership on the Orange Line remains about half of its pre-pandemic levels, MBTA officials have also said that returning riders may be surprised by the reemergent crowds in the wake of the COVID-19 pandemic. Other modes, like buses and the Blue Line, have rebounded even quicker.
Wu has publicly chronicled her ventures taking the MBTA as a city councilor and working mother. From her personal @wutrain Twitter account, she also hasn't held back criticism in the effort to press for improvements.
On Wednesday, Wu noted that taking the T was also a way to stay in touch with the city's populace, recalling a conversation with a cafe baker and a Mattapan mother concerned about school choices.
"It's important to also get a sense of how our city is doing," Wu said.
Newsletter Signup
Stay up to date on all the latest news from Boston.com