Local
Meet 'SNOWbegone Kenobi,' 'Jennifer Snowpez,' and the 160 other snowplows named by Vermont kids
"Luke Snow Walker" and "Darth Blader" will be clearing the roads this winter.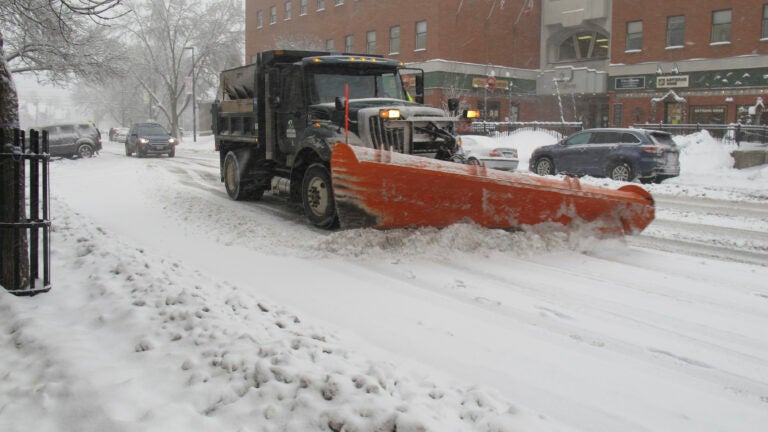 In October, Vermont elementary students were tasked with naming the VTrans snowplows as part of their Name a Plow Program. From "Jennifer Snowpez" to "Mr. Pushy" and even "Steve," their responses did not disappoint.
The state's elementary schools were tasked with submitting names for VTrans' 250 snowplows from Oct. 4 to Oct. 22, according to VTrans. The named plow would then be assigned to cover the respective school's district, according to the state.
After announcing the selected names, on Wednesday, Nov. 17, VTrans brought the newly named snowplows to the schools that named them.
Tweets with #VTPlowDay showed drivers demonstrating how the plows worked and students taking pictures in front of their adoptive plows. The state reportedly got the idea from Scotland, where the same snowplow naming initiative went viral.
"Many of us saw the news coverage that went viral last year about the tradition in Scotland of naming their snowplows," said Transportation Secretary Joe Flynn in October. "While keeping Vermont's roads safe for winter travel is serious business, naming the plows sounded like fun."
As for the names, most were related to the cold, stormy weather that plows drive in — "Snowy the Snowlifter," "Arctic Blaze," "Storm Slayer," "Ice Claw," "Crystal Royalty." Other schools took the opportunity to use creative winter puns like "Brr-rito" and "Ice Ice Baby."
Some schools created names that related back to the school. At Brookside Primary School, "Brookside Beast" will be plowing the streets. At the Sutton School, the plow was named "Sutton Cats Rule the Road." JFK Elementary School will soon find their plow, "JFK Snow You Didn't" clearing the roads.
Meanwhile, other names appeared more random, such as "Dorito" at Charleston Elementary School, "Carl" at Christ the King School, and "McNugget" at Westford Elementary School.
Some schools gave their plows intense names as they prepare to battle the stormy months ahead. The Lunenburg School's "The Lion's Snow Destroyer," Rutland Area Christian School's "RACS Snow Destroyer," and "Snowcrusher" from Sustainability Academy to name a few.
Others were more peaceful such as "Ole Bessy" from Brookfield Elementary School and "Arctic Angel" from Good Shepherd Catholic School.
Some schools got right to the point: "Get Out of My Way!" is the name of Ludlow Elementary School's plow. "Slip Sliding Safety Service" from Windham Elementary School sums up the snowplow service accurately.
"Snow Day Reaper," "Frosty's Demise," and "Snow Day Dream Crusher," meanwhile portrayed the plows' jobs from a darker, comedic angle. At least five schools ironically pointed out that these plows would prevent kids from long-awaited snow days.
The force (of snowplows) must be strong in Vermont this year, as there were six Star Wars referenced plows. "Luke Snow Walker" will be joined by both "Snowbegone Kenobi" and "Obi-Wan KenSNOWbi," "Storm Trooper," "Darth Blader," and of course, "Baby Snowda."
Other names also had creative references: "Perry the Plowerpus" was the "Phineas and Ferb" inspired plow name from The School of Sacred Heart St. Francis de Sales and "Edgar Allen Snow" was the poetic name of Pacem School's plow.
Finally — in elementary school fashion — some names were simply silly. "Vermont Bob" will be clearing the roads for the Jamaica Village School, "Snowasaurus" is coming from Head Start – Spring Center this winter, and "Snow Pickle" will make its way through Worcester, Vermont for Doty Memorial School.
The full list of Vermont's plow names can be found at the VTrans' Name a Plow Program website.
Newsletter Signup
Stay up to date on all the latest news from Boston.com