Local
Suppliers say to expect a Christmas tree shortage this season
"People were screaming for trees [in 2020] … I literally ran out the first week in December."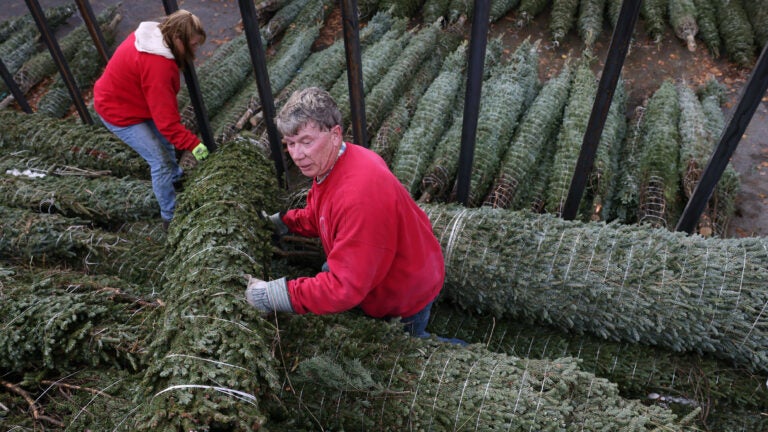 While it's typically a mad dash to buy the presents to go under the Christmas tree, it may be the tree itself that's hard to find this year.
Last year came with high demand for real Christmas trees as the COVID-19 pandemic forced families to stay home. Trees were everywhere in people's homes, Nino Lambert of Lambert's Rainbow Market in Dorchester, Pembroke, Braintree, and Westwood, told The Boston Globe. There wasn't just one in the living room; think stuffing one in the hallway, too.
"People were screaming for trees," he said. "I literally ran out the first week in December."
Mark Harnett of Mistletoe Christmas Tree Farm in Stow said he sold this year's tree stock last year, and now there's about half as many trees in the field. He's warning buyers to expect fewer trees and for them to be shorter, according to the Globe.
Pre-cut tree sellers will also feel the pinch.
Ferjulian Farm in Hudson has decided that after 30 years, it won't sell trees this year since the business can't get enough of them from their supplier in North Carolina, the Globe reported.
"It's a tough business to be in," Erin Frejulian told the newspaper.
There are some reasons why it's much more difficult to get trees wholesale, according to the Globe. Reasons include places planting less in 2008 when demand declined due to the economic downturn. Demand was still low around eight years ago and since the typical tree takes about seven to 12 years to grow, there are just less of them now.
There are also supply chain issues and the labor shortage to contend with, the newspaper reported.
"Labor is a big issue for all of agriculture," Tim O'Connor, executive director of the National Christmas Tree Association, told the Globe. "There are hiring signs everywhere you go today. These are long-term systemic problems."
Newsletter Signup
Stay up to date on all the latest news from Boston.com