Local
She developed a potentially life-threatening condition from a spin class. Now she's raising awareness about the symptoms to help others.
"If I had waited any longer, I could've lost my leg or I could've lost my life."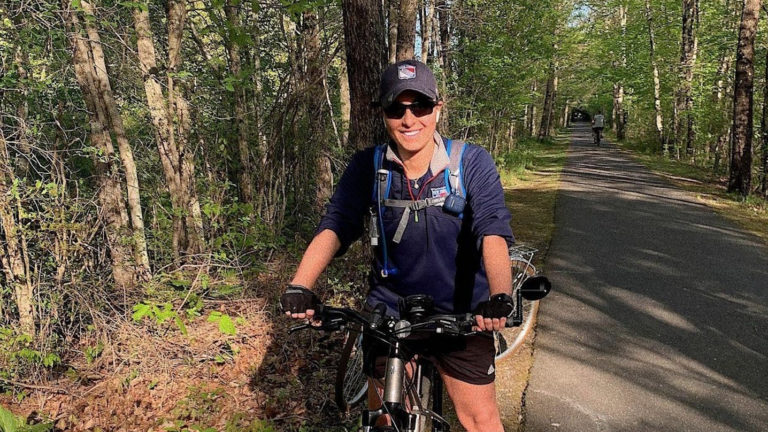 A Massachusetts woman who almost lost her leg after contracting a life-threatening and painful condition from a spin class is now warning and educating others about the symptoms of rhabdomyolysis using TikTok and Instagram.
Kaelyn Franco, 24, a recent graduate from UMass Amherst and active sports enthusiast, took a 45-minute spin class recommended by her cousin on Sept. 15, according to the "Today" show.
During the stationary bike workout, Franco felt a "weakness in her legs," but she did not think it was problematic at the time.
"I was definitely pushing myself for sure, but I don't think I was overworking myself to the point where I was like, OK I really overdid it," Franco told "Today." "(But) as soon as I stepped off the bike, my knees just gave out and I pretty much fell. I thought that was strange at first, but then I was like maybe it's just my muscles are tired, weak, and just a little bit sore."
The next day, she felt excruciating pain in her legs as they began to swell, leading her to go to the hospital, according to "Today." Her symptoms developed to the point where she was unable to walk without assistance. She also noticed her urine was a dark brown color, she told the program.
At the hospital, she was diagnosed with rhabdomyolysis, also known as rhabdo, a rare medical condition where damaged muscle tissue releases proteins and electrolytes into the blood, which can cause damage to the heart and kidneys, according to the Centers for Disease Control and Prevention. Common causes of rhabdo include the overuse of muscles from physically strenuous activities, but anyone can develop the condition, which can result in permanent disabilities and even death.
In fact, the high intensity nature of spin classes, which have gained more popularity as a form of exercise, is a "risk for newcomers," according to experts. There are approximately 26,000 cases of the condition detected every year in the United States.
Doctors determined Franco had also developed acute compartment syndrome in her right leg, which required emergency surgery to relieve the pressure that was decreasing blood flow in her limb.
"If I had waited any longer, I could've lost my leg or I could've lost my life," Franco told Boston.com. "It's hard to kind of hear that."
About two months following the operation, Franco is still unable to walk on her own. She said she also still gets tired quickly from walking on crutches.
Doctors, who told Franco that this was the worst case of rhabdo they had ever seen, said a full recovery where she would be able to walk may take up to a year.
She had her first physical therapy session on Thursday, which she said was difficult.
"It's kind of rewiring my brain and my leg to work together and I have to relearn [how to walk] pretty much all over again," Franco said. "I'm trying to stay as positive as I can throughout this process, but I've been active all my life, and, you know, I love to move around and do things. So it's definitely hitting me."
Franco, who had never heard of rhabdo prior to the incident, is trying to make others aware of the dangers and symptoms of the condition by telling her story through a series of videos on TikTok and posting on Instagram. Symptoms of rhabdo listed by the CDC include muscle cramps, aches or pains that are more severe than expected, dark urine, and feeling weak or tired.
Since posting about her experience, Franco said she has received some messages from people who were suffering similar symptoms and learned they had rhabdo after they watched her videos and decided to visit a doctor. Many people also told Franco that they did not pay attention to, or address, the symptoms they were experiencing because they assumed it wasn't indicative of anything serious.
"I definitely tried my very best to make a very negative thing turn into a very positive thing," Franco said. "In trying to heal myself, I also want to try and help others who are going through something similar, or who just need healing. So that's what I'm going to be focused on going forward."
Franco has set up a GoFundMe to help her with the medical bills she has incurred from the rare condition. So far, people have donated more than $9,500.
Newsletter Signup
Stay up to date on all the latest news from Boston.com