Local News
For years, residents and business leaders pushed for action on Mass. and Cass. Here's what they said about the city's encampment protocols.
"I think we have a lot to be hopeful for."
For years, residents of Roxbury and the South End have been calling on state and local officials to address the growing humanitarian crisis around the intersection of Massachusetts Avenue and Melnea Cass Boulevard.
Seeing the flurry of actions that have taken place in November — from the city's encampment protocols to the special court sessions at the Suffolk County jail — members of the local community and business leaders in the area referred to as "Mass. and Cass" are experiencing a range of feelings about the new measures.
Some said they were relieved to see immediate change.
A few people expressed guarded optimism that more positive impacts could be on the horizon, while others said there hasn't been a significant alteration in the conditions outside their doorstep.
Everyone who spoke with Boston.com stressed local and state leaders must continue to drive forward solutions to help the hundreds of people around Mass. and Cass struggling with homelessness, addiction, and mental health issues.
In recent years, Mass. and Cass has emerged as the epicenter of the overlapping crises. The COVID-19 pandemic exacerbated the situation on the ground, as the virus prompted resources and services for those struggling with addiction and homelessness to shutter around the state and region. The city then saw a surge in the number of individuals arriving on the stretch of city blocks surrounding Mass. and Cass, where a clustering of shelters and recovery services worked to stay open and adapt during the pandemic.
With the rise in the number of people living on the streets in the area, neighbors and business leaders saw an increase in the amount of open drug use happening on the sidewalks, more improperly discarded needles, and a rise in the amount of trash and human feces left on public and private property.
In a bid to address those impacts, the city in 2020 opened "comfort stations" — enclosed areas with portable toilets, hand washing stations, and outreach services. But by September 2021, officials closed the stations in response to concerns about increasing violence in the area. A growing number of tents were set up around Mass. and Cass over the summer, totaling more than 100 by the time the station on Atkinson Street was shuttered.
To address the public health and public safety crisis, Boston officials began removing tents around Mass. and Cass on Nov. 2, implementing procedures mandated in an executive order issued by then-Acting Mayor Kim Janey last month. The protocols targeted the removal of the encampments, with Janey and officials stressing that the goal was to get people struggling with homelessness, addiction, and mental health connected with resources and services.
Under the executive order, the city mandated that unhoused individuals must be given at least 48 hours notice that their tent must be removed, and officials have said no one will be required to remove their structure unless they have been offered a bed in a shelter or another service like a treatment facility. But under the executive order, people who are offered placement and refuse to remove their shelter could be charged with disorderly conduct.
The encampment protocols were implemented over the first weeks of November, despite criticism from advocates who said the steps would only cause harm by dispersing and criminalizing a vulnerable population. The ACLU of Massachusetts has taken the city to court over the protocols, but so far the organization has been denied a temporary restraining order to halt the removals.
Even so, new Mayor Michelle Wu announced this week the city was "pausing" removals of the tents while the matter is weighed by the Suffolk County Superior Court. She said her administration will "not necessarily" resume the encampment protocols, even if a judge rules in the city's favor.
"I think across the board there is agreement that we need to take a public health lens and a housing lens to this crisis," Wu said. "And how that actually ends up connecting with people's experience on the ground matters a great deal. So we're going to be looking at all of that — from the policy all the way down to what is happening on the streets."
'We have a lot to be hopeful for'
Over the last three weeks, city outreach workers have placed 150 people into services under the protocols, according to the mayor's office. Several were placed in shelters, while 126 were placed in addiction treatment programs and 16 were placed in transitional or permanent housing.
For business leaders in the immediate area of where the tents were removed, including on Theodore Glynn Way and Topeka and Southampton streets, the results of the few weeks of the encampment protocols are noticeable.
Sue Sullivan, executive director of the Newmarket Business Association, said there's been a "huge decrease" in the number of tents in the area, estimating that about 125 were taken down.
"There's a real marked decrease overall in the number of people down here," she said. "Now some of that has to do with winter as opposed to summer. But the other part is that people who are coming in from all over outside of Boston, I think that there's been a clear signal — don't come here. Don't come here just for a free-for-all down here. Because that's what it was. A free-for-all."
Sullivan said she believes word that police are arresting people in the area with outstanding warrants and bringing them into the special court sessions established at the Suffolk County jail has been another deterrent, both for individuals coming to the area and in preventing the level of violence observed in the late summer.
"I do believe we've seen a net difference, a big net difference because of the protocols," she said.
What Sullivan believes is still missing from the response to Mass. and Cass from officials is taking into account the impact that local businesses have experienced from the crisis.
She said she's been trying to balance the rights of the individuals in the tents with the "incredible stress" that has been placed on local businesses.
"Everybody's trying to come back, all these small businesses, from COVID," she said. "And it's really, really causing an incredible amount of stress on the business owners and on their employees. We've had over a million dollars in damage to the properties in the last six months. And the companies have spent over a couple million dollars on security. That's the other side of it."
Seeing Topeka Street cleared has been particularly significant for Catherine D'Amato, president and CEO of the Greater Boston Food Bank.
In September, the CEO pleaded with state and local officials to take immediate action in the area, detailing the impacts to the nonprofit from the public health and public safety crisis. Among the challenges the organization was facing was having trucks, which transport food to and from the warehouse on South Bay Avenue, unable to get through the crowds of people and tents on Topeka Street.
"It continues to be a human tragedy," D'Amato said of the area.
But compared to August and September, there now appears to be a semblance of order, she said.
"I think we received attention, and I think we received intention with a plan," she said. "Nobody's going to pay my million dollar security bill. I'm not billing the city. I think that there are many business owners who have had similar expenses, where they've had to put up expenses. It's understandable in this situation. But what now is different is the city is taking responsibility."
The nonprofit leader praised Janey for putting forward the encampment protocols and Wu for endorsing the plan and moving quickly to appoint Dr. Monica Bharel, the state's former public health commissioner, to lead the city's response to Mass. and Cass.
"I think we have a lot to be hopeful for," D'Amato said.
She agreed with Sullivan's assessment that some people just appear to have left the area.
But that is a concern for the nonprofit leader.
"It doesn't solve the problem if people move from one street to another street," she said. "It just moves them from one street to another street. … But my hope is that as there are more collaborative conversations, and I very much feel that Dr. Monica Bharel will be in a position to act and to be intentional to make sure these people are getting the services they need, if they so choose to want them," D'Amato said. "So that matters. To make sure that there's a longer-term solution here."
She said she hopes to see a multidisciplinary approach from officials going forward, and she supports the Boston City Council's approval of establishing a business improvement district for the Newmarket Square area.
In the meantime, D'Amato said the food bank is still maintaining 24/7 security and working to mitigate "residual effects" of the encampments, namely rodents and refuse.
"At least on our street there was a great deal of garbage and human fecal matter and waste and — just unbelievable," she said. "Which is still around. Rodents like this stuff. So we're playing defense there."
Since the city undertook the tent protocols, some individuals that were on the targeted streets have moved three blocks over to Newmarket Square. Sullivan estimated there are about 30 tents in the area, with the rest of the remaining tents largely on Atkinson Street.
She said she's been sorry to see the city halt the protocols and wants to see the efforts to get people off the streets continue.
"People should not be out here in the cold," she said.
The business leader said it's clear the bottom line is more housing is needed. But she expressed concerns that some of the same people advocating for more transitional housing would not allow such facilities in their own neighborhoods or towns.
"I do get really, really frustrated by that," Sullivan said. "Everybody wants to say, 'City, you can't do this, you can't do that until you have housing.' But nobody's out there offering it. … I'm really hopeful that Mayor Wu — I know in her campaigning she talked about looking at city properties all over in the different areas. We need to find transitional housing in different areas and also not just in the city, but outside the city."
'They need meaningful services, and that's what hasn't happened'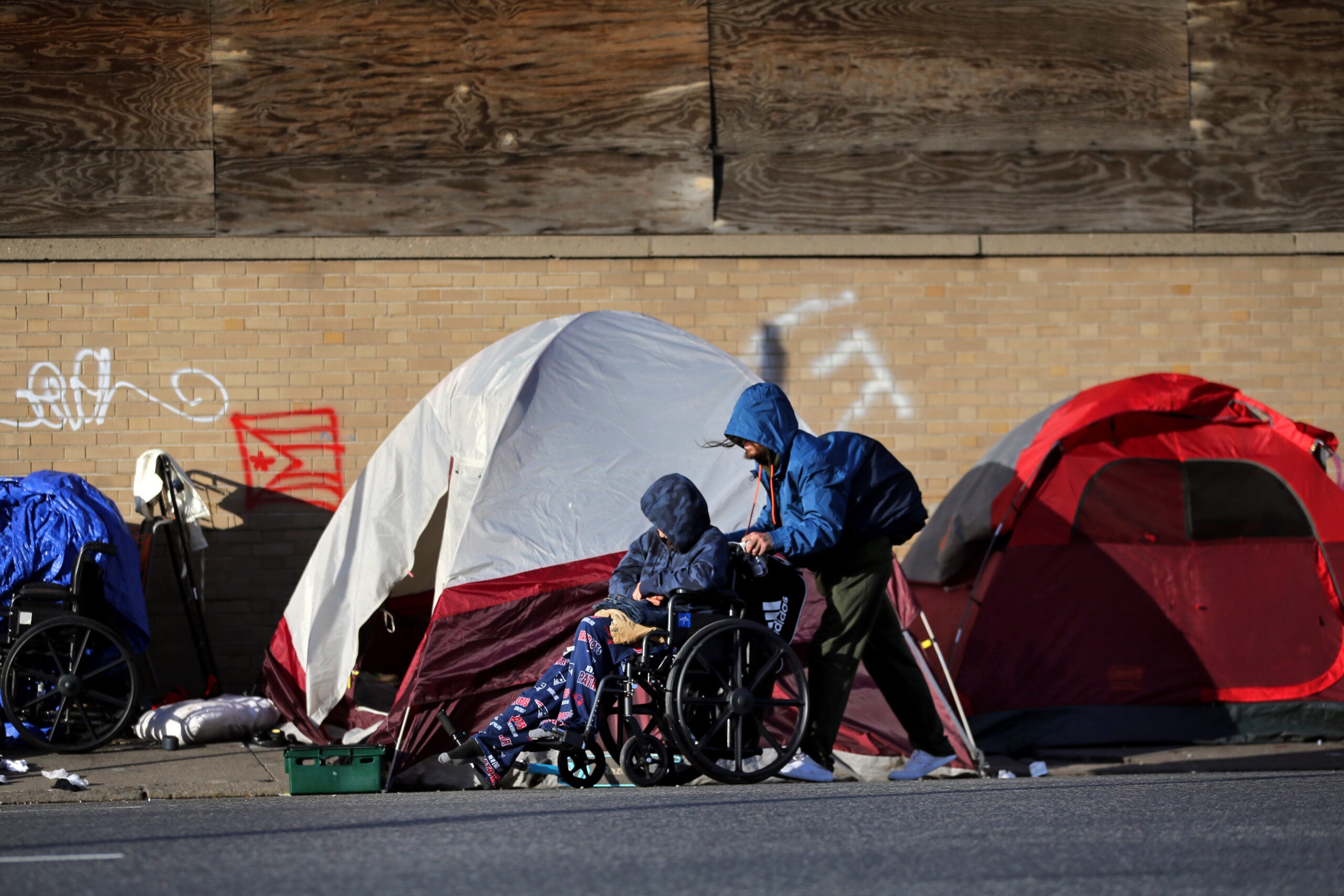 Marla Smith, who lives in Roxbury near Mass. Ave., said she hasn't seen much change after the city's actions in the area.
"They've moved off Southampton Street, but they're not gone," she said. "They're not in housing. There hasn't been some miracle solution."
The encampment protocols didn't make any difference to the level of impacts from the crisis Smith sees in the streets around her home, she said.
If anything, with more people around Newmarket Square, the crisis has just moved closer to her.
"My safety feelings are exactly the same, my comfort level in walking around the neighborhood is exactly the same," she said. "It's not better."
Smith, who is a member of the South End–Roxbury Community Partnership, a group that has been advocating for action on Mass. and Cass, said Newmarket Square is an "exponentially more dangerous" place for unhoused individuals to set up encampments.
Called the "meat market area" by local residents, the streets around the square are used by 18-wheeler trucks at all hours of the day transporting food supplies in and out of the area.
"There's just people out in various states of distress, falling into the street, dancing in the street, just being out where truck drivers don't expect to find people, because it's basically an unpopulated area at night most of the time," Smith said. "But suddenly there's people in very deep distress there. And that shouldn't — I can't say it shouldn't be allowed to happen because these people need to be somewhere in the very short term because they can't just be banished. But they need housing. They need meaningful services, and that's what hasn't happened."
Smith said she thinks the city is "finally moving" on the issue, which she's been glad to see.
But the problem for her is that they took too long to act.
"We're really desperately far behind the eight-ball at this point," she said.
Residents living in the South End said it's been hard to tell if they've seen more unhoused individuals seeking shelter in the neighborhood, dispersed by the city's encampment protocols.
David Stone, president of the Blackstone Franklin Square Neighborhood Association, said he hasn't seen a significant impact or change in his area.
He remains concerned that as it stands now, the remaining encampment is still "significantly larger" than the number of temporary shelters that sprang up at the start of the summer.
"I'm a firm believer that the encampment that was allowed, or came about, over the past few months over time is a creator of significant negative impacts on both the immediate Mass. and Cass area and longer term for the surrounding community," he said. "And in that sense, to the extent that the city has succeeded, or will succeed, in substantially reducing or eliminating that will be a positive. But that's to be determined, I would expect, over time."
Stone said in particular he's hopeful that the partnership that has sprung up between the city and the state to address the crisis is promising. The two levels of government working together is going to be critical to having any positive impact in the area, he said.
"My understanding is that the state is engaged in a way that it had not been previously in terms of using its power and its resources to develop shelter space and supportive housing space elsewhere outside the city of Boston," he said. "And decentralizing services and housing away from Mass. and Cass, which I think is hugely important."
Desmond Murphy, a member of the Worcester Square Area Neighborhood Association, said that based on past years, he would have expected to see less unhoused people outside in the area.
But he's not sure why more people are in the area.
"It's really hard to say if it's because of the city action or if it's the drug marketplace itself down here that's causing more people to be out and about," he said.
Andrew Brand, who lives near the intersection of Mass. Ave. and Harrison, said he's also noticed a "tiny bit" more activity on his street. Before the city opened its comfort stations last year, Brand said almost every day he found people sleeping or hanging out on his front stoop. He estimated he had to clean human feces from his steps and front yard at least six times.
Once there was a centralized location on Atkinson Street where people could go, that impact seemed to abate, he said.
In the last month, he said he's had to clear people from his property about three times.
"You walk down the street — things are still pretty quiet," he said. "So I hesitate to say that's a trend because it could be caused by a lot of factors."
Even so, Brand said he is happy with what the city has done with the encampments.
He said he believes it is the right thing "for all concerned" and said the city should be doing more to "heavily cajole" individuals at Mass. and Cass into treatment and transitional housing options.
"Much as I would like to see them do more and do it faster, I also think that it's important to get it right," Brand said. "So going at a more moderate pace is probably a good thing, as long as it continues. But there will be inevitable things that happen. And if they go slow and get it right, then they can move faster later."
He just hopes any "bumps in the road" along the way don't stall the city's focus on getting people off the streets.
"I hope Michelle Wu continues it and improves it. … I would hate to see anyone give up on it because of a couple of bumps on the road," Brand said. "Let's try to use this as a great starting point and use every bump on the road as an opportunity to learn and make the program better."
Murphy, from Worcester Square, expressed similar hopes about the new leadership in City Hall, but said he couldn't say whether or not he supports the encampment protocols.
On the one hand, he said the level of property destruction and violence that was occurring was unacceptable. But he also said he hears the concerns being raised by the ACLU and others that the choices being offered to those who are unhoused are "awful choices."
"It's a really tough situation," he said.
What he'd like to see is a more cohesive plan from officials, compiling work from the city, state, and providers, to spell out the acceptable solutions and evidence-based interventions — including bathrooms and housing — to address the crisis.
"After living down here for four years, I can conclusively say that it's really hard to find anything that's going to make every single constituent happy," Murphy said. "It's a very tough situation for the city, for anyone, to be in. … I think we're all going to have to accept an imperfect solution at some point."
Smith agreed, stressing that she does not think any of the initiatives that have been put forward are "100 percent perfect."
The Roxbury resident just hopes that as discussions move forward, officials and advocates remember there are families living in the area who have been impacted by the crisis.
"The focus needs to be on the user community 100 percent, no question about it," she said. "But the resident community needs to be remembered also and included in any of these solution-building activities that are going on. Because we have insights that other people just don't have."
Newsletter Signup
Stay up to date on all the latest news from Boston.com