Local
Massachusetts' newest marijuana entrepreneur? Steven Van Zandt
The E Street rocker, 'Sopranos' star, and author recently got a tour of the Mass. dispensary selling his new line of pre-rolled joints.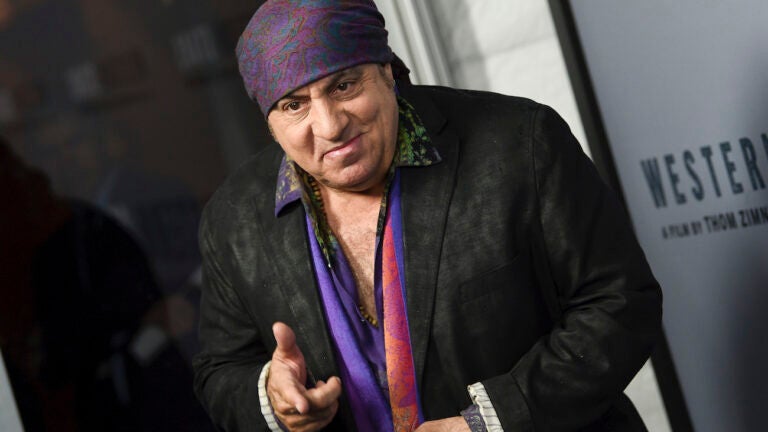 Steven Van Zandt is hardly the first musician to break into the nation's burgeoning legal cannabis industry.
But true to form, Van Zandt — a rocker with legendary status in Bruce Springsteen's E Street Band and actor best known for his role on "The Sopranos" — is going about his foray into the business in his own way.
The Little Steven's Underground Apothecary pre-rolled joints are made with wellness in mind, Van Zandt, 71, recently told Boston.com. The pre-rolls are created with an emphasis on CBD — which produces a calming effect on the body, instead of a high — rather than THC, the ingredient that produces the traditional, psycho-active qualities in cannabis.
Van Zandt released the line this fall as an exclusive at Massachusetts' own Canna Provisions, which has locations in Lee and Holyoke, and the musician recently toured the latter dispensary for an up-close look at how it all comes together.
An advocate for marijuana legalization, Van Zandt said the movement to do so is "actually seeing some progress, finally. Different states are in different stages of legalization … and hopefully we get to a place where it's just legal, OK? Just plain old legal," according to the Daily Hampshire Gazette.
Van Zandt is doing his part towards that, too: 10 percent of profits from the pre-rolls will be donated to the National Organization for Marijuana Legalization, better known as NORML.
The idea for the line came to Van Zandt as the COVID-19 pandemic took hold.
In a recent interview, Van Zandt said he began thinking about how to strengthen the body's immune system, which spurred his launch of wellness-oriented products in the Underground Apothecary.
"We kind of balance (our cannabis) more towards the medicinal because it does really help a lot of people (with) various illnesses and … helps some people just go to sleep and just relax, you know," he told Boston.com in October.
"We'll see, what happens with it," he said.
The pre-rolls are made from Smash Hits cannabis, which is grown in Sheffield by Gregory "Chemdog" Krzanowski, the Gazette reports.
In 2011, Krzanowski was arrested on federal drug distribution and money laundering charges. He pleaded guilty and underwent three years of probation and handed over more than $300,000, the newspaper reports. He also lost his home.
But Krzanowski went through the state's Social Equity program — which allows people with previous drug-related criminal records due to "War on Drugs" policies to work in the new legal industry — and now works as Canna Provisions' director of cultivation.
Van Zandt boasted during his visit last week the company is operated by "exactly the type of people that I like to be associated with," calling Krzanowski "my kind of guy."
"They seem to be particularly, you know, righteous people," Van Zandt told Boston.com last month. "So you know we're always looking for relationships that is more than just business, you know? I mean, at this stage of the game, it's got to be something more than that. You got to feel some kind of connection philosophically, spiritually, you know. And they were really cool."
Meg Sanders, CEO of Canna Provisions, said the pre-roll line is packaged in tins to help avoid the heavy use of plastics, according to the Gazette.
The visit marked Van Zandt's first to Holyoke.
"What I've seen, I love. Are you kidding me? It's such a wonderful, artist-friendly area. … They're doing the right thing, making it an artist-friendly environment," said Van Zandt, also the founder of Wicked Cool Records.
He remarked that Gateway City Arts is a "really perfect" venue, according to the Gazette.
"I'm going to start sending some bands up to this venue. … And the theater is great in there, too," he said. "My wife's in a theater company, so I'm going to tell her about the theater, too."
Newsletter Signup
Stay up to date on all the latest news from Boston.com