Local News
Here's what the Bidens have been up to on Nantucket
The family's regular Thanksgiving visit to the island is its first since Biden was elected president.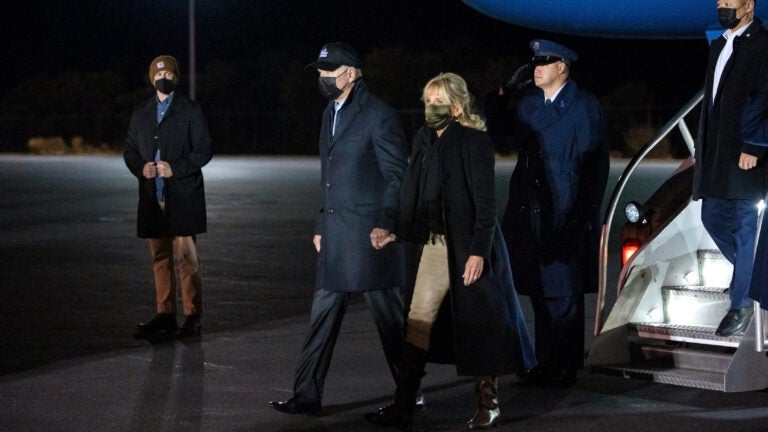 President Joe Biden is back on Nantucket.
The commander-in-chief and his family have revived their longstanding tradition of spending Thanksgiving together on the Massachusetts island, where they arrived Tuesday night aboard Air Force One.
The first family's near-annual holiday trips to the island date back to 1975, when Biden, then a U.S. Senator and single father, began taking his two sons, Beau and Hunter, and now-first lady Jill Biden there, at the recommendation of his Bostonian chief-of-staff Wes Barthelmes.
In his 2017 memoir, "Promise Me Dad," Biden described the decision to go to Nantucket as "an act of diplomacy," according to an excerpt published by Nantucket Magazine.
Biden explained how, that year, his various relatives each requested his family's presence on Thanksgiving.
"I was in my Senate office one day that fall, explaining this predicament to my chief of staff, and he said, 'What you need is a nuclear Thanksgiving.' Meaning the nuclear family alone," he wrote. "Only Wes Barthelmes was a Boston guy, so what he actually said was 'nucle-aah Thanksgiving.' I wasn't sure what exactly he was trying to say, until he explained it might be easiest on everybody if the four of us—me and Jill, Beau and Hunt—went away alone."
Over the decades since, the trips to Nantucket have become a fond staple of Biden's holiday traditions and one now beloved by generations of Bidens.
"We had some great years in that span, and we had some lousy years, but whatever was happening, whatever bumps and bruises we were suffering, we put it all aside and celebrated Thanksgiving in Nantucket," Biden wrote.
The Bidens took a hiatus from their annual trip in 2015, months after Beau Biden died of brain cancer, and opted to visit Rome instead that year, according to The New York Times. The family was also unable to revisit in 2019 and again in 2020 due to Biden's campaign trail travel commitments and COVID-19 pandemic health and safety concerns, respectively.
This year's visit marks Biden's first as president, which means his arrival brought a bit more fanfare than before.
The Times reported helicopters, military aircraft, government vehicles, and scores of Secret Service agents have descended on the island, now well into its usually sleepy off-season.
The commander-in-chief, whose family is staying at the home of billionaire businessman David Rubenstein, also kept at some of his presidential duties, such as paying a visit to the U.S. Coast Guard Station Brant Point on Thursday morning.
But other facets of the Bidens' trip remain untouched by the grandeur of the executive office: The family was reportedly still getting their regular Thanksgiving dinner catered by Faregrounds Restaurant & Pudley's Pub and are expected to attend Nantucket's annual Christmas tree lighting and caroling ceremony on Friday, per Jason Graziadei, a writer and editor for the Nantucket Current newsletter.
Here's what the Bidens have been up to during their stay:
Biden released his Thanksgiving Day proclamation
Biden released the president's annual Thanksgiving Day proclamation on Thursday, in which he expressed gratitude for frontline and farm workers, along with educators, parents, health care professionals, and scientists and researchers, all of whom have navigated a challenging year-and-a-half as the country weathers the COVID-19 pandemic.
Biden also thanked servicemen and women "serving far from home, keeping us safe and defending our values."
"For the First Lady and me, Thanksgiving has always been a cherished time to enjoy annual traditions that have evolved into sacred rituals with our children and grandchildren: throwing the football, preparing family recipes, lighting candles, and setting the table," the proclamation reads. "For many Americans, this Thanksgiving will be the first time gathering with loved ones in person since the start of the pandemic — a time of full tables and full hearts."
The president and first lady made a guest call during the Macy's Thanksgiving Day Parade
Al Roker got a special call on Thursday.
The president and first lady called the television personality as he co-hosted the Macy's Thanksgiving Day Parade.
During the brief call, Roker asked Biden what message he had for Americans on the holiday.
"After two years, you're back. America is back," Biden said. "There's nothing we're unable to overcome, Al."
Read a full transcript of the call.
Biden visited troops at the U.S. Coast Guard Station Brant Point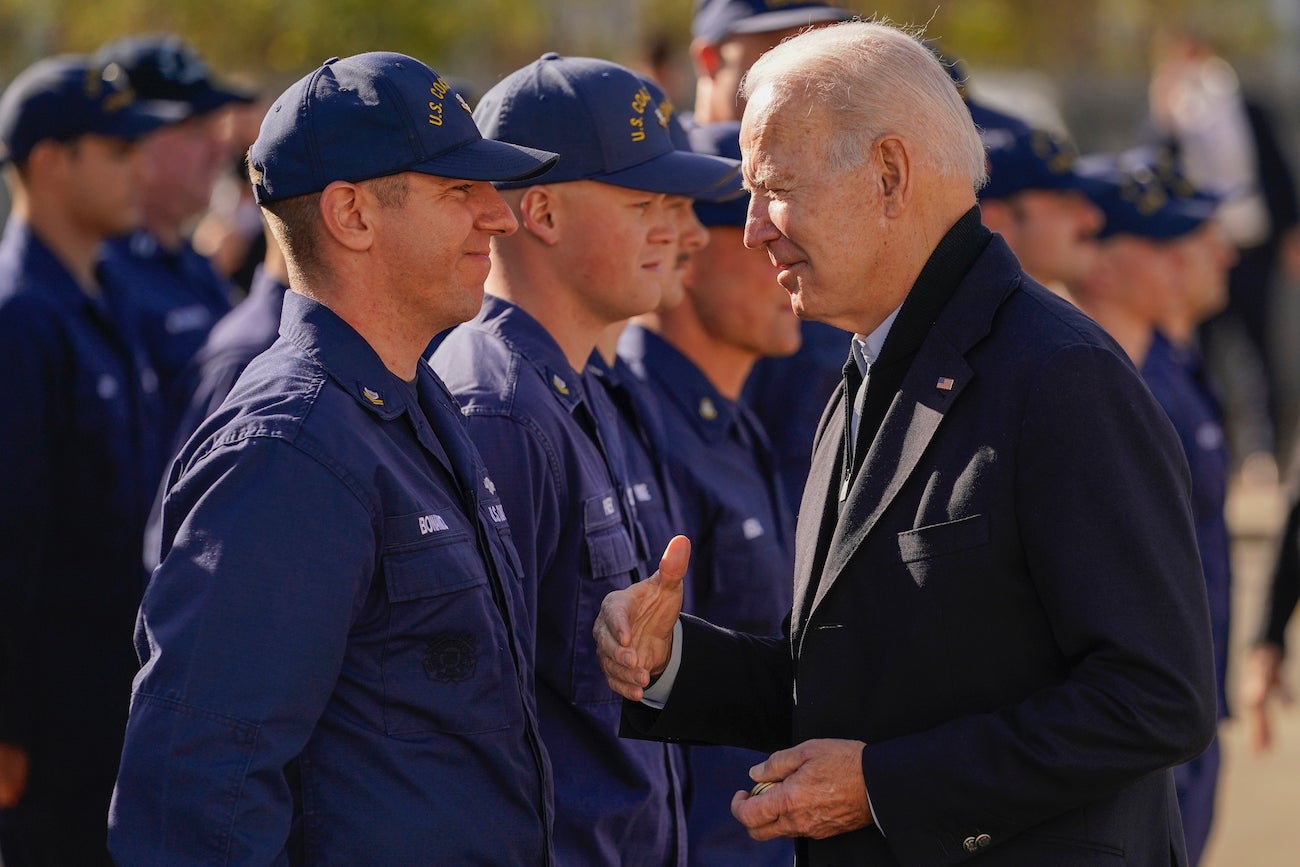 The president and first lady left their home for the week to a pay a visit to the U.S. Coast Guard Station Brant Point.
About two dozen members of the Coast Guard greeted their arrival shortly before noon on Thursday. The Bidens could be heard wishing them all a happy Thanksgiving. The president also passed out "challenge coins" to the uniformed Coast Guard members.
At one point, a reporter asked Biden what he was thankful for this year, according to a White House press pool report.
"I'm not joking when I say I'm thankful for these guys," Biden said. "I'm thankful for them … I mean it from the bottom of my heart."
From inside the station, the Bidens met virtually with troops stationed around the world, with each branch of the military represented, per pool reports.
The Biden family took in a Thanksgiving meal complete with thyme-roasted turkey, cranberry relish, and apple pie
Every year, the Bidens enjoy a Thanksgiving dinner catered by Faregrounds Restaurant and Pudley's Pub, and this year's no different, according to Graziadei, of the Nantucket Current.
A menu shared with White House reporters included many holiday dinner plate favorites, from a thyme-roasted turkey to "Grandmom Jacobs' savory stuffing."
This year, the restaurant had notably more patrons than just the Biden clan, though: The eatery was slated to cook up dinner for 100 Secret Service members as well, the Times reported.
Owner Bill Puder told the newspaper he had already met many agents and Massachusetts State Police troopers in the days before the holiday.
"You can tell who they are because they say 'sir' and 'ma'am,'" Puder said. "They say, 'That's how we're trained.' I say, 'All right.'"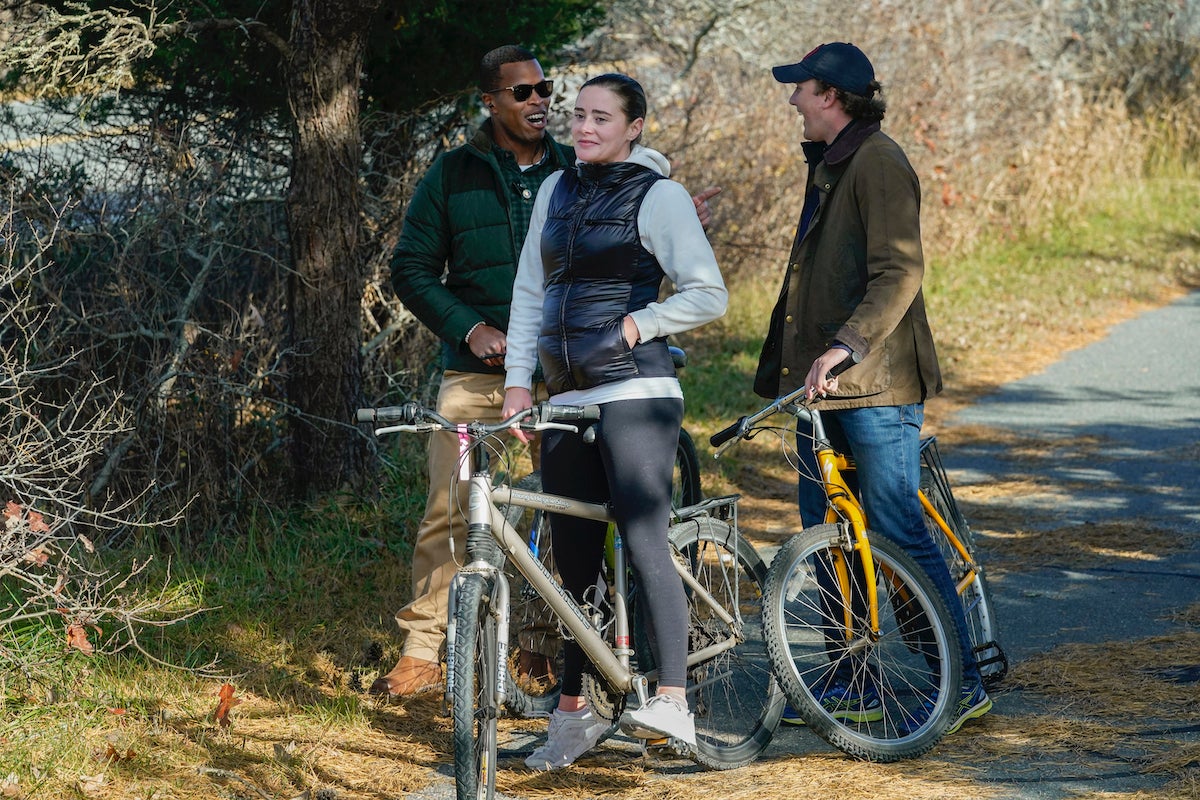 As for the fanfare of a presidential visit to the island, Puder explained that locals are well-used to stays from famous tourists — and a president's stay probably wouldn't garner the same excitement attracted by other celebrities.
"Belichick has come in here," Puder told a Times reporter with a smile.
According to Graziadei, the president also placed an order to Wicked Island Bakery of six pies, six dozen dinner rolls, and morning buns.
The Secret Service has well-secured Nantucket island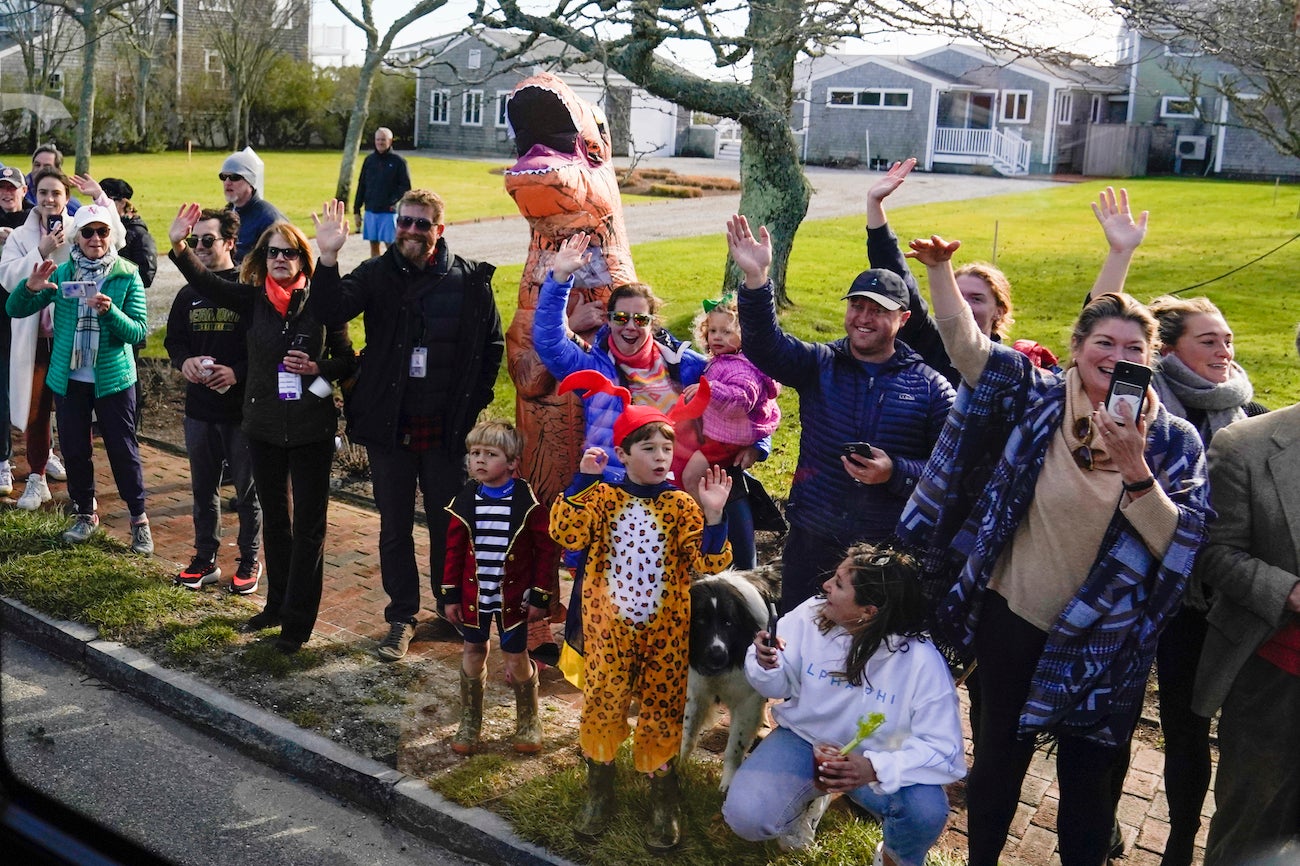 Signs of Biden's extensive security detail began popping up around Nantucket earlier this week, as military aircraft brought in government cars and helicopters whirled above the small island in preparation for the president's arrival, according to the Times.
Secret Service agents have set up home in some of Nantucket's luxury inns, the newspaper reports.
"Team after team after team of people come through with jeans and T-shirts, but then you notice they have a little clipboard with the White House insignia," Jack Fritsch, who operates the Antiques Depot, told the Times. "You recognize the haircuts. They're Secret Service agents."
Nantucket Magazine also reported that the community pulled together to make sure state police troopers and other officials had a hearty Thanksgiving dinner.
Although many Secret Service agents had meals prepared by Faregrounds Restaurant, a smaller number of agents and troopers enjoyed a meal prepared by volunteers at the home of Jill and Scott Kelley, who opened up their residence while they were away, according to the magazine.
Trooper Kevin Bates said he was appreciative of the hospitality.
"Basically our guys got down here and started to try to line up meals for the week, but a lot of these places were saying we're not open for Thanksgiving," Bates told the magazine. "So this is making sure the people who are committed to being here on this day are not eating sandwiches."
The Bidens will attend Nantucket's annual Christmas tree lighting
The president on Friday will be in attendance at Nantucket's yearly Christmas tree lighting and community caroling ceremony on Main Street and "potentially Catholic mass at the St. Mary church on Federal Street on Saturday," Graziadei wrote for Nantucket Magazine.
Biden's presence at Friday's festivities means authorities will close certain roads in the area, and there will be security screenings during the afternoon and into the evening, according to Nantucket police. The restrictions were scheduled to be in place through 6 p.m.
The ceremony, hosted by the Nantucket Island Chamber of Commerce, will begin its countdown at 4:30 p.m., the organization's website says.
"Over 150 balsam trees lining cobblestoned Main Street and surrounding byways magically illuminate following a dramatic countdown led by our illustrious Town Crier," the website says. "A chorus of traditional carols ensues, led by Nantucket High School's popular a cappella group, the Accidentals & Naturals."
The festivities will be livestreamed on both Facebook and Instagram.
The first family is slated to depart Nantucket on Sunday.
Newsletter Signup
Stay up to date on all the latest news from Boston.com