Joe Biden
She has a stutter like President Biden. He gave her advice for overcoming it during his visit to Nantucket.
"When he got out of his motorcade, I was so surprised and I was so happy that I was meeting him."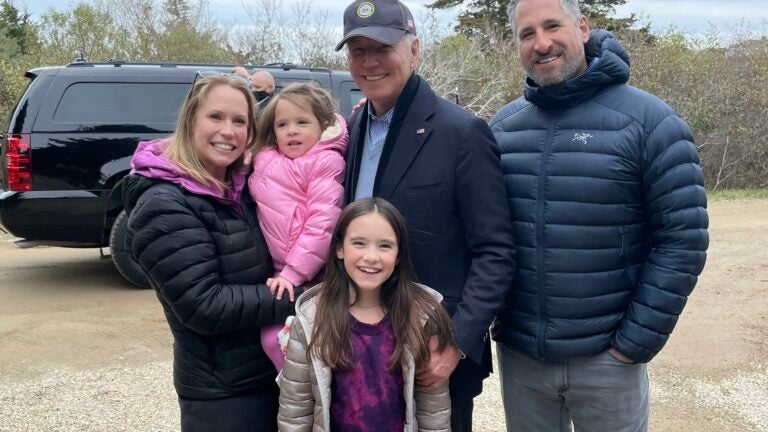 It's a moment that Jessica Nigrelli does not think her daughter, Avery, will ever forget.
On Sunday, as President Joe Biden was headed to the airport on Nantucket after spending the Thanksgiving holiday on the island, the Nigrelli family was waving to the departing motorcade from the end of their driveway on Rabbit Run Road when the procession of SUVs came to a stop.
Biden climbed out of one of the vehicles and walked over to the family.
When he approached them, 9-year-old Avery spoke to the president.
"Mr. President, I have a stutter just like you," she told Biden.
Nigrelli told Boston.com that in response, the president quickly turned his full attention to Avery for the next 10 minutes, placing his hands on her shoulders and looking her in the eye as he talked about his own stutter.
He told her about the tricks he uses when "words get stuck" and about the movie "The King's Speech," which tells the story of King George VI working with a speech therapist to overcome his stammer.
The president advised the 9-year-old to stick with working hard on her stutter, offering to send her a copy of one of his speeches marked up with his notes about where to break and where to breathe.
"He said, 'My mother told me that my stutter was because my brain was moving faster than my mouth,'" Nigrelli said. "He said it doesn't define you, you can be anything you want to be."
He told Avery that she could be president someday.
And then Biden pulled the 9-year-old aside, telling her that whenever he feels like he is going to stutter, he takes a deep breath and tries really hard to get the words out. If that doesn't work, he said he tries it again.
Then, he extended an invitation for Avery to visit the White House and see him in the Oval Office.
Nigrelli shared a video on Facebook of the president speaking with Avery, ending with her daughter giving Biden a hug and saying, "Thank you, Mr. President."
According to her mother, Avery has struggled with a stutter since she was very little. While Biden was running for president, her parents shared with her that he also had a stutter. She couldn't imagine that someone like the president could also have a stutter like her.
The Nigrellis live most of the year in Weston, but they own a home on Rabbit Run Road where they spent Thanksgiving. And when Avery heard Biden was on Nantucket, too, the 9-year-old hoped that she would get the chance to meet him and share her own struggle sometimes to get words out because they "get stuck in her cheeks."
But Avery told Boston.com it was a shock to actually get to meet Biden.
"When he got out of his motorcade, I was so surprised and I was so happy that I was meeting him," she said. "And talking about his stuttering was really good for me. Because when I stutter, I find it very embarrassing. But talking to him about it, it has made me so much more confident about stuttering."
Nigrelli said Avery has worked with speech pathologists over the years to learn techniques to help her, but her stutter is still something the 9-year-old thinks about and works on every day.
"She has come a long way, but it's definitely something that impacts her life, whether she decides to raise her hand at school or not," Nigrelli said. "She's self-conscious of it. And that conversation, that encounter, that compassion was something that boosted her spirits and empowered her more than anything else she's ever done with her stutter. She went to sleep last night feeling that she was special because of it, not different in a bad way."
Rufus Gifford, Nigrelli's brother, served as ambassador to Denmark for four years under President Barack Obama and as the deputy campaign manager for Biden's presidential campaign. Biden has nominated Gifford to be his chief of protocol in the State Department.
Gifford shared a video of Biden speaking with his niece on Twitter.
Nigrelli said she doesn't believe Biden was aware of her family's connection to Gifford when he stopped the motorcade and spoke with Avery.
"He was giving her a pep talk, just as a person to a person," Nigrelli said. "Not the leader of the free world. But just a man — and a wonderful man. I had tears rolling down my face to be honest … Because truly, this is what we want to teach our children. It's about kindness and compassion and paying it forward. And advocating for others and building each other up."
She said it was a beautiful moment and one that she is "incredibly grateful" her daughter got to experience with Biden.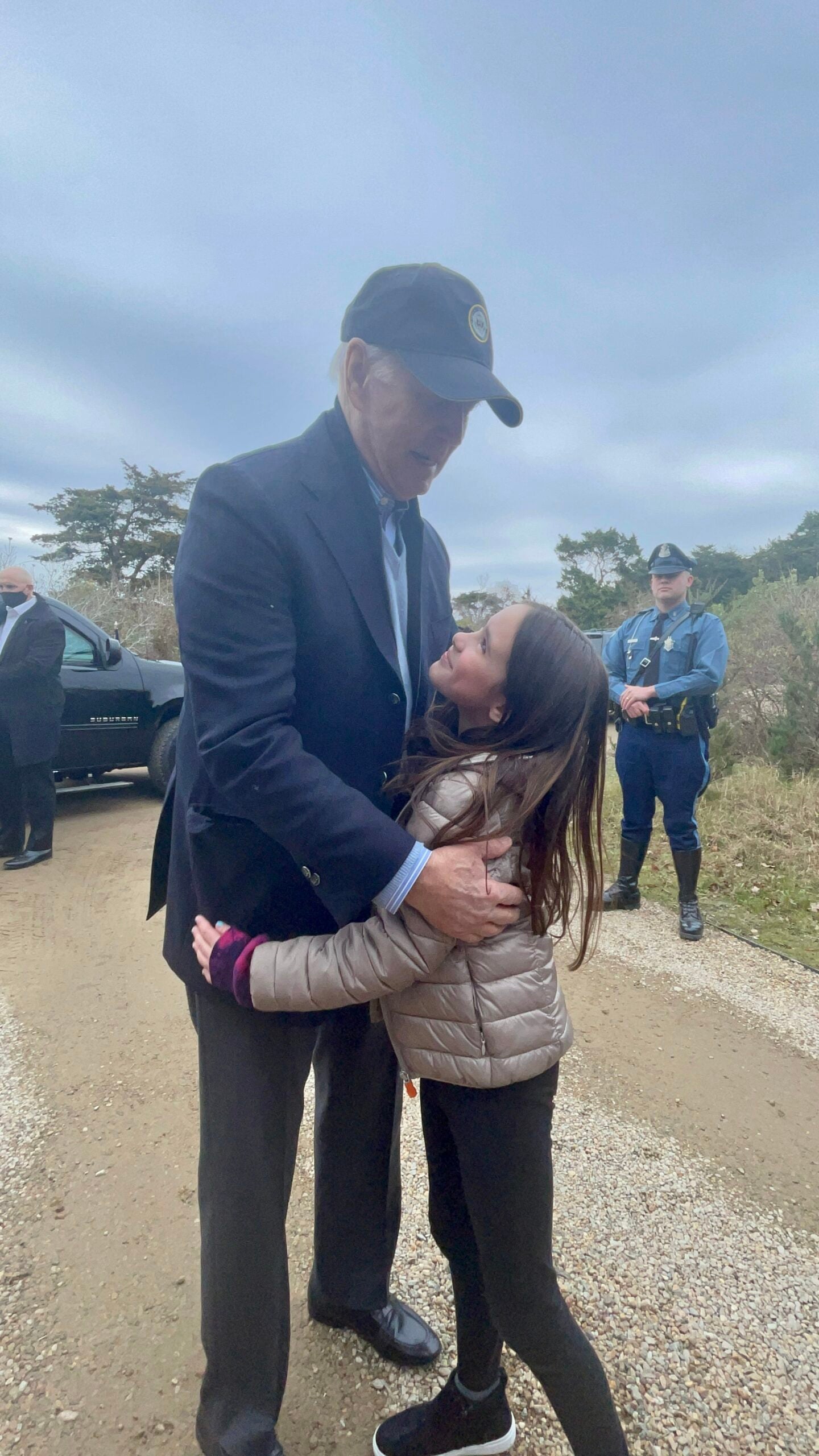 "I don't think she'll ever feel the same way," she said. "In fact, she's said, 'I will never feel the same way about my stutter again.' She said, 'I was afraid to talk when I saw him because I didn't want the words to get stuck in my cheeks. But then he was talking all about his own stutter and I thought, hey, it's no big deal.'"
Avery said one thing in particular is sticking with her from her conversation with the president.
"The thing that I'm remembering the most is what he said to me — if you just keep on the stutter, it will go away," she said.
And for other kids struggling with getting the words out, Avery has her own advice, too.
"If you ever get anxious about stuttering, this is what the President of the United States told me: If you will stick with the stutter, it will just let you be and it will just go away and it will just let you continue with your words," she said.
When asked if there was anything else she wanted to say about her experience, Avery had a message for everyone.
"Work hard, help people in need, and always be kind," she said.
Newsletter Signup
Stay up to date on all the latest news from Boston.com