Animals
Meet Waffles, the Tewksbury Police Department's newest member
Waffles the labradoodle comfort dog is set to begin training this week.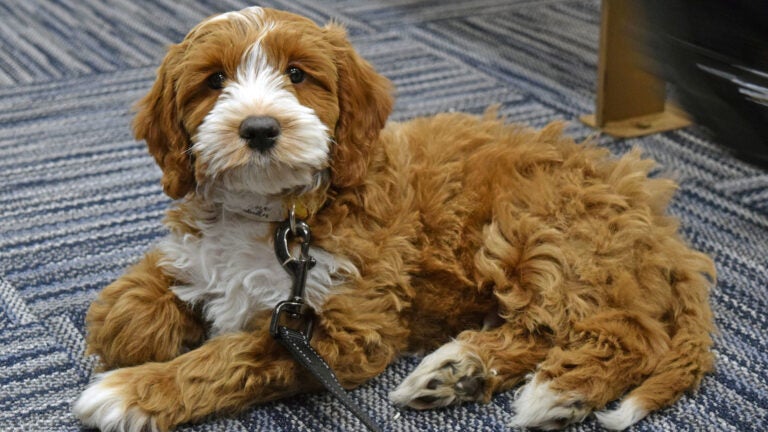 A second-grader at Heath Brook Elementary submitted the winning nomination in a contest to name the Tewksbury Police Department's new comfort dog
Waffles met contest winner, Jack Johnson, as well as his parents Adrianne and Shaun Johnson, at the Tewksbury Police Station after school on Wednesday. Jack's second-grade teacher Karen Bancroft joined the family at the station.
Jack and Waffles immediately took a liking to each other, according to a statement from Chief Ryan M. Columbus.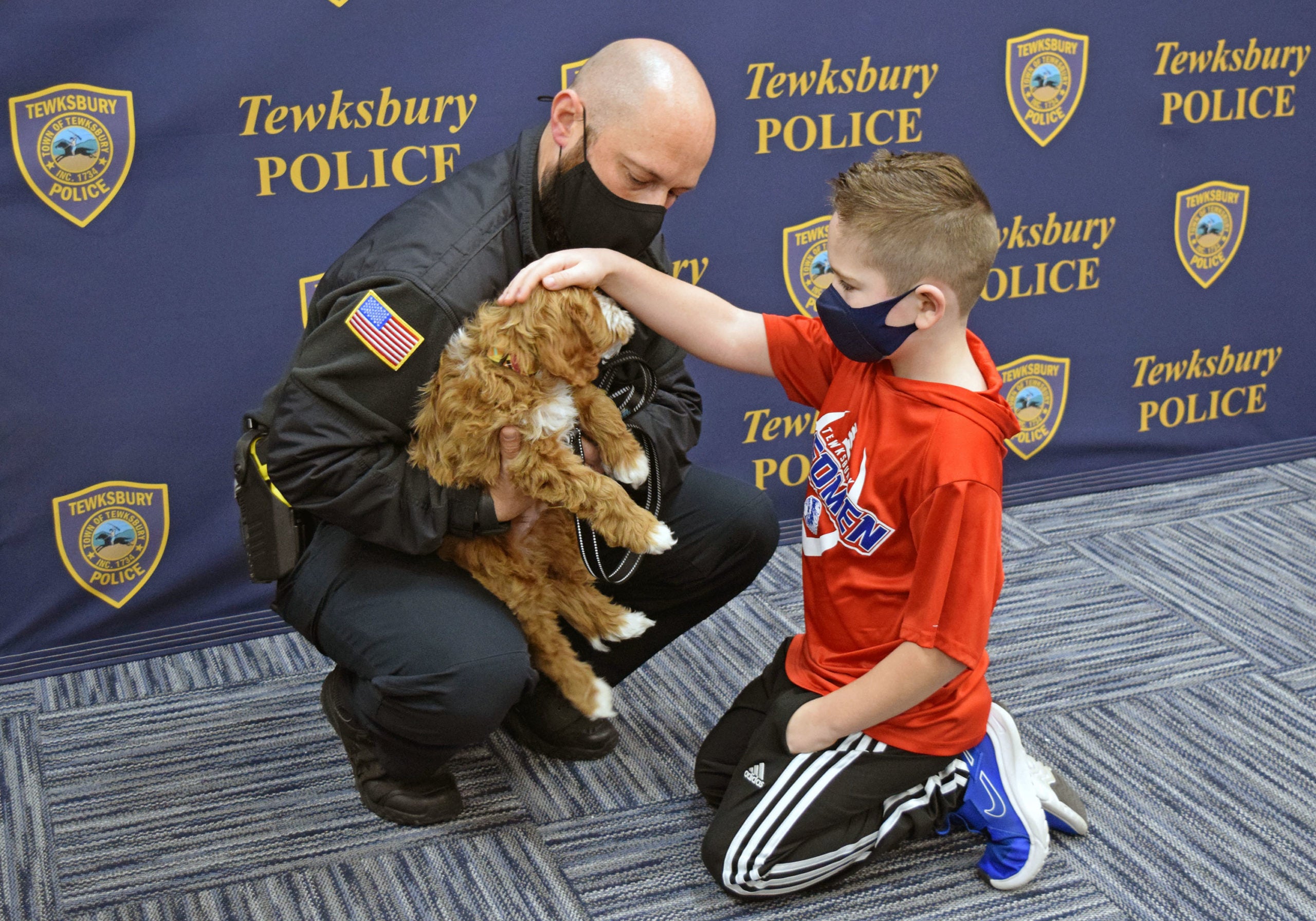 Jack received a basket of small gifts, including a plush waffle toy and a Tewksbury T-shirt.
Jack said he chose the name Waffles because a photograph of the puppy reminded him of a waffle, and because his family's dog loves to eat waffles.
Police received almost 1,000 name suggestions from the community. Among the most popular were Buddy, Cooper, Teddy, Bentley, Rocky, Milo, Chief, and Scout.
"The community's response to our challenge was tremendous, and I congratulate Jack on a great suggestion that stood out from nearly 1,000 others and won us over," said Columbus. "Jack and Waffles both have a bright future as they continue their education here in Tewksbury."
Waffles, who arrived in Tewksbury Sunday, came from Monadnock Labradoodles. The small New Hampshire dog breeder helped the department pick a puppy with an appropriate temperament for a comfort dog.
Waffles is an Australian labradoodle — a cross between a poodle, Labrador retriever, and cocker spaniel. The breed is known for being hypoallergenic, with calm, clever, and confident personalities that love human interaction.
Waffles and his partner, School Resource Officer Eric Hanley, will begin an intensive training program at Auntie Dog Training Studio in Tewksbury in the coming days, with several months of training ahead for both.
Waffles was able to join the department thanks to donations from Monadnock Labradoodles, Walmart, Salem Five Bank, Auntie Dog Training Studio, Taught-a-Lot Childcare, and WellPet LLC.
Columbus thanked the community for its "overwhelming" generosity and support.
"Students have been through a lot in the past two years, so we're excited to add Waffles to our department as a calming resource for all," he said.
Newsletter Signup
Stay up to date on all the latest news from Boston.com