Local
MBTA announces service cuts to dozens of bus routes, citing 'significant' worker shortage
T officials say they're "budgeted for a full level of service." They just don't have the necessary drivers.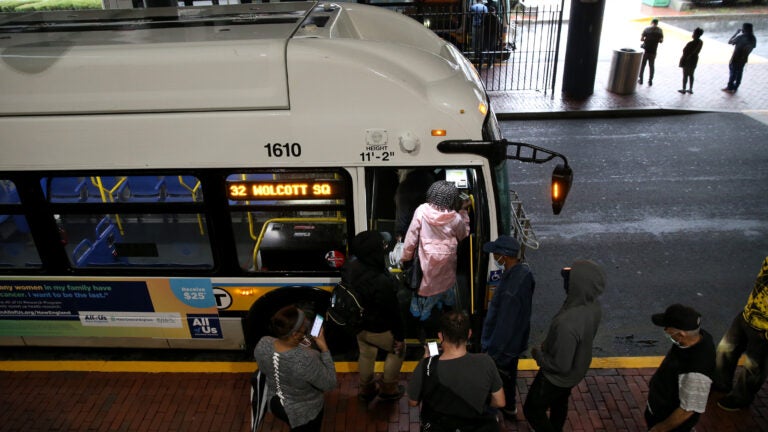 The MBTA is once again moving to cut train and bus service in the midst of the COVID-19 pandemic. But this time money isn't the problem, at least not directly.
The agency announced Tuesday afternoon that it is reducing service intervals on dozens of bus routes as well as the Mattapan trolley beginning Dec. 19, due to its struggles hiring and retaining transit operators.
According to MBTA officials, employee attrition has outpaced new hires, and the new schedules will reflect the level of services currently being delivered. The agency says it has already been dropping about one of every 20 scheduled bus trips, due to the employee shortage and "other challenges."
The cuts aren't as sweeping as the widespread reductions implemented last winter, which T officials attributed to the pandemic's crippling impact on fare revenue.
MBTA officials say there will be no changes in service frequency on the Red, Orange, Blue, and Green Lines. However, the Mattapan trolley line will see weekday service reduced, including a drop in peak frequency from every five minutes to every seven minutes (trolley service after 11:30 p.m. on Saturday and Sunday will be increased from every 23 minutes to every 13 minutes).
The changes also include service reductions on more than 30 bus routes, as well as schedule changes on 40 other lines (the full list of changes is available on the MBTA's website).
A few bus routes — specifically the 19, 38, and SL1 — will get some additional service when changes take effect, while the consolidated 62/76 route from Bedford to Alewife, which had been suspended, will be restored on weekdays.
Similar to the cuts last winter, MBTA officials say the changes are intended to preserve service for low-income communities that disproportionately depend on public transit, especially lines where ridership has remained high during the pandemic.
Still, several of the bus routes with the highest ridership in the system, including the 66, 1, 23, 111, and 22 lines, are slated for weekday frequency decreases, according to the list of changes, which the MBTA says will optimize their limited resources.
"Like other transit systems across the country, the MBTA is experiencing significant challenges in attracting the workforce needed to meet demands for service," MBTA General Manager Steve Poftak said in a statement Tuesday, stressing that the service changes "are not a cost-control measure."
"The MBTA is budgeted for a full level of service, and ready to add back services when we have hired and trained new bus and train operators," Potftak said.
Indeed, the problem is not unique to the MBTA; transit agencies from Oregon to St. Louis to the Berkshires are dealing with a labor shortage that is particularly affecting infrastructure sectors due to a combination of factors, including generational trends and the COVID-19 pandemic.
Nor is it new.
After federal COVID-19 relief funds helped the MBTA shore up its budget for the short term, officials said in March that a shortage of bus and train operators —exacerbated by COVID-19 absenteeism and a hiring freeze implemented in the midst of the pandemic — might delay the restoration of service.
Suffice it to say hiring is now unfrozen.
The MBTA says it has since launched an aggressive recruitment campaign, more than doubling the size of its human resources recruiting department since Labor Day and attending over 20 career fairs across the region this fall. Officials also said they created a specific team dedicated to vehicle operator hiring, especially MBTA bus drivers.
According to the MBTA's website, newly hired bus drivers earn a starting salary of $21.13 an hour after training, along with a range of benefits, including health insurance, free transportation, and tuition reimbursement.
"We have teams at the MBTA working to streamline the hiring process and attract new employees, Poftak said Tuesday, "and I encourage all prospective candidates to visit mbta.com/apply to learn more about the many benefits that come with a career at the T."
Newsletter Signup
Stay up to date on all the latest news from Boston.com