Local News
Who will save the saddest pier in Boston?
After officials rejected plans to replace the Charlestown pier with floating houses, residents are pushing for a stunning waterfront park. But if no one is willing to pay, the Navy Yard's last vacant pier could be left for dead.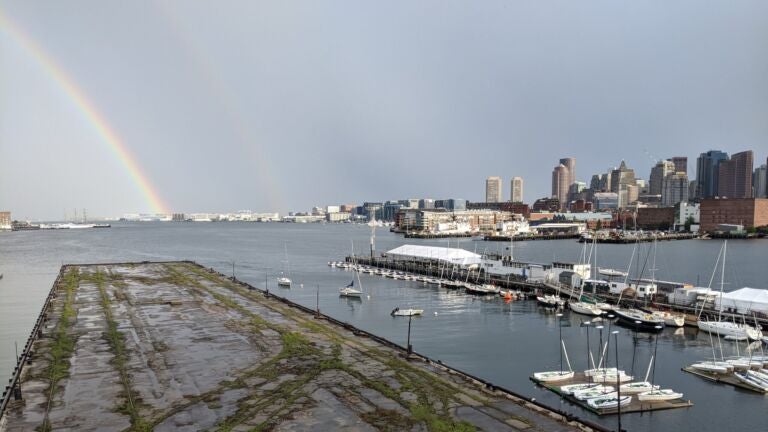 You've probably heard of Pier 6. Maybe you've gotten off the ferry at Pier 4.
But for many, there's not much to say about Pier 5, the unloved middle child of the Boston Navy Yard in Charlestown. Or at least not anything nice.
"It's the derelict, sad empty pier with nothing going on on it," Morgan McDaniel, a project manager at the Boston Planning and Development Agency, said earlier this year.
And it's staying that way for the foreseeable future.
Last month, the BPDA announced that it was rejecting several ambitious ideas to turn Pier 5 into waterfront housing due to the financial costs and physical challenges, after a years-long effort to find a way to make use of the location and its breathtaking panoramic views of the Boston skyline and harbor.
The conclusion of the latest chapter in the pier's long history was cheered by some local residents who had rallied against the housing proposals and fought to preserve Pier 5 as open space.
"We were ecstatic when we heard that," Rosemary Macero, a Charlestown resident and member of the Pier 5 Association, said in a recent interview.
More than 3,000 people have signed a petition to rehabilitate the closed-off pier into a public park jetting out into the Boston Harbor.
However, city officials say the pier is unsalvageable. And the BPDA's move to reject the housing proposals casts its future in deeper uncertainty. Any revival project would cost tens of millions of dollars, with no clear funding source.
If nothing else, the BPDA has floated demolishing the pier for safety reasons, and simply moving on.
But with a new mayoral administration, advocates are holding out hope that Pier 5 has a future.
"It is right in the center of the northern part of the harbor, one of the most protected points, where the Mystic River and the Charles River converge," Macero said. "It's an iconic site."

Located in the waters where British ships fired on militiamen during the Battle of Bunker Hill, the pier was originally constructed out of wood in 1912 as part of an expansion of the historic Navy Yard, before being rebuilt with concrete and steel during World War II in order to repair battleships.
After the Navy Yard was decommissioned in the 1970s, the federal government transferred ownership of the property to the Boston Redevelopment Authority, now the BPDA, as part of a plan to develop much of the waterfront area into a mixed-use neighborhood.
However, the blighted strip remains fenced off and unused between its two popular peers; Pier 4 is home to the MBTA's Charlestown ferry dock, as well as a youth sailing nonprofit, while Pier 6 is perhaps best known for its eponymous restaurant.
After nearly half a century, Pier 5 remains the last vacant parcel in the Navy Yard.
One way or another, the BPDA says it would need to be completely rebuilt to be used again. The pier's underwater steel pilings have corroded over time, making the entire 650-foot-long structure unsafe. According to a study commissioned by the city, demolishing and rebuilding the pier alone would cost $16 million. And any redevelopment would have to confront the increasing threat of sea level rise.
In order to finance the project, the BPDA put out a call last year seeking public-private partnerships to redevelop the pier. In response, they received three proposals, and lots of glossy renderings.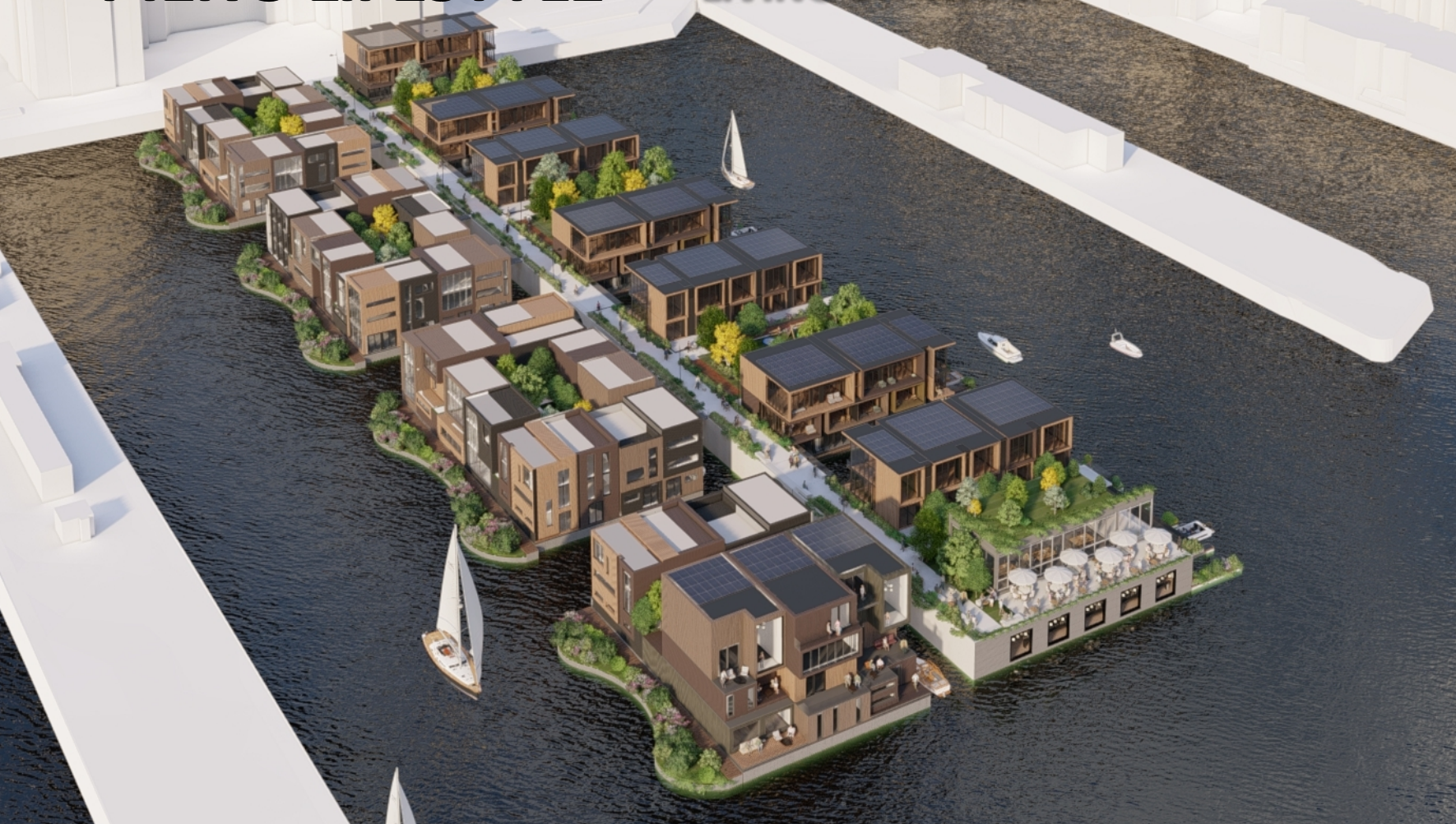 One plan proposed dozens of floating multi-family houses for rent, connected by a boardwalk. Another suggested floating communities with Amsterdam-style canals, "pocket parks," and a waterfront bar. A third floated 89 income-restricted apartments, a grocery store, stores, and a waterfront public park at the end of the pier, elevated 20 feet above the water.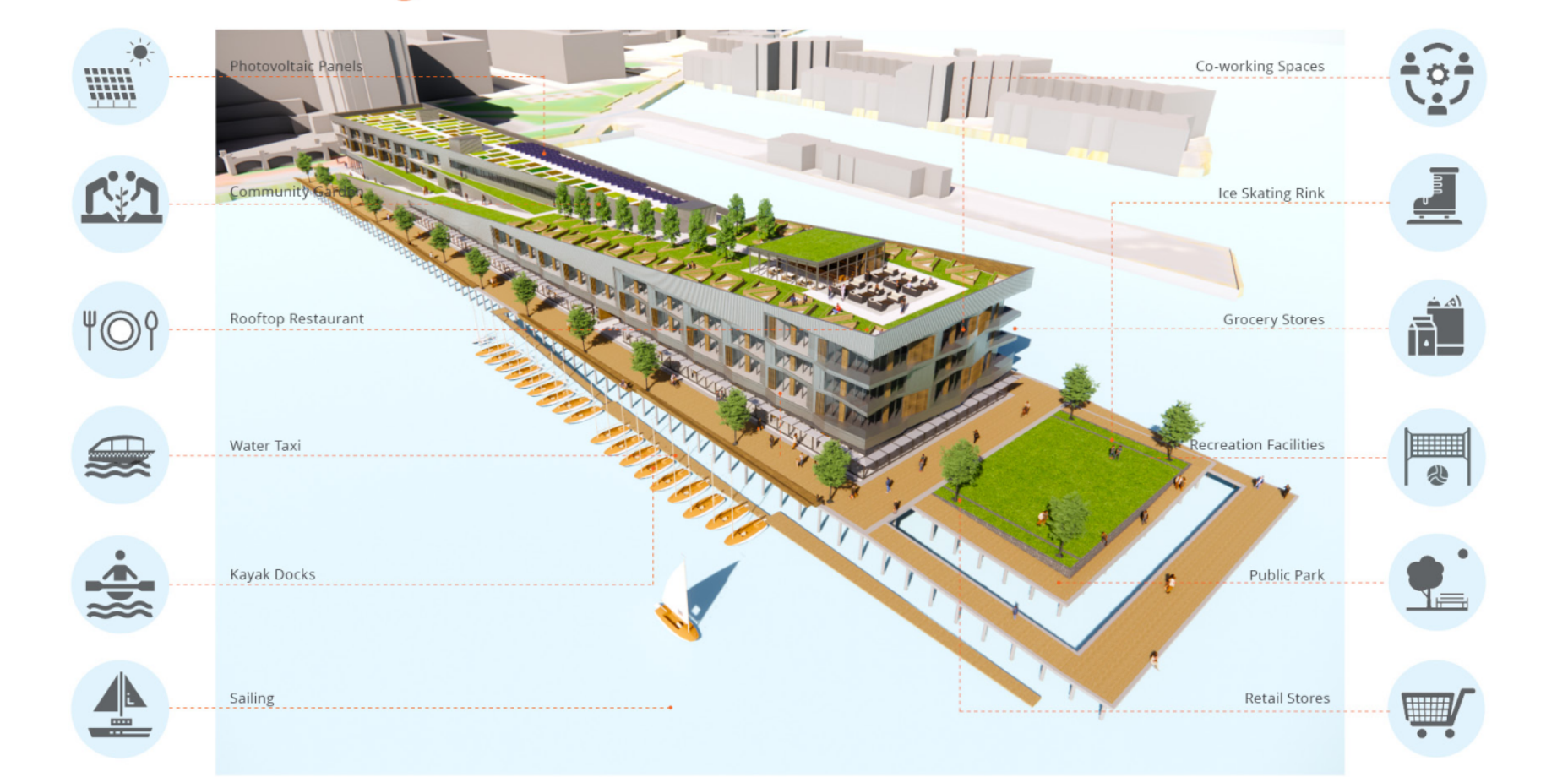 BPDA officials applauded the proposals "extremely creative approaches" to addressing the region's housing shortage and challenge of climate change at the pier.
Ultimately, all three were turned down.
"We have determined that they are not the right approach for this site at this time," BPDA officials wrote in a Nov. 22 letter, withdrawing their request for proposals.
The two floating housing plans, they said, would not conform to the Navy Yard's waterfront development regulations requiring at least 50 percent of the pier to remain open space, among other design guidelines. They would also raise safety concerns as the "first instance of floating housing on an open ocean harbor," in addition to obstructing the nearby sailing nonprofit's operations to "the point of infeasibility."
And while the BPDA said the third plan's proposal to build 100 percent affordable housing at the pier would be "highly advantageous" in the high-priced Navy Yard, officials said the large amount of public subsidies required would make financing the project "extremely challenging," given the high per-unit costs due to the price of demolishing and rebuilding the pier.
"Housing on a non-floating pier structure also presents long-term resilience challenges due to sea level rise," BPDA officials added.
In addition to rejecting the proposals, the BPDA said it was "highly supportive" of residents' calls for preserving the pier as accessible open space, which was led by two groups, the Pier 5 Association and Restore Pier 5.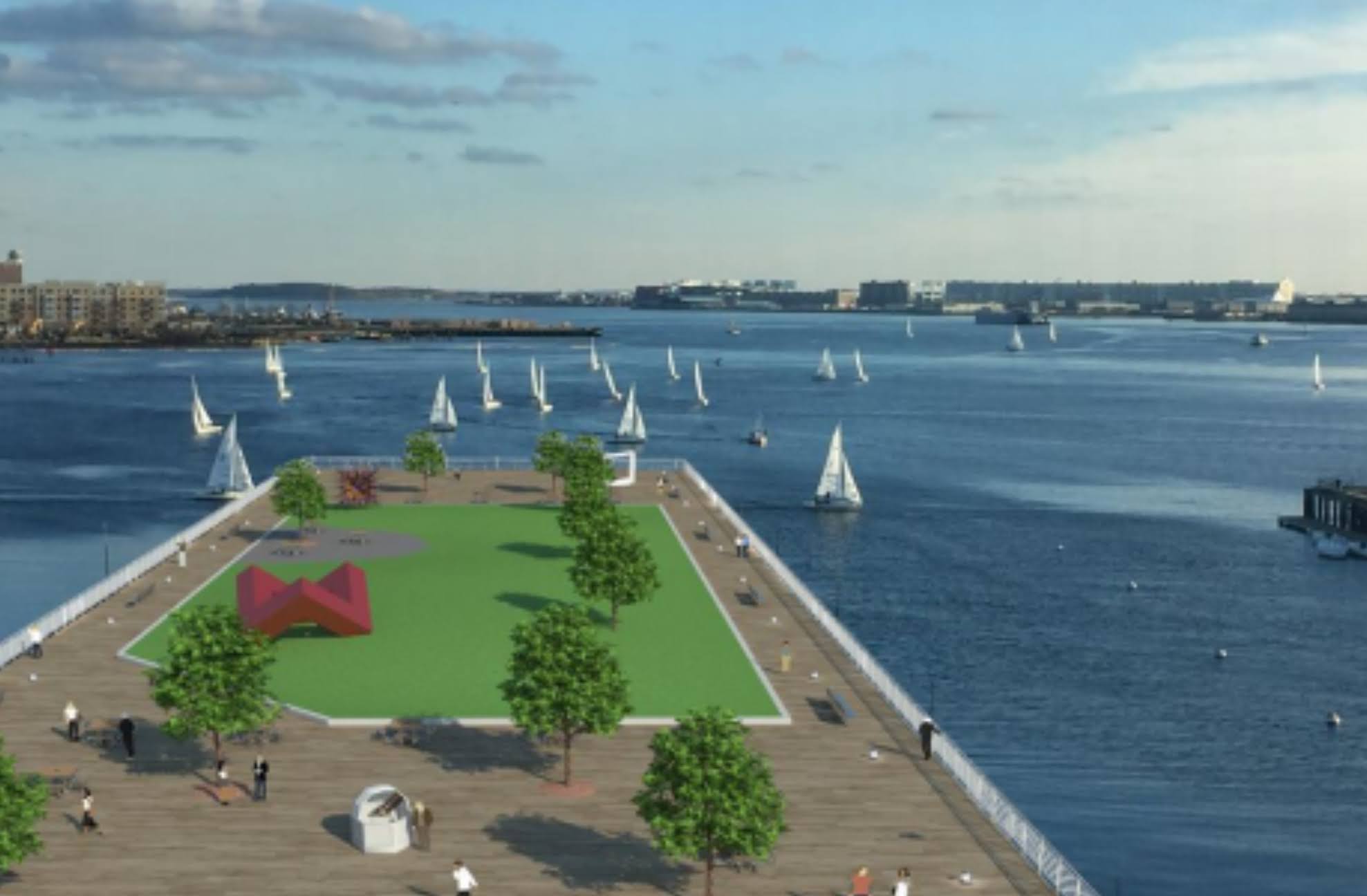 But city officials said any such project would have to be completely privately financed. Unlike their proposed public-private partnership to build housing at the pier, BPDA officials said that neither they nor the City of Boston currently have plans to spend public funds for a Pier 5 park.
The BPDA says they would "enthusiastically support" the creation of more open space or a park at Pier 5 through philanthropic or private financing. They even say they would accept an asking price of $0 if such a proposal emerges.
So far, none have.
According to the BPDA, a park could cost tens of millions of dollars, not including the estimated $16 million to demolish and rebuild the pier.
The Pier 5 Association, which is commissioning its own engineering study, disputes that figure. Macero said that the early indication is that at least some of the pier could be stabilized and restored for use as public space, at a lower cost.
Still, she acknowledged it is going to be "a lot of money to make the vision a reality."
To that end, they want the BPDA to kick in some money to facilitate a park, using whatever funds they set aside for demolishing the pier. Restore Pier 5 has also advocated for seeking funds from the recent federal infrastructure bill.
"Before, this couldn't be done because there was never any money," Bob Markel — a former Springfield mayor, high school friend of President Joe Biden, and Restore Pier 5 member — said at a rally in June. "Times have changed. There is a Niagara of money flowing out of Washington, D.C., now."
"I just think that it's a great opportunity," Macero said.
Of course, there are also opporunity costs.
The BPDA says Pier 5 is an "unlikely candidate" for public funding, with the Navy Yard already "well-served" by public open space, including nearby Shipyard Park, Pier 4, Menino Park, and the Navy Yard National Historic Park.
At the same time, there are lower-income neighborhoods around Boston that struggle with increased heat islands due to a lack of open space — much less a waterfront view — that officials say are more in need (as of 2017, the median household income in Charlestown was $103,243, about two-thirds higher than the citywide average of $62,021).
"There are areas in Charlestown, as well as other neighborhoods within the City of Boston, that are in greater need for public funding for park creation," BPDA officials wrote in the Nov. 22 letter.
"Equitable public investment in open space must prioritize the needs of low income, diverse communities that currently lack adequate access to open space and face serious risks related to climate change," they added.
Macero argues that the location of the city's largest public housing development a half mile away, as well as Charlestown's high proportion of veterans and Gold Star families, give Pier 5 a case for funds. She also says the waterfront park aligns with Boston Mayor Michelle Wu's emphasis on climate change resiliency and environmental preservation.
"It's a much easier route if the city can dedicate some infrastructure money to it, or some historic preservation money or some climate resilience money," Macero said.
Wu's office declined to say if they support dedicating any public funds to a Pier 5 park, but the city is planning to solicit more ideas.
"We look forward to kicking-off a new community visioning process for the site in 2022, and releasing an updated RFP that takes into account community feedback and economic feasibility," Emma Pettit, a spokeswoman for Wu, said in a statement.
The BPDA says it's unlikely the new process will result in housing, due to the feasibility issues they encountered after the first request for proposals.
And while they already engaged several traditional philanthropic funders of open space and did not receive interest in funding a park, it's possible the outcome is different following the new process, agency officials said.
With the 250th anniversary of the Battle of Bunker Hill less than three-and-a-half years away and Boston's 400th birthday approaching in 2030, Macero hopes to make meaningful progress next year toward creating a park in time to commemorate the historic markers. With any luck, or a well-heeled donor with money to spend, she hopes that 2022 is, finally, Pier 5's year.
Newsletter Signup
Stay up to date on all the latest news from Boston.com