Local
Boston isn't facing snowplow driver shortages headed into winter season, officials say
"We are well staffed."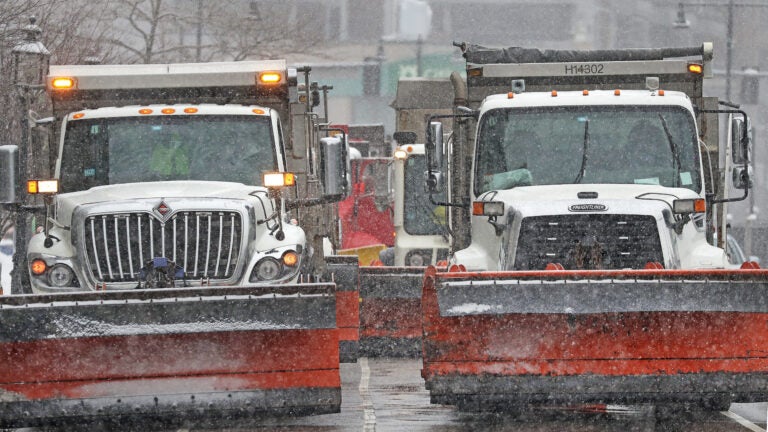 Once again, municipalities across Massachusetts are struggling to find enough snowplow drivers to clear the streets of their communities this winter, with some offering rates as high as $310 an hour to recruit workers. But Boston officials said on Monday that they have no such concerns about staffing for the city as winter officially begins next week.
Mayor Michelle Wu and other city leaders outlined how Boston is prepared for any snowstorms — from minor to major — during a press conference staged in front of huge piles of salt.
The mayor said the city has 40,000 tons of salt, 164 pieces of in-house snow clearing equipment, and the ability to put more than 800 other pieces on the road during larger storms.
"As we continue to manage amidst a global pandemic, winter will be the next phase of how we're supporting all of our residents," Wu said.
The mayor said staffing "is a challenge" when it comes to ensuring Boston has enough plow drivers, but she said the city has been working on the issue "way in advance."
As of now, Mike Brohel, the city's superintendent of streets, said he is comfortable with the number of drivers on hand, which he said meets the standard of past winters.
"Currently, we are well staffed," he said. "We have yet to see that loss in personnel that people are talking about statewide. But we're also going to keep an eye on that as this winter unfolds. Obviously, as months go on, snowstorms go on, you tend to lose some folks, add some folks."
Brothel said the city works with nine snow contractors for a "good portion" of the winter work.
Being a major municipality, he said Boston is able to pay more than some of the other smaller towns across the state that have been struggling to maintain drivers.
"So far we've gotten the firm commitment from all nine contractors that they've got the drivers to man their trucks," he said. "I think it helps that we do pay that premium, that we have overtime, that we've been able to keep that control over that."
It was tough for Massachusetts communities last year to find snowplow drivers. And the situation is repeating this year with towns around the state offering high hourly rates for drivers with a commercial license. Watertown is reportedly paying up to $200 for plow drivers with a commercial license, with the rates going up to $310 for those with specialized equipment. Meanwhile, Worcester and Lowell are offering up to $155 an hour, and Sandwich is advertising up to $135.
Wu said it remains a major priority for her to ensure that contracticing opportunities — from snowplow drivers to other work — "reflect the City of Boston."
"This is one of the departments and places where we'll really be focusing on ensuring that we're bringing in Boston residents, businesses owned by residents of color, and throughout the ways that our city contracts will be turning over to ensure that we are closing the racial wealth gap through the dollars that we are putting out into the community," she said.
Wu said working with all city departments headed into winter and with another surge of coronavirus, it remains important for essential workers to have access to COVID-19 testing and resources to stay safe from the virus.
"We are very carefully watching to ensure that we're not affected by staffing because we're able to make those COVID protections accessible as well," she said.
City employees working on snow clearing will still be complying with social distancing measures, officials said.
"Everything that we will be rolling out will be through that lens keeping both employees safe and contractors safe to ensure that we're keeping the city's roadways safe," Brohel said. "We have the care and custody of 850 miles of road lane, which can be difficult through Mother Nature, what she throws at us by way of snow, ice, small scale events, large scale events."
Watch the full press conference on Boston's winter preparedness below:
Newsletter Signup
Stay up to date on all the latest news from Boston.com