Politics
Sonia Chang-Díaz defends staffer who wore 'ACAB' hat — and fires back at police unions
"Republicans and police unions are so afraid of my candidacy that they're attacking one of my staffers in an attempt to misrepresent my positions — and it's disgraceful," the candidate for governor said.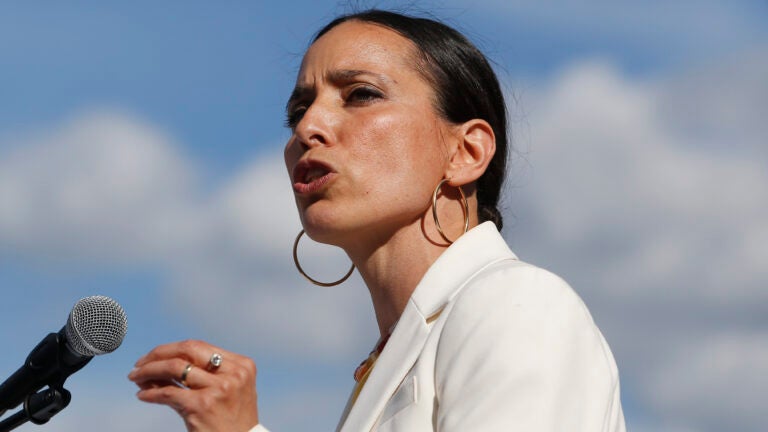 Facing criticism from police unions and Republicans, Massachusetts Democratic gubernatorial candidate state Sen. Sonia Chang-Díaz is firing back and defending a recently hired campaign staffer who can be seen in a social media profile picture wearing the controversial, anti-police statement "ACAB."
"I don't agree with every sentiment my staffers hold, but if the GOP and police unions were actually concerned about chronic distrust of police in Black and brown communities, they would spend their time holding their officers accountable — not scrutinizing my staff's social media photos and looking the other way on police brutality," Chang-Díaz said in a statement shared with Boston.com on Tuesday.
The controversy comes days after Chang-Díaz's campaign announced Anthony Collins will serve as organizing director.
In a press release, Collins was described as a "veteran organizer on Massachusetts campaigns," who most recently served as field director for Kendra Hicks's successful Boston City Council bid. Collins previously worked on Ed Markey's 2020 U.S. Senate run, Elizabeth Warren's presidential campaign, and Ayanna Pressley's 2018 congressional campaign, among others.
In his Twitter profile picture, Collins can be seen wearing a beanie with the acronym, "ACAB," a stand-in for the phrase, "All cops are bastards."
The statement first appeared in the early 20th century in England, and its abbreviation caught hold in the 1940s, per GQ. The saying is now used worldwide, and most recently garnered new attention as part of the racial justice movement in the United States, particularly after the murder of George Floyd by Minneapolis police last year.
The phrase, however, is also used by a wide variety of political groups and is associated with various ideologies. The Anti-Defamation League includes ACAB in its database of hate symbols due to its use in the skinhead subculture, although the group notes "it should be carefully judged in the context in which it appears."
Collins's decision to wear the hat is "consistent with the messaging of the radical Democratic Party, which is: defund the police, treat people who are out on the street protecting us with disrespect and indicate that the rule of law doesn't matter," MassGOP Chairman Jim Lyons told The Boston Herald.
In a statement, Sgt. Mike Cherven, president of the State Police Association of Massachusetts, said: "Everyone is entitled to their opinion. It's a shame that a person associated with an elected official would choose such an ignorant statement. But we respect everyone's rights and their Constitutional right to free speech."
Chang-Díaz was a pivotal force behind last year's sweeping police reform legislation, which created a statewide system to certify officers and de-certify those proven to have engaged in misconduct.
In her response to the uproar, Chang-Díaz made clear she believes in the need for additional reforms, including qualified immunity, the oft-debated legal doctrine that protects officers from civil lawsuits.
"Republicans and police unions are so afraid of my candidacy that they're attacking one of my staffers in an attempt to misrepresent my positions — and it's disgraceful," the senator said in her statement. "I'm the one running for Governor and my record is crystal clear: we need real police reform and accountability to restore community trust, we need to end qualified immunity, and we need to redirect funding from over-policing and unused prisons into communities that have been ravaged by the War on Drugs and mass incarceration."
Newsletter Signup
Stay up to date on all the latest news from Boston.com