Local
Lawmakers propose 'COVID-19 Action Plan' as another Mass. city reinstates mask mandate
"Our constituents and communities need a multi-pronged approach to combat COVID-19 and protect public health, especially through these colder months."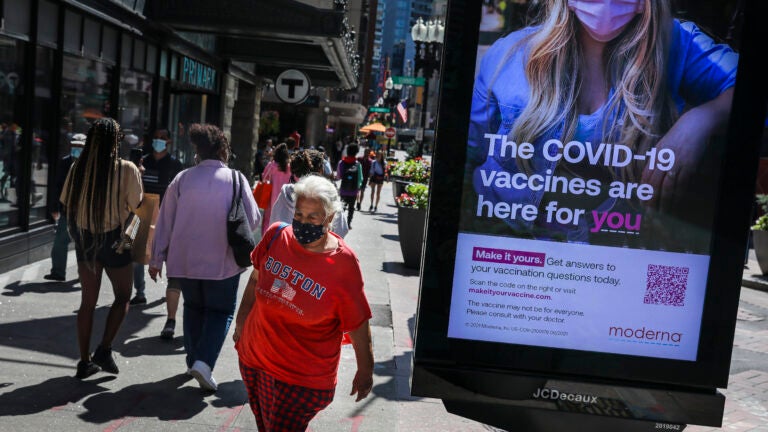 As a group of state lawmakers ask Gov. Charlie Baker to put a new COVID-19 Action Plan into place — including a statewide indoor mask mandate — some municipalities have taken matters into their own hands.
Lowell just reinstated a citywide mask mandate for all people over the age of 2 while indoors. The measure comes as the city reported 108 new COVID-19 cases; its vaccination rate is under the state average at 61 percent, according to NBC10 Boston.
Lowell is far from the only municipality in the state to reinstate a mask mandate for all indoor settings – 58 others, including Boston, have done the same in recent months, according to The Boston Globe.
The new action plan, proposed by a mix of 13 state senators and representatives, includes a call for a "data-driven statewide indoor mask mandate" that would follow CDC guidelines that everyone over the age of 2 wear mask in areas with high or substantial transmission, according to a letter to the governor dated Wednesday.
Other measures include getting to higher vaccination rates, including first vaccines plus the booster, "enhanced" and free COVID-19 testing, safety measures at work places, helping to stop the spread at home "through stronger housing policy," giving children better masks to help stop the spread at school, "effective communication" with communities that have high transmission, "investing in local public health" and support for those working on the front lines, the letter says.
The plan was devised with the help of health experts and "endorsed by a coalition of over 100 public health and medical professionals and 36 community organizations," according to a statement from Sen. Becca Rausch of Needham, one of the signers.
The letter does praise Baker for his administration's plan to send free tests to 102 communities.
"Unfortunately, experts confirm that testing is not enough," the letter said. "Our constituents and communities need a multi-pronged approach to combat COVID-19 and protect public health, especially through these colder months."
These are the 59 communities with indoor mask mandates for all settings as of Thursday, Dec. 16:
Amherst
Aquinnah
Arlington
Ashfield
Bedford
Belchertown
Belmont
Billerica
Boston
Boxford
Boylston
Brookline
Buckland
Cambridge
Canton
Carlisle
Chelsea
Chilmark
Conway
Dunstable
Eastham
Easthampton
Edgartown
Georgetown
Gill
Gloucester
Greenfield
Hadley
Lancaster
Lee
Lenox
Lexington
Leyden
Lincoln
Littleton
Lowell
Newton
Northampton
Oak Bluffs
Orange
Pittsfield
Revere
Rowe
Sharon
Shrewsbury
Somerville
Stockbridge
Sudbury
Tisbury
Wellfleet
West Boylston
Westford
West Tisbury
Winchester
Winthrop
Worcester
Newsletter Signup
Stay up to date on all the latest news from Boston.com