Local
Is another battle over potential MBTA fare hikes on the horizon?
The MBTA's new board chair says the agency has a "serious problem" in the coming years without a fare hike. Transit advocates have a problem with it.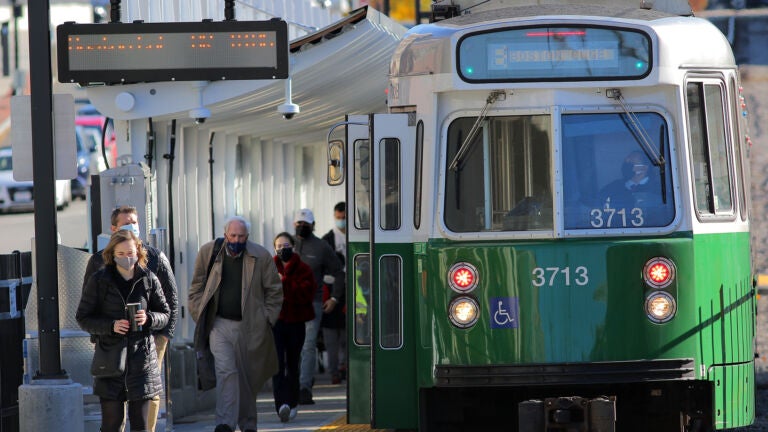 The MBTA's new oversight board chair says she'll have a "serious problem" if the agency doesn't increase fares within the next five years.
She could have a different problem if it does.
Local transit advocates are pushing back on the notion that a fare hike is necessary to close the MBTA's projected future budget gaps, after current federal COVID-19 reliefs funds run out.
"Boston residents cannot be burdened by another round of MBTA fare hikes," Boston Mayor Michelle Wu — who rallied against the T's fare increases in 2019 and has pushed to eliminate fares altogether — told Boston.com in a statement Friday.
Both outside groups and MBTA finance officials say the money from several federal relief packages will be enough to offset lost fare revenue from the pandemic-induced collapse in ridership through the 2023 fiscal year. But after that, even under the most optimistic predictions of riders returning, the MBTA estimates it will face a $341 million deficit in 2027. If riders are slower to return, the gap could be $550 million, roughly a quarter of the T's entire operating budget.
During a meeting last week, Betsy Taylor, the recently appointed chair of the MBTA's new Board of Directors, acknowledged the growing political support among local progressives for eliminating fares, but suggested she was looking in the opposite direction.
"Without a fare increase over this five-year period, we have a serious problem," Taylor said.
"I know there are many people that would like us to consider reducing certain fares as opposed to increasing them," she continued, adding that she hopes to hear "what revenues might offset any such decreases.
"There clearly is a lack of revenue here," Taylor said.
During a meeting Thursday, she added that "hard to see how we can survive long term with expenses growing faster than revenue," calling attention to the additional operating costs of expansion projects like the Green Line Extension, South Coast Rail, and the effort to modernize the T's fare collection system.
MBTA spokesman Joe Pesaturo said this week that an increase is "not under consideration at this time."
However, in a statement after the meeting Thursday, the Public Transit Public Good coalition called the talk of a potential fare increase "disheartening."
Brian Kane, the executive director of the MBTA's Advisory Board, which represents the cities and towns in its service area, said Friday that he doesn't think the new board is "hell bent on raising fares."
But after its successor body, the Fiscal and Management Control Board, pushed to pilot half-price fares for low-income riders, Kane said Taylor's eye on fare hikes was "kinda new."
"They see a deficit once federal money runs out," Kane said in an interview. "There's three ways they can address it: They can cut expenses, they can raise fares, or they could get more money from the state."
Transit advocates want the MBTA — or state lawmakers — to pursue that third option.
Increasing fares would hurt residents, drive down ridership, and worsen traffic for the region," Wu said. "At this critical moment, we must use every tool available to expand safe, reliable transportation for our residents — including pursuing structural reforms to the MBTA that shift us away from barriers to ridership and toward more sustainable revenue sources for the long term."
Wu said she hopes to work with Gov. Charlie Baker on the subject, and she has previously pointed to potential federal grants for reduced or fare-free transit.
Others have said that next year's ballot question to impose a 4 percent surtax on annual income over $1 million in Massachusetts, if it passes, could be sustainable funding source. Some state legislators have also proposed an incremental increase in the gas tax to fund the MBTA.
However, the Baker administration has declined to back those proposals, instead tasking the MBTA with increasing revenue for its operating budget itself.
Still, he questioned the degree to which a fare hike could solve a hole of hundreds of millions of dollars.
State law limits fare increases to no more than once every two years and sets a cap of no more than 7 percent. When the MBTA last increased fares in 2019, the across-the-board 6 percent hike was estimated to increase revenue by $32 million.
Fare revenue, which historically made up about a third of the MBTA's over $2 billion budget, dropped from about $672 million in the 2019 fiscal year to $167 million from July 2020 through June 2021. With many office workers in the Boston area continuing to work remotely, they expect it remain down around $200 million in the 2022 fiscal year.
By 2027, the T forecasts that fare revenue could rebound back to 2019 levels or, under its most pessimistic ridership projections, remain down by about $180 million.
Either way, MBTA officials estimate there'll be an additional $155 million budget gap from expense growth due to the Green Line Extension, South Coast Rail, a redesign of the bus network, and the upgraded fare system.
Kane, who thinks MBTA fares are already too high, noted that it's difficult for the agency's leaders to rely on potential revenue streams that haven't actually been passed yet, whether it's a bill or a ballot question. He suggested that, instead of fare hikes, the MBTA could look to reduce their expenses on things like its debt service, which makes up near a quarter of annual MBTA spending.
"If they cap their expense growth and get lucky somewhere along the line, they could be OK," Kane said. "But the T usually doesn't get lucky."
Newsletter Signup
Stay up to date on all the latest news from Boston.com