Local News
Viral 'Buddy the Elf' pillow-fighting firefighter raising money for Boston Children's Hospital
Meet Brendan Sullivan, a local firefighter spreading Christmas joy one pillow fight at a time.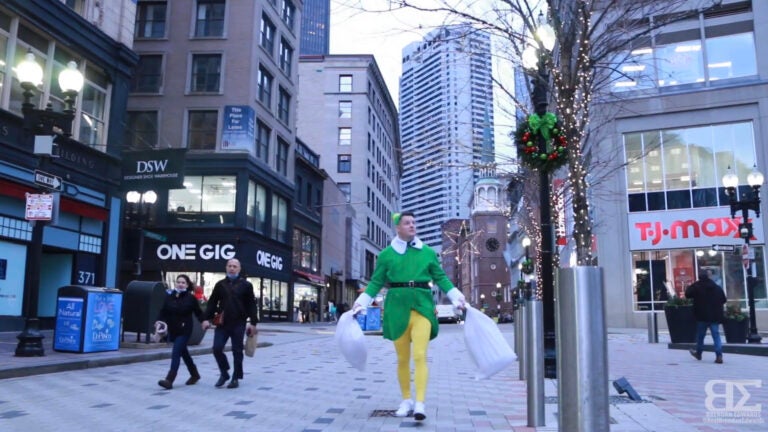 You can find a lot of things at Faneuil Hall. From Keytar Bear to Ned Devine's and even John Legend.
The past few years, you may have even caught Buddy the Elf. And while the notable Christmas character is known for spinning around turnstiles and eating already chewed gum off railings in New York City, this Boston-based Christmas elf has one goal in mind: pillow fights.
Meet Brendan Sullivan, a local firefighter spreading Christmas joy one pillow fight at a time.
Sullivan started his impromptu pillow fight videos in 2018. Since then, his videos around Boston — and even an episode in New York City — have gone viral. His video from 2018 has almost one billion views, according to Sullivan.
"I'd be walking down the street — of course I'm dressed as Buddy the Elf mind you — and people recognize us," Sullivan said. "They said 'oh my god, you're the firefighter. Oh my God. You're the Boston pillow fighting elf.'"
The videos have gained national attention. News networks such as CBS have reposted clips on their social media to share more of the holiday spirit.
"You can Google it and you find articles from Australia, Ireland, Germany, Mexico," Sullivan said. "And you see how important this has become."
But in addition to the laughs across the globe, Sullivan has used his viral videos to fundraise for toy drives at Boston Children's Hospital.
Since the first video, Sullivan has sold T-shirts to raise money for Boston Children's Hospital, where he used the profits to buy toys for the 160s Transportation Battalion toy drive. During the last physical toy drive in 2019, Sullivan helped collect 500 toys and 20 Christmas trees — all packed in the back of a pickup truck.
While the first T-shirts read "The Pillow Fighting Elf" and the 2019 T-shirts read "the North Fire Department," in 2020 and this year, Sullivan is selling "North Pole COVID Response Team" T-shirts.
The pillow fight videos took a pause last year due to the pandemic. But luckily, the fundraising continued.
"I was happy with everything, but how can I make others happy? I can donate. I can start a fundraiser," Sullivan said. "I can use what I was given, the almost 1 billion views that was like a dream come true right…but now we have this worldwide exposure, how can I use that to somebody else's advantage."
While Sullivan was unable to purchase toys for patients at Children's Hospital like previous years, he initiated a "virtual toy drive" for 2020 and this year. Sullivan's profits are donated to the hospital so they can buy the toys themselves.
Last year, Sullivan said the fundraiser reached about $2,800 — only $200 away from Sullivan's goal of $3,000. He is hoping to reach that much this year and he has raised $1,475 from 27 donors as of Dec. 16.
With more people vaccinated, Sullivan was excited to restart the pillow fights in Boston this year. While he used to just throw a pillow at a passerby to start the pillow fight, this year he asked people to make sure they were comfortable due to COVID-19.
Additionally, this year Sullivan is adding another new feature by incorporating some local businesses, including Sully's Pickles, Last Ride Auto Detailing, Black Stallion Tattoos, Matt's Music Center, Great White Hot Sauce, and Wonderland Clay Company.
"Brendan is just a great guy who supports his community and people in need. The video speaks for itself," Sullivan's friend and owner of Great White Hot Sauce, Mark Shannon said. "Seeing people who don't know each other at all, sharing smiles and laughter is something we need more of. Especially now. "
Sullivan originally contacted his friend Jay, member of local band Lannen and owner of Matt's Music Center in Weymouth, to have them record a Christmas song for the video. Sullivan said he wanted to do this to promote his friend's band, then asked about a potential sponsorship.
"Matt, my former boss and who the store was named after, passed away of Cancer 2 years ago at this time, so I really try to do anything and everything I can to help in his name and we are proud to be a part of it," Jay wrote in an email. He has known Sullivan for about 15 years, and said he is "a great guy with a big heart."
"I opened my business through the pandemic and my main goal of this business was the same as Brendan," said Sullivan's friend and former firefighter Jonathon Sisto. "To use my public relations, vast group of friends and social media to help others in need because that is and was our job on or off the clock."
Now, in return for the businesses donating to the fundraiser, Sullivan features their companies in his videos as sponsors. Sullivan hopes to help his friends' businesses, especially after the pandemic.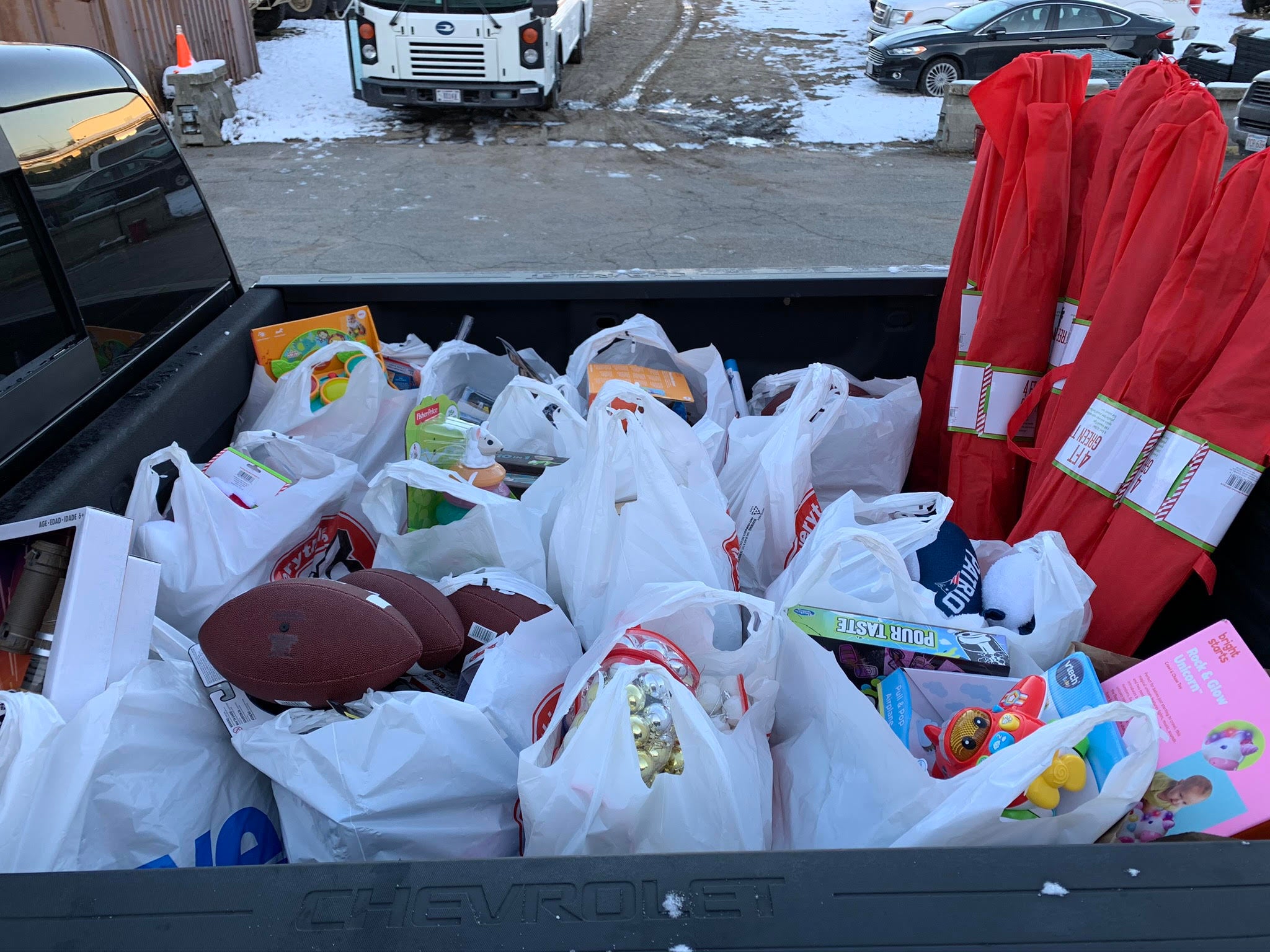 "I hope that people can look at this fundraiser and see just how much the small business community can help benefit their community, their state, and the world if they give us a chance!" Sisto said.
As for going forward, Sullivan plans to continue his Buddy the Elf shenanigans and the fundraiser and expand them. His son may even be part of the it next year.
"My son's gonna be 10 and he may or may not have a Buddy the Elf costume himself," Sullivan said. "What I'm doing is rubbing off on my children. And hopefully — on top of wanting to dress like Buddy the Elf — they see that kindness is key as well."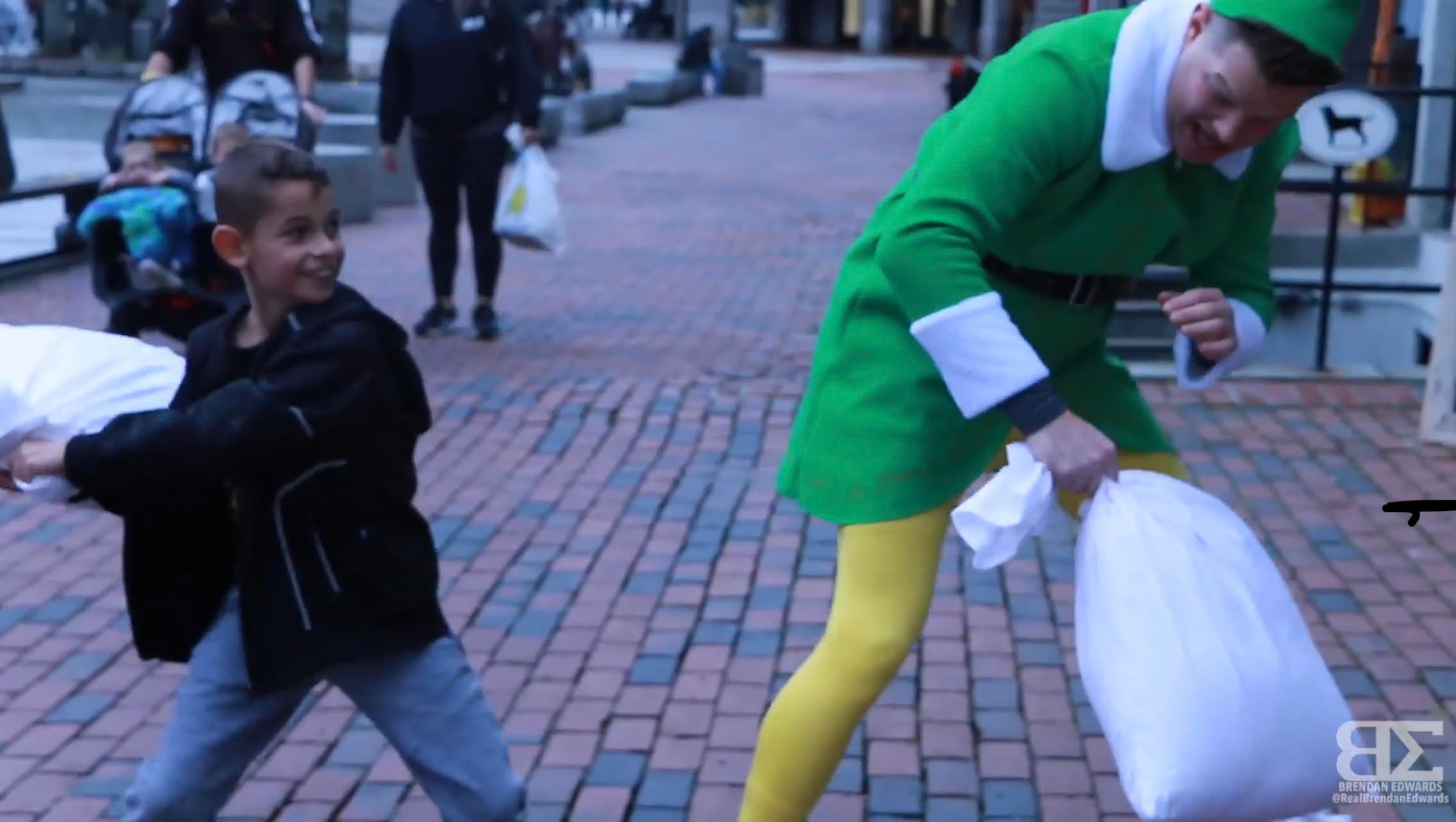 Newsletter Signup
Stay up to date on all the latest news from Boston.com