Local
Tewksbury police hand out gift cards instead of traffic tickets to spread holiday cheer
"Most of the responses were shock, and a few people started crying. The positive interactions go a long way with officers, and we hope with members of the community too."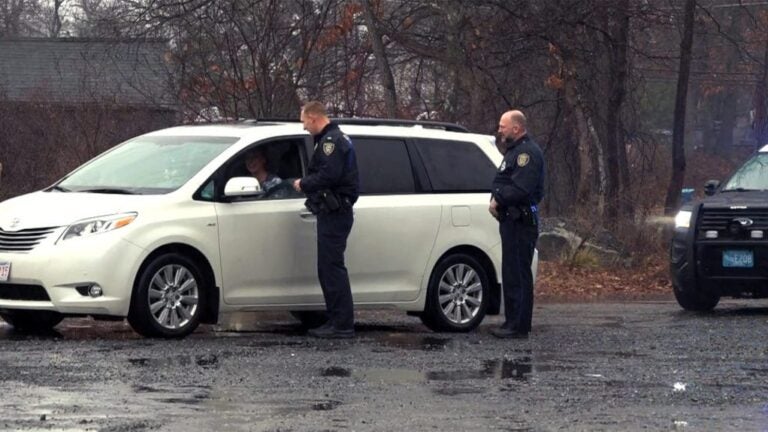 Instead of traffic tickets, the Tewksbury Police Department decided to spread some cheer this holiday season by giving out $25 Walmart gift cards.
"We wanted to do something to create positive interactions with people," said Lt. Patrick Connor, who orchestrated the idea, in a statement from the department. "This was important for us because we're always dealing with people in a negative light or when they're having serious issues, or when we have to give them tickets."
Walmart in Tewksbury donated $100 worth of gift cards to the effort, and the Tewksbury Police Association contributed $300 to purchase a total of 16 $25 gift cards which were then distributed to officers who gave them out during stops for minor infractions.
"We pulled those cars over and talked with the drivers about their holiday shopping, and then at the end, we advised them of the violation we stopped them for, and instead of giving them a citation we gave them a gift card," Connor said. "Most of the responses were shock, and a few people started crying. The positive interactions go a long way with officers, and we hope with members of the community too."
All of the gift cards have been distributed.
"Safe driving is vitally important as we work to prevent tragedies over the holiday season, but we also understand that traffic stops can be stressful for community members, especially if they can't afford to pay during the holiday season," said Chief Ryan M. Columbus. "All of us at the Tewksbury Police Department hope this effort brings cheer to the community, while also providing a memorable reminder of the importance of driving safely."
The Tewksbury Police Department also shared the following tips from the National Highway Traffic Safety Administration for safe holiday driving:
Travel at a safe speed. Speed affects your safety even when you are driving at the speed limit but too fast for road conditions, such as during bad weather, when a road is under repair, or in an area at night that isn't well lit. For more than two decades, speeding has been involved in approximately one-third of all motor vehicle fatalities.
Don't drive distracted. Pay attention to the road. Texting is the most alarming distraction. Sending or reading a text takes your eyes off the road for at least 5 seconds. At 55 mph, that's like driving the length of an entire football field with your eyes closed. Teens are the largest age group reported as distracted at the time of fatal crashes.
Wear a seat belt and wear it properly. The simple act of buckling your seat belt increases your chance of surviving a crash. In 2017 alone, seat belts saved 14,955 lives. But if everyone had worn seat belts on every trip that year, 2,549 more lives could have been saved.
Make sure children are buckled in the right seats for their ages and sizes. Since 1975, 11,606 children ages 4 and under have been saved by child restraints. There were 325 children saved in 2017 alone.
Drive Sober. Designate a sober driver if you plan to drink. In 2017, there were 10,874 fatalities in motor vehicle traffic crashes involving drivers legally drunk. These deaths are 100-percent preventable.
Newsletter Signup
Stay up to date on all the latest news from Boston.com