Local
'Let's find her': A N.H. girl was reported missing — 2 years after she was last seen
Harmony Montgomery, now 7 years old, was last seen in October 2019. But police say they weren't notified she is missing before last week.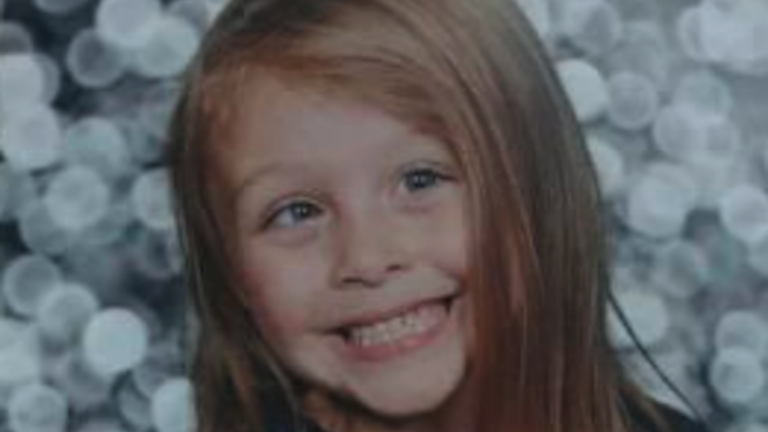 The last time someone saw Harmony Montgomery, a then-5-year-old girl from New Hampshire with blonde hair and blue eyes, was over two years ago.
But the missing person notices that have now shuffled onto social media by Manchester police are not a relic of 2019 or of an investigation long closed — or indicative of some break in the search to find her.
No, the fliers were made just last week, when police were made aware that Harmony was missing, authorities say.
"There's many questions that need to be answered from 2019 to where we are on Dec. 31, 2021," Manchester Police Chief Allen Aldenberg told reporters during a press conference on Friday. "And we are working to get those answers with the hope and desire to bring Harmony home to her family."
How exactly Harmony's absence went either unnoticed or unreported, or potentially both, remains unclear.
Aldenberg said he believes the last time Harmony was enrolled in a school, she was a student in Massachusetts and likely would have been of kindergarten age. Asked on Friday if she was a resident of the Bay State at that time, the chief said investigators were still working to figure that out along with where exactly she attended school.
Urging the public to come forward with any possible tips or leads, Aldenberg has not been able to offer many details of the investigation to date.
He said on Friday repeatedly only that police had spoken with several members of the family. Authorities are not searching for any person other than Harmony, he said.
According to police, Harmony is blind in her right eye and "should wear glasses." Investigators believe that she would be about 4 feet tall, weigh 50 pounds, and be 7 years old if seen today.
At another press conference on Monday, Manchester police announced a hotline for all tips about the case, which can be called in or texted to 603-203-6060.
Additionally, there is $12,500 in rewards for tips that lead to Harmony being found: the Manchester CrimeLine, a nonprofit organization, is offering $2,500, and two local businessmen are offering a combined $10,000, Aldenberg said.
"We have a two-year window that we're trying to shrink as much as humanly possible, as fast as we can," Aldenberg said of the police probe.
Here's what we know about the case so far:
What authorities have said
Harmony was last seen in October 2019 at an unspecified Manchester residence, police said. Aldenberg, when asked to name a specific street, said he was not at liberty to release that information on Friday.
The sighting was during a call for service that involved the Manchester Police Department, he said.
"That call to service was handled, and that is the last time that she has been seen here in the city of Manchester," Aldenberg said. "I'm not saying that she has not been seen somewhere else. I'm just focusing on when the last time she was seen in the city of Manchester."
Police had no reason to return to that address following the call, he said.
According to Aldenberg, police became aware of Harmony's absence sometime last week.
Aldenberg said Monday that police were notified of the case by the New Hampshire Division For Children, Youth, and Families.
"For us to have a two-year delay, that is extremely concerning," he said on Friday. "It's not something that happens on a regular basis, not something that we deal with."
Police spoke with members of her family, and despite doing so, their "concerns for the whereabouts of her remain the same," the chief said.
The case became a "priority one" for the department's Juvenile Division, as is any missing child case in Manchester, he said. Police are working alongside DCYF and the National Center for Missing and Exploited Children.
"I know people are going to say, 'Well, here it is 2021, almost 2022, and nobody's seen this young girl since late October 2019. So what's happened in the last two years?'" Aldenberg told reporters. "Fair question. All right. That's why I'm here today — because we need assistance. We need help. And we don't have many answers to many questions that we have."
He added: "We cannot investigate things if they're not brought to our attention."
According to Aldenberg, the case falls short of the requirements to issue an AMBER Alert on cellphones. To send out an alert, investigators would need to have a vehicle she may be in and someone she may be with, he said.
Aldenberg emphasized that members of the public should call police with any and all information about Harmony's whereabouts. If someone thinks they saw her even soon after she was last reported seen in 2019, authorities want to know.
All of those details could potentially help to narrow the timeline for investigators, he said.
"We're (in) the holidays, and no time is a good time for a child to go missing. But I'm imploring, I'm asking, I'll go as far as I'm begging the community" for help, Aldenberg said Friday, New Year's Eve. "I don't care if you saw this young girl a year ago and you think it's irrelevant. Call us and say, 'I saw her a year ago. I saw her 18 months ago. I saw her a week ago.'"
On Monday, Aldenberg said he would not get into the details of where Harmony "should have been or who she should have been with."
The chief also said last week that if the two-year delay was due to some sort of internal breakdown in the law enforcement system, he would "deal with that when (it's) appropriate."
"But right now, we need to find this little girl," he said.
'It's obviously very heartbreaking'
Blair Miller, Boston 25 News's Washington correspondent, told the station Harmony is the biological sister of his adopted son, Jamison.
The two children have the same biological mother, Miller said.
"He has a very close relationship (with Harmony), or he at least did and when they were in foster care, and we've tried to keep that relationship going, but it's been very, very difficult over the years," Miller said.
Miller said he and his husband never personally met Harmony but learned about how close the two were during the adoption process. The couple also has a close relationship with Jamison and Harmony's mother, he said.
"We've always said, how can we get in touch with Harmony because this is a close part of Jamison's relationship and something that we wanted to continue and we just haven't had any luck," he said. "And so we see everything that's been developing over the weekend, (and) it's obviously very heartbreaking."
Miller said his family has been in touch with Manchester police and has shared with investigators information he has collected about "where we've been told Harmony has been over the last couple of years."
According to Miller, he and his husband once inquired about adopting Harmony as well but were told by the Massachusetts Department of Children & Families that Harmony was reunited with her father.
"There wasn't much we could do," Miller said. "Certainly it's upsetting to hear that no one knows where she is right now."
An email to the mayor's office
Manchester Mayor Joyce Craig's office told WMUR on Sunday it received an email last week that expressed concern for Harmony over issues regarding a follow-up from the DCYF.
Craig's office told the person that if they felt Harmony was in danger, they should immediately call 911 or send information to the police.
The individual did not respond to the mayor's office after that, according to the news station.
Police searched a property on Gilford Street
On Sunday, police searched a residence at 77 Gilford St., the New Hampshire Union Leader reported.
Footage taken by a drone showed authorities set up a tent in the backyard, according to the newspaper, which reported that Aldenberg confirmed the department's involvement at the site but did not give any further information.
Police were at the scene between 8:29 a.m. and a little after 2 p.m., the Union Leader reported.
A woman who lives at the home told Boston 25 News in an off-camera interview that she just moved to the house and had never met or had any interaction with Harmony or anyone in her family.
The woman and her neighbors told the station they don't know what, if anything, police found.
Aldenberg emphasized on Monday the current homeowner "has no involvement in this case," other than that they have cooperated with investigators.
He confirmed Harmony was seen at that address "at one point." He would not address any prior calls for police at that residence.
"That's why we had some interest in it yesterday, and if we need to continue to have interest in that address, we will," Aldenberg said.
'Enough is enough'
Aldenberg, at times during Monday's press conference, grew emotional and even frustrated as he demanded the public to step forward.
He said the police effort right now is a rescue, not a recovery.
"I don't care who you're affiliated with or who you associate with or what good you think you may be doing by not saying anything," he said. "It's time to be an adult. It's time to remember that we're talking about a 7-year-old girl. And if that was your child, my child, their child, they would want somebody to do the right thing. So quite frankly, enough is enough. It's a 7-year-old girl. Let's find her."
Newsletter Signup
Stay up to date on all the latest news from Boston.com