Local
Mayor Wu says Long Island is 'full of potential' but still a long-term option for Mass. & Cass
"This will be in the timescale of months and years."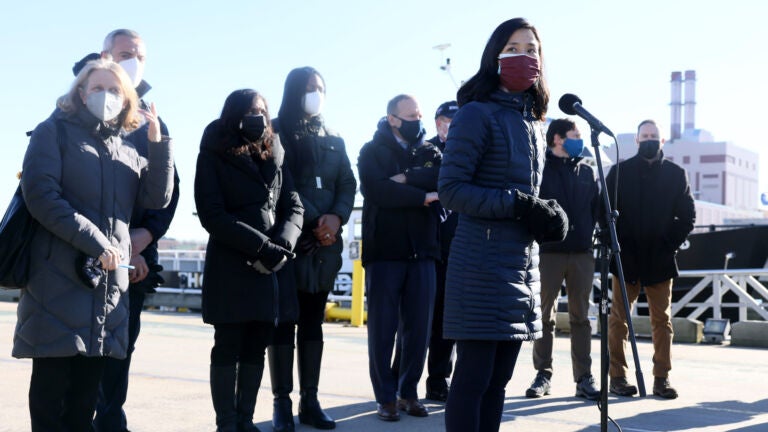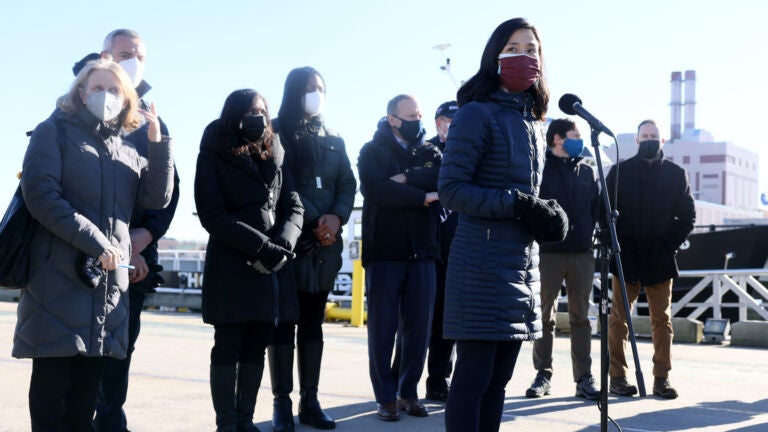 Mayor Michelle Wu said her administration is focusing on how to best utilize Long Island in Boston's efforts to address the ongoing humanitarian emergency at Mass. and Cass, which has exploded in recent years as the epicenter of the overlapping crises of addiction, mental health, and homelessness in the city.
Wu and a group of city officials and advisors visited the island in Boston Harbor on Tuesday and toured the existing buildings that previously served as part of a recovery campus. The facility shuttered in 2014 when the Long Island Bridge was determined to be structurally unsound and closed.
The loss of beds at the 400,000-square-foot campus and demolition of the bridge have been cited in the ensuing years by officials as being one of the primary drivers of the worsening situation around Mass. and Cass.
"It is full of potential," Wu said during a press briefing after the visit to the old campus.
She said many of the buildings on the island are dilapidated; some facilities had functional heating systems while others did not.
"You could see how quick the evacuation was of the island in the hours when that took place," Wu said. "So the island and its buildings will be a medium- to long-term push that we're making. But it is a lot of space out there."
Since last year, Wu has expressed the belief that Long Island is not an immediate fix to the urgent crisis at Mass. and Cass.
Wu emphasized on Tuesday that the visit to the island was part of an ongoing citywide audit of city properties to identify space for services and housing.
"This will fit together with our comprehensive look, and once those pieces are sorted out, this will be in the timescale of months and years," she said.
Wu announced plans last month to more immediately get people out of the encampments around Mass. and Cass by expanding low-threshold supportive housing sites in the city. She said her administration expects that by Jan. 12, new transitional housing for more than 150 people would be available at several sites in the city, including at the Roundhouse Hotel and the Shattuck Hospital Campus.
As part of that expansion, Wu set Jan. 12 as a deadline for getting people living unsheltered around Mass. and Cass to be connected to appropriate temporary housing and services. The city previously said any tents remaining in the area after Jan. 12 will be subjected to encampment protocols implemented by former acting Mayor Kim Janey in November.
But asked about the Jan. 12 deadline on Tuesday, Wu did not provide details about what would happen to any remaining tents.
Instead, she stressed that outreach teams with the Boston Public Health Commission have been "on the ground" every day working to get people connected to services and housing. She said the city has identified housing for 75 percent of the people outreach workers have been in contact with, and that 49 individuals had been placed into supportive housing units as of Tuesday.
Tents have been coming down as people have been placed, and those outreach efforts will be ramped up, she said.
"January 12th was a date by which we believed we would have enough housing available to house everybody we've been working with there," Wu said. "That continues to be the timeline that we're working on. But it's not going to be an on-and-off switch where one day everyone will still be living in encampments and the next day everyone will have disappeared. This is a day-by-day, hour-by-hour conversation, 24 hours around the clock."
On Tuesday, Wu said she didn't have details about what specific services could be established on Long Island, what populations would be best served on a campus there, or how much re-establishing the campus might cost.
How people would get to the facilities also needs to be assessed, since Boston's efforts to rebuild the bridge remain tied up in legal challenges from the City of Quincy and the Chaubunagungamaug Nipmuck Tribe. Quincy remains firmly opposed to a new bridge to the island, while the Chaubunagungamaug Nipmuck Tribe is seeking that an Environmental Impact Statement be ordered for the proposed project.
Wu said she hasn't yet met with Quincy Mayor Tom Koch, but said her administration has been in "close communication with leaders of indigenous communities."
"We know that Long Island is a sacred space for the indigenous community and when we get to the point when there might be deeper conversations about the use of the island, we'll make sure to prioritize outreach and make sure the appropriate nations are in those conversations with us," she said.
Chris Walker, Koch's chief of staff, told WBUR that Quincy is willing to work with Boston but still remains firmly opposed to a bridge.
"Our issues have never been about the use of the island," Walker told the station. "We felt from day one that something could be discussed and worked out, and that uses of the island could see their potential utilized via water transportation."
Wu said "everything is on the table" when it comes to examining what the most feasible means of transportation to the island may be, from ferries to a bridge to other options like helicopters.
But as her team brainstorms the future of Long Island, she said she, and they, remained focused on the short-term as well.
"We are working very quickly on the urgent crisis at Mass. and Cass with actions that will continue to ramp up through next week and beyond," she said. "We're already evaluating medium- and long-term options. Long Island is one big piece of that, along with all of the other city-owned buildings and properties that we have."
Editor's note: This article has been updated to clarify the stance of the Chaubunagungamaug Nipmuck Tribe toward rebuilding the Long Island Bridge.
Newsletter Signup
Stay up to date on all the latest news from Boston.com