Local News
Leader of Boston first responder anti-vaccine mandate group put on leave
Sgt. Shana Cottone is the leader of Boston First Responders United, which is currently involved in a lawsuit seeking to stop the mandate.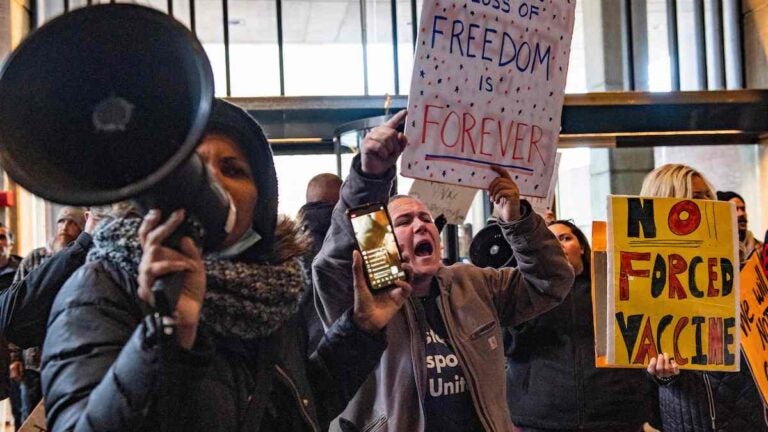 The leader of an anti-COVID vaccine mandate group representing Boston first responders has been placed on administrative leave pending an internal affairs investigation.
A Boston Police Department spokesperson confirmed Monday that Sgt. Shana Cottone, who heads Boston First Responders United, is on leave from the agency.
The Boston Herald reported on Sunday Cottone is involved in an open internal affairs probe and that no further information was available.
Cottone told the newspaper police officers went to her house on Saturday and collected her gun and badge.
"They're trying to come after me — to silence me," Cottone told the outlet. "They're not going to silence me."
Boston First Responders United tweeted a link to the article on Sunday and wrote: "'To learn who rules over you, simply find out who you are not allowed to criticize….' ….When they start to silence dissident voices the PEOPLE must raise their voices louder, stronger and TOGETHER!"
The quote cited by the group is often misattributed to the 18th century French philosopher, Voltaire. The statement is a reworking of remarks made by American white nationalist and Holocaust denier Kevin Alfred Strom, according to the Associated Press.
The group is pushing back on a mandate from Mayor Michelle Wu that city employees receive a dose of the vaccine by Jan. 15, in response to surging virus cases.
Cottone is opposed to receiving the vaccine because of religious reasons, the Herald reported.
Boston First Responders United is among several public-safety groups in the city — including the Boston Police Superior Officers Federation — that are involved in a lawsuit seeking to stop the mandate from taking hold, according to the newspaper. A hearing is slated for Tuesday.
The federation, the union that represents Cottone, plans on reviewing the decision to place Cottone on leave, the Herald reports.
"This supervisor here happens to be one of the most vocal opponents of the new vaccine mandate," the federation said in a statement. "While we do not always share the manner, tone or language this individual has used to criticize the policy and City officials, the timing of this action by the City raises questions, as it occurred just a few days before a court hearing to enforce an agreement allowing supervisors to submit to a weekly test [in] lieu of a vaccine."
Last week, Boston First Responders United was one of the organizers behind a demonstration against the vaccine requirement that brought several hundred people into downtown Boston.
Cottone, according to the Herald, said at the time she felt like she was "planning my own funeral" due to her anticipating she will be fired from her job for not being vaccinated.
Newsletter Signup
Stay up to date on all the latest news from Boston.com