Local News
Mayor Wu says clearing of Mass. and Cass encampments marks 'turning point' in effort to address homelessness 
"We will continue to connect people to the available beds and low-threshold supportive housing as it becomes available as well."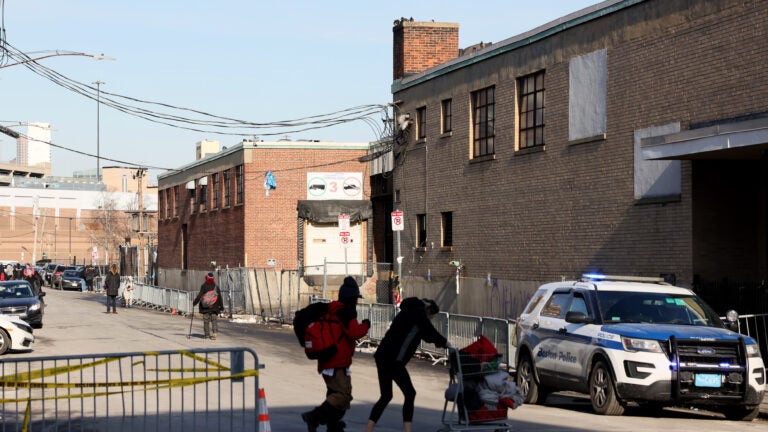 Mayor Michelle Wu said Thursday that with the clearing of the encampments around Mass. and Cass this week that the city has reached a turning point in its efforts to address the humanitarian emergency in the area.
Wednesday was the city's deadline for clearing the tents and temporary shelters on the blocks around Atkinson Street and Newmarket Square triangle, the area of the city that has emerged over the years as the city's epicenter of the overlapping crises of homelessness, addiction, and mental health. City crews dismantled the once-sprawling encampments throughout the day, at times using bulldozers to move the tents, tarps, wooden pallets, and belongings left behind into trash trucks.
According to the city, the Boston Public Health Commission surveyed those living in the encampments in December, identifying 145 people who officials have since been working to move into low-threshold, supportive housing.
Dr. Monica Bharel, a special advisor to the mayor tasked with leading the city's response to the crisis at Mass. and Cass, said during a press conference on Thursday that not everyone originally recorded in the survey of the encampment was still there a month later and new individuals had since arrived.
"We noticed an influx of new individuals, in particular in the last 48 to 72 hours," she said. "Individuals received notice of the plans for what would happen yesterday starting back on Dec. 16 and tent-to-tent outreach then continued on a daily basis."
The doctor said some people told city workers that they'd come to the area because of the "event that was going on" this week.
Wu said during the press conference that before the work began on Wednesday morning, more than 100 people from the encampments had been connected and placed in low-threshold supportive housing. As of Wednesday night, the mayor said that 154 people who were living in the encampments at Mass. and Cass have been "successfully referred to housing."
The mayor said others have been placed in emergency shelters.
"I just want to just emphasize how different what happened yesterday has been from what we've seen in other cities or in the past," she said. "That this was truly grounded in public health and housing, working with folks every single day for weeks."
According to reports at the scene Wednesday night, several people who had their tents removed had not yet been placed in housing. Advocates have raised concerns about the city's actions, including the alleged destruction of people's belongings.
The Material Aid and Advocacy Program, which supports "unhoused community members" in the Cambridge and Boston area through material aid and access to resources, said in a tweet Wednesday night that at least 50 people appeared to have nowhere to go after the city completed the removal of the encampments.
Carol Rose, executive director of the ACLU of Massachusetts, is among those expressing concerns.
"While we welcome the city's crucial effort to create more low-threshold housing, we remain concerned by reports that some people were subjected to having their only shelter and possessions removed without being offered viable alternative options that accommodate disability and other health needs," she said in a statement to Boston.com. "If true, very vulnerable residents of Boston may be more exposed to the elements or COVID-19."
Wu said during the press conference, which was frequently interrupted by chants from protesters demonstrating against the city employee vaccine mandate, that no one was forcibly removed from the encampments and that no arrests were made as the city's encampment protocols were enforced.
She said residents were offered bins for storing and transporting their belongings and that city outreach workers went tent by tent checking to make sure no one was inside, working with every person they encountered.
"Not only to connect them to housing, but to get their consent that whatever belongings they did not want to put in storage or take with them could be disposed of," Wu said. "And so consent forms were given to residents, residents signed consent forms for their tents and whatever they wanted to leave behind to be discarded."
Wu acknowledged that some people remained on the streets after the city's actions.
"I drove through this morning and quickly looked around at what the situation was," she said. "While the area remains clear of tents, both around the Newmarket Square area and Atkinson Street, there are some folks still out on the street. I know our outreach teams have continued to work with everyone and will continue to provide services and offer housing and shelter for people who are in need to get out of the cold. Every single day that goes by in winter is a life safety risk for people who are unhoused. And we will continue to connect people to the available beds and low-threshold supportive housing as it becomes available as well."
During the press conference, Boston Police Lieutenant Peter Messina, who works with the department's street outreach unit, said that two bodies were found at the Newmarket Square encampment in the last five days.
The circumstances of those deaths remain under investigation, he said.
"We are not worried about it right now, but it's still under investigation and more will be put out soon," Messina said.
Wu stressed that outreach workers and providers working with the city worked to build relationships with residents of the encampments over years, months, and weeks to ensure their individual medical, mental health, and recovery needs were documented and known, in order to be addressed with their placement and referral to services.
"Yesterday was a turning point for the City of Boston towards stabilization, towards recovery, but yesterday certainly isn't the last — it's not the turning of a page that we are now moving on from," Wu said. "I want to be clear that we did not solve homelessness yesterday. The encampments are no longer seen in Boston, but the encampments presented a very specific and particular set of dangers to residents and to our city. It was extremely unsafe to live in tents, unhoused, no heat or running water, in winter in Boston."
Wu said her administration has worked to break down the barriers that emerged between people living in the encampments and resources for housing and services and tackle the root causes of the crises that came to be represented in the encampments.
"As of last night, the city's teams, along with our community partners have successfully moved Boston on from encampments," Wu said. "But the push and the fight to address homelessness and substance use and mental health continues with even more urgency now."
The mayor said she remains focused on developing potential medium- and long-term solutions to the ongoing crises, including exploring the best options for utilizing the former recovery campus on Long Island, and she called for greater regional coordination to push those efforts forward.
Already, the mayor said individuals who have moved into the expanded low-threshold housing spaces opened by the city and the state have been placed in more permanent settings, making room for new individuals to access the low-barrier resources.
In the meantime, to prevent the encampments from being set up again, Bharel said city outreach workers are frequenting the area to continue to get individuals connected to services and police officers are patrolling at night.
"The way that we've approached this and will continue to approach this is leading with public health and leading with the relationships we have with individuals," Bharel said. "So the first move when somebody comes in like that will be to do an outreach, try to find them an alternative space. If all else fails, ten the encampment protocol is still in place across the city and we'll go through that procedure. But our goal will be to approach the person and offer them the support and services that they need."
The encampment protocols, updated under former Mayor Kim Janey last year, mandate that unhoused individuals must be given at least 48 hours notice that their tent must be removed and be offered free storage of their belongings.
"Individuals who refuse to move tents on public property may be considered disorderly and subject to enforcement of existing laws," the protocols state. "They remain free to leave (i.e., not subject to arrest), with or without removing their tent."
Wu said that starting Thursday, the city will begin conducting nightly street sweeping along Atkinson Street, with as-needed cleaning around Newmarket Square.
"The message is not that we are trying to keep anyone from seeking shelter," she said. "The tents were never the problem in and of themselves. The problem was that we didn't have the right type of housing for people that needed in that moment. And so our focus is going to be on continuing to create that housing, continuing to get people into slots that open up as folks move on to permanent housing."
Newsletter Signup
Stay up to date on all the latest news from Boston.com