Local News
Flu too? Alongside COVID, flu cases are rising in Mass.
"​​Honestly I'm a little surprised because there's still a lot of prevention measures people are using."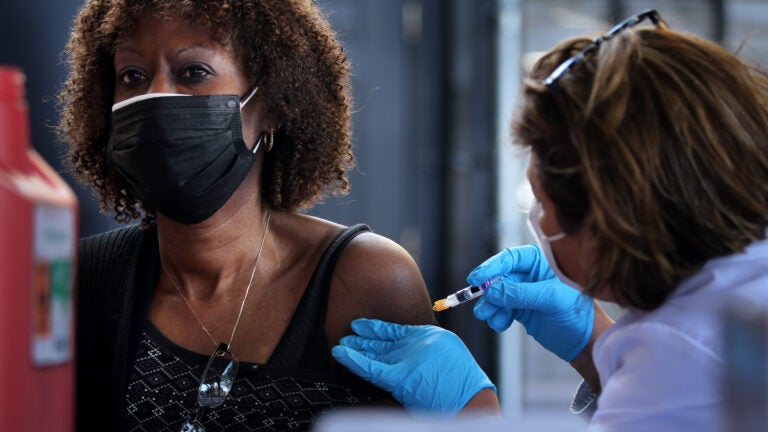 As Massachusetts continues to contend with the omicron surge, flu levels are worse this year than they've been in the past three years for the same time period.
The weekly flu report from the state, the latest released Jan. 7, shows that flu levels for 2021-2022 are also higher than the regional baseline. Flu was below the baseline for the 2020-2021 year. The years 2018-2019 and 2019-2020 were higher than the baseline at times, but the number of medical visits for the flu didn't rise as quickly as the current year.
The state as a whole is labeled at a "moderate" risk for flu. The Greater Boston region, along with central and southeast Massachusetts, are all in the "high" flu activity category. The northeast and western parts of the state are rated just below high.
Despite more flu, fewer people are being hospitalized this year than the past three years for the same week, the report shows.
"​​Honestly I'm a little surprised because there's still a lot of prevention measures people are using," said Dr. David Hamer, a professor of global health at Boston University, noting that many are still wearing masks, avoiding close contact in public spaces, and using hand hygiene.
Still, some of the earlier rules of the pandemic have been "loosening up," he said. People are attending more social events or public venues. They're going to concerts, restaurants and bars. Staying at home, like people were doing 18 months ago, isn't as prevalent.
Also, last year's break from the flu made it more challenging to plan for this year's flu vaccine. So far, it looks like what's circulating is in a slightly different subgroup from what the vaccine targets, but it's "really too early to know" whether that will blunt the vaccine's effectiveness, Lynnette Brammer, who tracks flu-like illnesses for the U.S. Centers for Disease Control and Prevention, told the Associated Press.
Complicating matters is that it's very difficult to differentiate between COVID-19 and flu – the symptoms are very similar.
The same symptoms that the omicron variant in particular is presenting, including fever, muscle aches, and upper respiratory symptoms, can also be caused by flu, Hamer said.
"We should be doing both rapid flu and rapid [COVID-19] tests," he noted.
Then there's the dreaded "flurona," a term for when someone is infected with both flu and COVID-19 at the same time. While the term is new, infections by both viruses are not, according to the Washington Post. There isn't much data on whether being infected by the two of them together engenders more serious outcomes than getting just one or the other.
Regardless, if people continue following COVID pandemic protocols — wearing masks, hand hygiene, and proper etiquette when speaking or coughing in public — that should help stem any potential flu spikes as well.
"All of those are really important to help prevent influenza as well as COVID," Hamer said.
Material from the Associated Press was used in this report.
Newsletter Signup
Stay up to date on all the latest news from Boston.com