Food
The Sav-Mor billboard in Somerville is moving to a new location
"Thank you for 40 great years. Moved to Assembly Row. Don't tell Todd."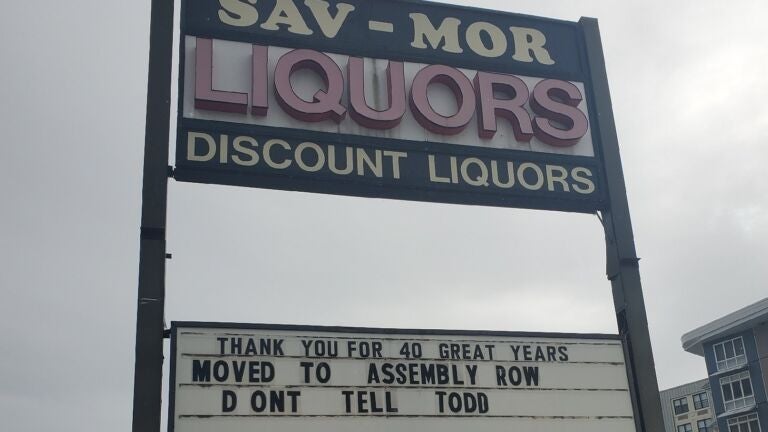 Somerville's Sav-Mor Liquors store with its iconic comedic sign has made its last joke on McGrath Highway.
But fans of the store's light-hearted commentary will now be able to find it on Canal Street in Assembly Row. The store recently announced — on a sign, of course — that after 40 years at its current location, it would be moving.
The store garnered local attention for the snarky commentary on its parking lot sign, often feuding with the McDonald's across the street.
The liquor store lightened the mood last winter, when all eyes were on the COVID-19 vaccine, with a message reading: "We have enough shots for everyone."
Many of Sav-Mor's signs were featured on the liquor store's Twitter account.
One fan favorite, a sign from May 2021, mocked the nearby McDonald's.
"Come try our new chicken sandwich. It is greaaaaaat," read the McDonald's sign, to which the discount liquor store replied: "Our chicken sandwich is baaaaaaaaaaaad."
On Jan. 9, Sav-Mor tweeted its intention to move to 325 Canal Street on Assembly Row. The new storefront would open this week, it said.
The store also shared a photo of its iconic sign. This time the message thanked customers for 40 years of business. It also jested: "Don't tell Todd."
Sav-More shared a glimpse of their new storefront on Twitter. "Here's a preview of our new location at Assembly Row. Please note THE SIGN!" the store said.
In July, the sign retorted to a McDonald's advertisement for reward members with, "Liquor is its own reward."
Now, the store's closest McDonald's to feud with is 2 miles away, on Broadway in Everett.
Some other recent sign highlights include: "Liquor, it is not just for sterilizing wounds anymore," and "Now selling vodka flavored vodka."
"Sorry to see you go. The Assembly traffic mess will keep me away but I hope it works out for you," said one user on Twitter.
Another fan tweeted, "I can only hope that they'll have equally good signage at Assembly Square. Because their signs are FUNNY."
Newsletter Signup
Stay up to date on all the latest news from Boston.com