Local
Aafia Siddiqui, the federal prisoner at the center of the Texas synagogue hostage situation, has Boston ties
Malik Faisal Akram reportedly demanded the release of Siddiqui, who is in prison for trying to kill U.S. service members in Afghanistan.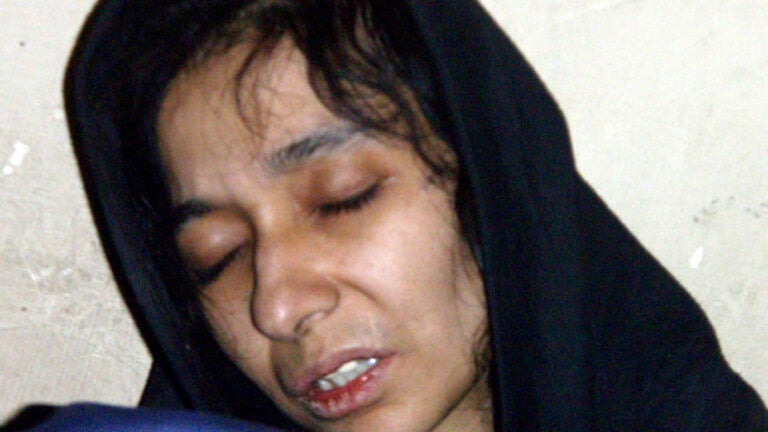 A British man who held four hostages inside a Texas synagogue for hours on Saturday reportedly demanded the release of an imprisoned Pakistani woman who previously lived and attended college in Boston.
An FBI Hostage Rescue Team killed the perpetrator, Malik Faisal Akram, 44, around 9 p.m. local time after an hours-long standoff — all his hostages survived the ordeal. During the standoff, Akram demanded the release of Aafia Siddiqui from a federal prison in nearby Fort Worth. Siddiqui is serving an 86-year sentence on charges of trying to kill U.S. service members while in their custody.
The suspect reportedly referred to Siddiqui when he was talking to negotiators, according to media reports. CNN said two law enforcement officials told the outlet that investigators believe that Akram's interest in freeing Siddiqui may have motivated his crime.
Siddiqui was convicted in 2010 for trying to shoot the officers in Afghanistan in 2008.
Siddiqui studied at Brandeis University and the Massachusetts Institute of Technology (MIT). She reportedly lived on Mission Hill.
More on Aafia Siddiqui
The Justice Department accused Siddiqui, who is a neuroscientist, of being an al-Qaida operative — though she's also been described as the "poster girl" for Islamic jihad.
Universal Hub took a deep dive into Siddiqui's Boston history, reporting that Siddiqui studied biology at MIT and graduated in 1995 before earning a Ph.D. from Brandeis, a Jewish-founded university, in 2001.
According to the report, Siddiqui's husband, a Pakistani anesthesiologist she married over the phone, got a job at Brigham and Women's Hospital. The couple lived in Lexington before moving to an apartment on St. Alphonsus Street in Boston.
Siddiqui's sister also had a neurology fellowship at Brigham and Women's, according to the report. In 2006, Boston Magazine wrote about the allegation of Siddiqui's radical beliefs as well as her life as a mother of two in Boston.
From Boston Magazine's 2006 story "Who's Afraid of Aafia Siddiqui?":
"She is a 29-year-old mother of two, consumed, like other Boston moms who volunteer or work outside the home, with the minutiae of everyday life. A deeply religious woman, she picks up Korans from a local mosque and distributes them to inmates in area prisons. She hosts play groups in her apartment on the 20th floor of the Back Bay Manor in Roxbury. She takes her sister Fowzia's child into her care while Fowzia finishes a fellowship in neurology at Brigham and Women's Hospital. She does the grocery shopping and prepares meals for her children and husband, an anesthesiologist at Brigham and Women's."
Siddiqui's connection to the Texas synagogue hostage situation
A law enforcement source also told CNN that Akram wanted Siddiqui released from prison and brought to the synagogue so they could die together.
"I just want a bullet in me, and I want to go — that's it," Akram could be heard saying in a livestream of the ordeal. "I'm gunned up. I'm ammo-ed up. Guess what, I will die," he reportedly told a nephew. He also told another person who called him, "I am going to die, so don't cry for me."
A lawyer for Siddiqui told the network that his client had no involvement in the situation at the synagogue.
"She does not want any violence perpetrated against any human being, especially in her name," Attorney Marwa Elbially told CNN. "It obviously has nothing to do with Dr. Siddiqui or her family."
Newsletter Signup
Stay up to date on all the latest news from Boston.com