Local
Mass. unveils 'first-in-the-nation' COVID testing initiative for child care programs
The announcement comes a day after the Baker Administration signaled new testing options in schools.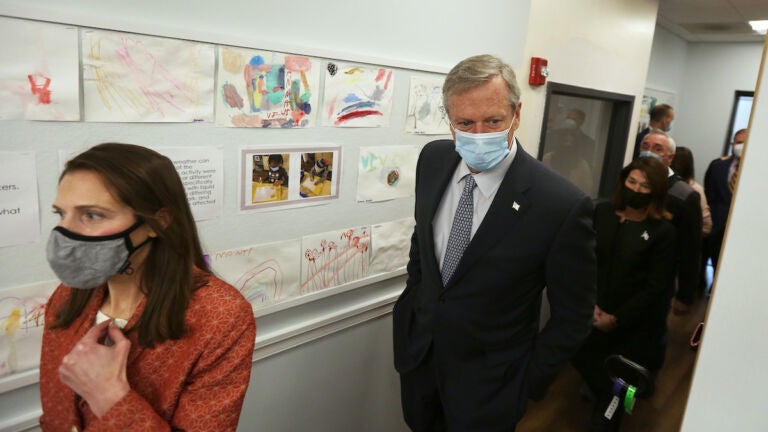 The Baker Administration on Wednesday unveiled a new, statewide COVID-19 testing initiative for child care centers that officials touted as a "first-in-the-nation" approach to help keep more kids safely in programs as virus spread remains high.
Through the opt-in "Testing for Child Care" effort, centers can receive rapid antigen tests by the week of Jan. 31, should they choose to do so by Jan. 24, administration officials said.
The supply will allow program staff and children over the age of 2 who are close contacts to a COVID-infected person to test daily for five consecutive days following exposure. Those individuals will be allowed to remain in care programs as long as they continuously test negative.
The effort also allows symptomatic staffers and children 2 years old and older to receive testing, officials said.
Weekly, pooled PCR testing will also be offered. Providers can opt into any of the testing regimens or all three.
"We know it can be extremely disruptive for so many parents, caregivers, and kids to have to pull kids out of care, especially without knowing whether or not in fact they're testing positive or not," Gov. Charlie Baker told reporters while speaking at Ellis Early Education Center in Boston. "And we hope centers like this one will be able to take advantage of these resources so that we will be able to keep kids who test negative in care, and staff working safely on a deliberate and regular basis."
Samantha Aigner-Treworgy, commissioner of the Department of Early Education and Care, said the new testing options will be available to the over 7,700 state-licensed programs.
Care centers will have flexibility over how children can be tested; whether testing happens on-site or at children's homes, according to Aigner-Treworgy. The new testing options will be managed by Neighborhood Villages, a nonprofit that partnered with the EEC to oversee child care center pooled testing last year.
"We know that consistent, comprehensive testing of (the) early education and care sector, particularly without a vaccine available for children (ages) 0 to 5, is key to ensuring that childcare can remain open for working families," said Sarah Siegel Muncey, Neighborhood Villages co-founder and chief innovation officer. "And we know that these testing programs are effective."
The rollout comes in tandem with a new approach to testing in schools announced by the Baker Administration on Tuesday.
Schools across Massachusetts now have the option to receive at-home rapid test kits for students and teachers in lieu of the state's "Test and Stay" program, which relies on testing through contact tracing.
The child care centers and school testing initiatives will both be served by the state's recent purchase of 26 million kits, officials said.
Baker, on Wednesday, addressed criticism that the administration's approach put too much responsibility on individuals and families to test themselves.
"The big message that we got several weeks ago from a number of folks in both the early education community and the K through 12 community was we need a lot more testing capacity and it needs to be flexible enough to be able to meet us where we are and we need to see those results in less than 24 hours. And that's why we created these models," Baker said. "We think they give people a lot of [options] that they didn't have before and I think they will turn out to be a pretty significant opportunity to amplify the program that's already in place."
Newsletter Signup
Stay up to date on all the latest news from Boston.com