Local
'Betty White Challenge': Boston-area animal charities showered with support on late star's birthday 
"We were really overwhelmed with the outreach and the support from people."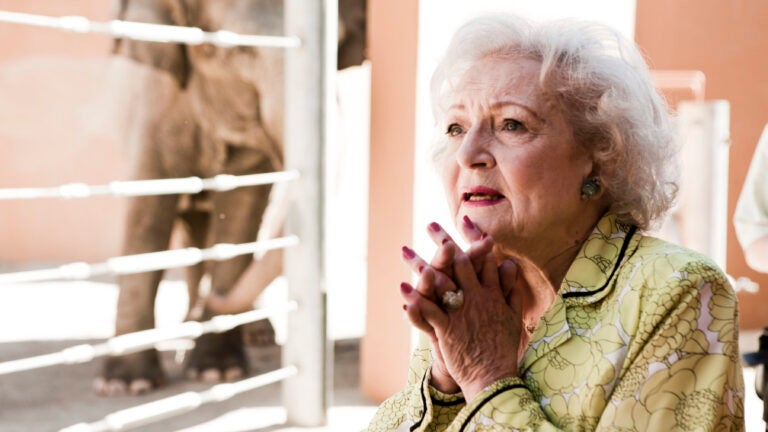 When Betty White died Dec. 31, 2021, just weeks before she would have turned 100, she certainly left a legacy. While many remember her for her groundbreaking career and for being one of "The Golden Girls," she is also remembered for being an animal lover and activist.
The "Betty White Challenge" quickly went viral on social media, asking people to donate $5 to animal rescues or shelters in her name on her 100th birthday Jan. 17. And people certainly did.
On social media alone, the Massachusetts Society for the Prevention of Cruelty to Animals (MSPCA)-Angell raised $14,000 and the Northeast Animal Shelter (NEAS) raised $40,000 in a day and a half, said Mike Keiley, the director of adoption centers and programs at MSPCA-Angell and director of NEAS. The money is still rolling in and these totals don't include money going directly through the websites.
"It's really particularly meaningful because this isn't something that we had to generate and solicit ourselves," Keiley said. "This is really everybody around the country recognizing how much Betty White meant to all of us and thinking beyond just the personalities that she played on TV and films, but what she really cared about deeply."
MSPCA-Angell and NEAS are not alone in receiving overwhelming support; the Animal Rescue League (ARL) of Boston also saw an outstanding outpouring of donations. In just a day and a half, ARL saw more than 1,200 people donate, according to Mike DeFina, the organization's media relations officer. When he spoke with Boston.com, the total monetary value of donations hadn't been tabulated.
"We were really overwhelmed with the outreach and the support from people. We're still receiving donations, people are still reaching out," DeFina said.
DeFina said it was really powerful to see the level of support shelters got on White's birthday. The movement isn't confined to just a particular area — it truly was national.
"Everyone has really taken this on and has really embraced it. I think that's a wonderful thing," DeFina said. 'The animal welfare world is kind of a small one. And for all these organizations to be commemorating this and to be recipients of donations, for the entire animal welfare community it's a really great thing."
ARL also was featured on Good Morning America on Monday, along with the North Shore Animal League America from New York, the Humane Society of Sarasota County from Florida, the Richmond Society for the Prevention of Cruelty to Animals from Virginia, and the Best Friends Animal Society from Utah.
"That was an amazing experience to have Good Morning America reach out to us and for us to be able to coordinate that and make it happen. It was such a fun experience," DeFina said. "It was such an honor to be a part of that. And to not only to talk about our organization but just to be a part of this national movement that is the Betty White challenge. That was truly remarkable."
White's birthday was also recognized with the screening of the documentary "Betty White: A Celebration" which drew crowds to 1,500 theaters nationwide.
The MSPCA and NEAS are using the money from the Betty White Challenge to further a project they have been working on throughout the pandemic — making sure animals don't go hungry.
The organizations pledged to donate 100,000 pet meals to food banks and people in need to mark her birthday. According to a tweet Jan. 17, thanks to community support they had donated 101,172, and counting, pet meals.
"We wanted to honor her just a little bit deeper than the monetary component, make sure that we give back to the people and animals in our community that need us, and that's our mission overall," Keiley said.
DeFina said, on the whole, the Betty White Challenge and the impressive display of support from people across the country was an excellent way to remember the actress.
"I think many people weren't aware of Betty White's fondness, her love for animals — everybody knew her as an actress. Of course everybody loved 'The Golden Girls' but I think her involvement in helping animals in need was one aspect of her life where maybe not as many people knew about it," DeFina said. "To recognize that and to recognize her for those efforts throughout her lifetime was so important."
Newsletter Signup
Stay up to date on all the latest news from Boston.com