Local
Former Vermont lawmaker dies using medical suicide law he helped pass nearly a decade ago
"His life was cut short by mucosal melanoma, but it was remarkably full and well-lived."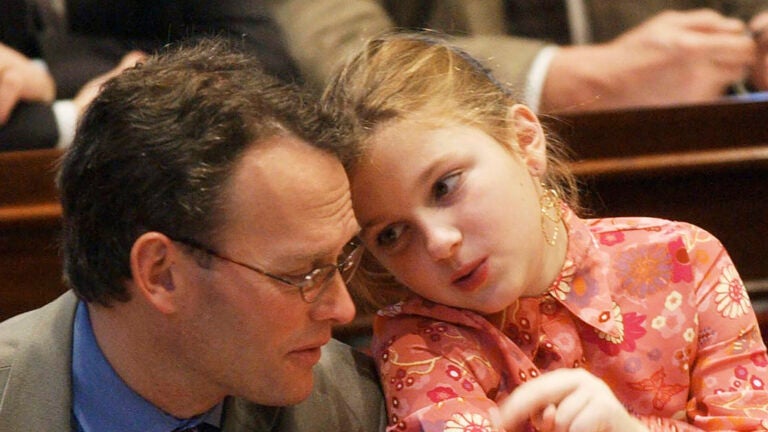 A former Vermont lawmaker died last week using a medical aid-in-dying law that he helped pass nearly nine years earlier, before his terminal diagnosis. Willem Jewett, D, who served two years as House majority leader from 2013 to 2014, died Jan. 12 at his home in Ripton, Vt. He was 58.
Jewett's palliative-care doctor confirmed to the Vermont-based digital news outlet VTDigger that he died using a prescription obtained through Act 39, also known as Vermont's Patient Choice and Control at End of Life Act. Jewett was diagnosed last year with mucosal melanoma, a rare but aggressive form of cancer, according to his obituary.
"His life was cut short by mucosal melanoma, but it was remarkably full and well-lived," loved ones wrote in his obituary. They recalled the New York-born Jewett's passion for the outdoors and for adventure. An avid cyclist, Jewett rode a 200-mile circuit around his high school campus for a class project, and later as a lawmaker, he would bike 50 miles from his home in Ripton to the capital in Montpelier as part of the state's annual Earth Day celebration.
Jewett served in the state legislature for 14 years, starting his career in the Vermont House of Representatives in 2003 before announcing his retirement in 2016 and leaving office the next year.
Jewett's obituary noted that even his 2020 cancer diagnosis did not stop his adventurous streak: He continued an annual group camping trip to Vermont's Kingdom Trails and mountain biking.
Jewett is survived by his wife, Ellen Blackmer McKay, and two daughters from his first marriage. Jewett's survivors could not immediately be reached for comment Thursday.
State Sen. Dick McCormack, D, who voted for the original 2013 law and is the lead sponsor of the current amendment, recalled Jewett's commitment to Act 39 even as it faced opposition in the General Assembly.
"What I knew of Willem is that he was a compassionate guy, and had a libertarian streak as well. Willem had a great capacity for that when he saw something clearly," McCormack told The Washington Post on Thursday.
In the days before his death, Jewett had lobbied for an amendment to Act 39 that would make the law easier for patients to use. Jewett told VTDigger in an interview that he found some of the law's restrictions and barriers "completely meaningless."
"If anyone wants to suggest that I, or anyone else who's gotten to this stage, hasn't thought long and deeply about this, and if they've made the request, hasn't done it with information, or at the end of the day, conviction – they're crazy," Jewett said in the interview, which was published the day he died. "What do people think we do when we're sick in bed? There's a lot of time to think and figure things like that out."
Vermont is among nine states and the District of Columbia where terminally ill patients can obtain prescriptions to end their life. Consideration to amend Vermont's current law comes as at least three states – Delaware, Massachusetts, and New York – consider enacting similar legislation.
The amendment to Act 39 that Jewett lobbied for would eliminate barriers he faced in his final weeks, Jewett said in his last interview with VTDigger.
Under the Vermont law, patients over 18 who have a terminal condition that could kill them within six months and who can make independent medical decisions can request a lethal prescription from a doctor. But patients must undergo multiple waiting periods throughout the process and seek the approval of at least two doctors.
Vermont's proposed amendment would eliminate a final 48-hour waiting period, provide immunity from state homicide laws for nurses and pharmacists to help a patient and would allow for patients to consult with doctors via telemedicine – a provision McCormack said was crucial in a state where many rural residents are otherwise forced to make painful and inconvenient trips to the doctor while terminally ill.
According to Jewett's final interview, he received his diagnosis in September 2020 and was warned by doctors that pursuing a medical aid-in-dying request could take up to two to three months. Jewett reportedly began his request in December.
McCormack recalled that his former colleague could be relentless, especially when he saw people making arguments out of "pious cruelty," as McCormack described it.
"He was indignant when he saw people who had arguments that didn't make sense," McCormack said. "When an issue was controversial and he was advocating for something, he was a scrapper. He wouldn't let you off the hook if you said something stupid."
The Vermont Senate is expected to take up consideration of the amendment as early as Friday.