Local
49 cats and dogs found in Oklahoma hoarding case are now in Salem looking for permanent homes
"Most of the animals are doing just fine, despite living in cramped and dirty conditions."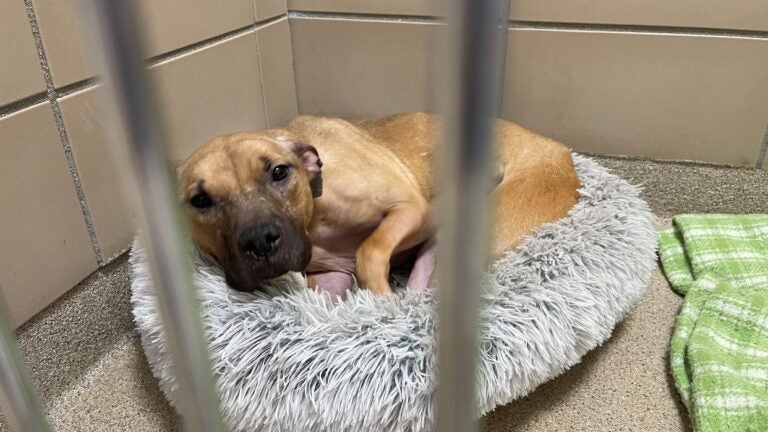 Forty-one cats and eight dogs arrived at the Northeast Animal Shelter in Salem Saturday after being rescued from a home in Tulsa, Oklahoma. There were 131 animals surrendered in total.
"Most of the animals are doing just fine, despite living in cramped and dirty conditions," MSPCA spokesperson Rob Halpin said in a statement. Although the majority of the animals seem to be healthy, Halpin went on to say that three of the dogs will need medical treatment.
"Three-year-old pit bull mix Bailey, 14-year-old beagle, Sugar, and Rose, a 10-year-old Jack Russell terrier — all have extensive dental disease that requires treatment, and likely the extraction of quite a few teeth," he said. "Sugar will also need surgery to remove a number of non-cancerous fatty tumors on her body."
Mike Keiley, director of adoption centers and programs at the MSPCA-Angell, and executive director of NEAS, said Bailey was most likely kept in a cage for most of her life. Bailey was also underweight and suffering from hair loss at the time of her rescue.
The three dogs will be treated at the MSPCA at Nevins Farm this week, according to the statement.
Before any of the animals will be put up for adoption, they will be "spayed, neutered and microchipped." They will also receive health and behavior checks.
To apply to adopt the animals, visit mspca.org/adopt or nea.org/adopt.
Newsletter Signup
Stay up to date on all the latest news from Boston.com