Local
Investigators narrow Harmony Montgomery's disappearance to 13 days in 2019
The then 5-year-old girl was supposedly living in a car in Manchester, New Hampshire, at the time, according to authorities.
Investigators searching for Harmony Montgomery unveiled on Monday they have narrowed the scope of when the New Hampshire girl may have disappeared to a 13-day stretch in late 2019 when her family was homeless, authorities said.
Manchester police learned Harmony, her father Adam, his wife Kayla, and the couple's two shared children were evicted from a home at 77 Gilford St. on Nov. 27 that year and then lived in two cars in the days that followed, the New Hampshire Attorney General's Office, the Hillsborough County Attorney's office, and police said in a joint statement.
"Multiple individuals have reported seeing Harmony with Adam and Kayla in the following days; however, by approximately December 6–10, 2019, Adam and Kayla apparently had only their two common children, and Harmony was no longer with them," officials said. "This information leads police to believe that it was sometime during this window of approximately November 28–December 10, 2019, that Harmony Montgomery disappeared."
Witnesses told authorities that the family was living out of cars during that time, possibly in the city's North End.
Investigators released stock photos of the two vehicles the family was supposedly living in in hopes of generating new leads for the case.
One was a silver, 2010 Chrysler Sebring and the other was a dark blue, 2006 Audi S4. Authorities noted, however, that the actual condition of the cars in 2019 "was worse than depicted in these photos."
"In addition, the Sebring's rear license plate was askew," officials said.
The latest developments indicate authorities have determined a more manageable timeline for the case. Harmony was originally reported missing in November — apparently two years after she was last seen.
The police timeline is also in direct contrast to reports provided to police from Adam and Kayla Montgomery.
Adam, now charged with assaulting Harmony, had told investigators he has not seen his daughter since he brought her to live with her mother around Thanksgiving 2019, court documents show. Kayla has also told police that was the last time she saw or heard about the young girl, who was 5 years old.
Harmony's mother, Crystal Sorey, has denied receiving her daughter at that time.
Kayla appeared in Hillsborough Superior Court North on Monday for an arraignment and bail hearing on updated charges: theft by deception, a Class A felony, and two misdemeanors.
Prosecutors allege Kayla collected over $1,500 in welfare benefits intended for Harmony long after she last saw the girl. She pleaded not guilty.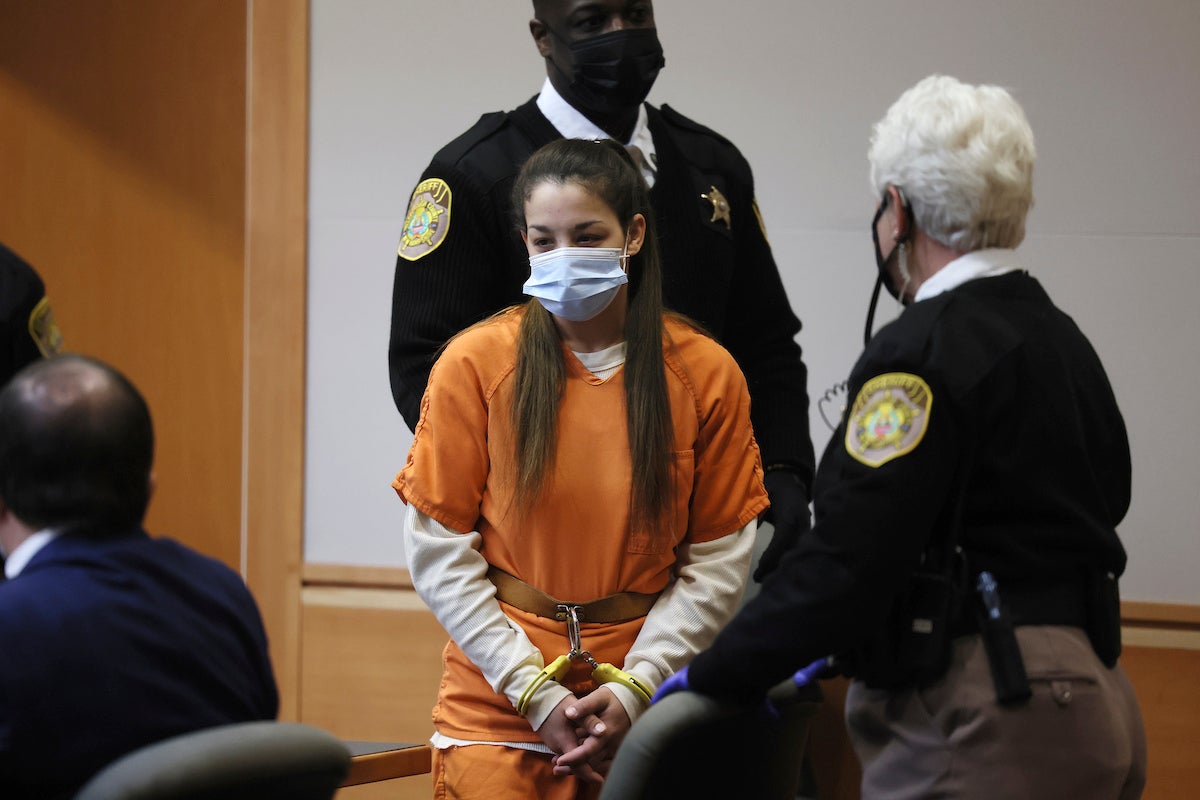 Assistant Attorney General Jesse O'Neill, arguing Kayla should remain held on $5,000 bail, alleged, without evidence, she is withholding information from investigators.
There is no indication Harmony was with Sorey after Thanksgiving 2019, O'Neill said. Sorey has told investigators she last saw her daughter on a FaceTime call on Easter that year.
Sorey has been "thoroughly investigated" in the case and has been "extremely cooperative" with authorities, O'Neill said.
With Harmony still missing, Kayla is a flight risk, he said.
"She knows what we're going to learn from the investigation," O'Neill said.
Paul Garrity, Kayla's attorney, maintained that Kayla should be released on personal recognizance, which he said is "typically" called for in cases involving the charges his client faces.
"The allegations before the court are Class A felony theft and two misdemeanor counts of welfare fraud," he said, "Whatever is suggested or alluded to by the state is not before the court."
Garrity described Kayla's criminal record as "relatively minor" and comprised of mostly misdemeanors. She has not failed to appear in court before, he said.
He requested Kayla be released so long as she enters a substance abuse treatment program in Nashua.
Judge Amy Messer, in an order filed Monday afternoon, sided with Garrity.
"The Court is mindful of the serious nature of the State's investigation regarding [Harmony Montgomery]," Messer wrote. "However, the issue before the Court at this time is the risk of flight of the defendant based upon the theft and welfare fraud charges. Taking into consideration the evidence and arguments presented, the Court does not find that the State has met its burden to show by
clear and convincing evidence that there are no conditions that the Court can set that will reasonably assure her appearance on the charges pending against her."
Messer ordered Kayla continue to be held on $5,000 bail, but she may be released on personal recognizance should she enter and complete the treatment program.
Messer also set several conditions for Kayla's release, including that she check-in daily by phone with Manchester police, have no contact with Adam Montgomery, and not travel outside of New Hampshire. The treatment program is also required to notify the state should Kayla leave for any reason.
Rewards for information that lead to Harmony's location have topped $100,000.
Police on Monday continued to ask for the public's help in the case. Tips can be left by calling or texting the 24-hour hotline at 603-203-6060.
"Any information, no matter how small or insignificant it may seem, may contribute to the overall investigation," authorities said.
Newsletter Signup
Stay up to date on all the latest news from Boston.com