Politics
Chris Doughty, a Wrentham businessman, enters GOP race for governor
The self-described moderate will face former state Rep. Geoff Diehl, a Trump-backed candidate.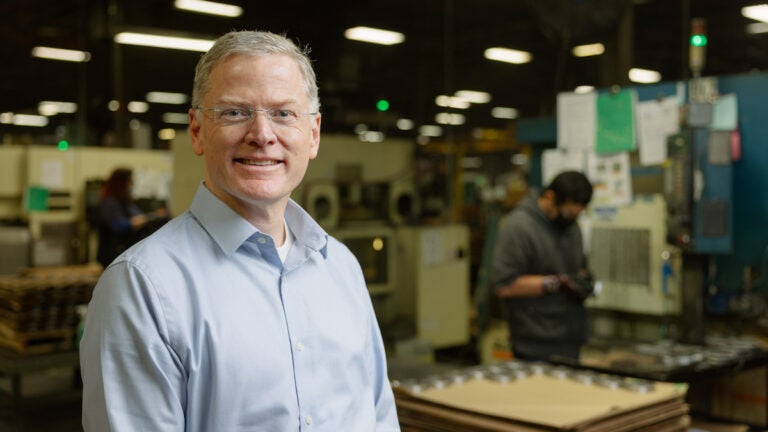 Positioning himself as a moderate, Chris Doughty, a Wrentham businessman, on Wednesday joined the race to succeed outgoing fellow Republican Gov. Charlie Baker, mounting a challenge to Geoff Diehl, a Trump-backed former state representative.
In a campaign announcement video, Doughty, president of Capstan Atlantic, a metal gear manufacturer, outlined priorities on making Massachusetts more affordable, attracting high-paying employers to the Bay State, and investing in the state's education system, from early childhood education through college and trade schools.
"I want to help make Massachusetts better for all of us," he says.
Doughty arrived in the commonwealth 34 years ago with his wife, Leslie, not long after they were married, with all of their possessions packed away in a Honda Civic, he says in the video.
They eventually went on to build Capstan into what Doughty's LinkedIn profile boasts is a "large multinational manufacturer."
The company now employs 300 skilled employees and spans two facilities, according to his profile. In 2016, the Massachusetts Economic Council awarded Capstan the gold medal for job growth and economic expansion.
"I still remember my first day. I was so excited and full of anticipation to get started, confident that it was going to be a success," Doughty says in the video. "Instead, the first thing that happened is one of our machines broke and without it we didn't have much of a business. So I jumped in the pit and spent the next two weeks working side by side with electricians and mechanics, until we got it up and running.
"Those initial days set me on a 30-year path of working together with incredible people from all walks of life to solve difficult problems," he continues. "With the right team, a little creativity, and a willingness to work hard, just about any problem can be solved."
According to his LinkedIn page, Doughty is "an expert in lean systems and cost containment and has been a lecturer on the topic."
"He is credited with multiple acquisitions and turnarounds of struggling businesses through refocusing on customer satisfaction, cost management and employee engagement," his profile reads.
In a statement from his campaign team, Doughty said he is running as a "fiscally responsible businessman" with a particular focus on cost of living and housing issues.
"During the course of this campaign, you will hear me advocate that reducing regulations and implementing commonsense reforms will bring down our costs much quicker and will last longer for our citizens than more government regulations and controls," he said.
Doughty, 59, holds a degree in economics from Brigham Young University and a master's degree in business administration from Harvard Business School. Originally from Los Angeles, California, he is the father of six children, a grandfather to four, and a member of the Church of Jesus Christ of Latter-Day Saints.
He also serves as a board member for several organizations, including the Interfaith Council of Franklin County, Inc., the Metal Powder Industries Federation, and the Boy Scouts of America Old Colony Council, according to his LinkedIn page.
Speaking to The Boston Globe, Doughty described himself as a moderate who was inspired to run after Baker announced last month he would not seek a third term.
"When I saw that Governor Baker wasn't getting back in and I didn't see any other moderate Republicans, my wife said, 'Hey, quit complaining about it. Take a courage pill and step out on the stage,' " Doughty joked to the newspaper.
So far, Doughty is the only other Republican to square off against Diehl, who has received the endorsement of former President Donald Trump. In 2018, Diehl mounted an unsuccessful run against U.S. Sen. Elizabeth Warren.
Doughty will begin his campaign with $500,000 in his war chest — what he told the Globe is "seed capital" that he financed himself.
Diehl reported a balance of $104,159 in his campaign finance account at the end of last month.
Meanwhile, three Democrats are contending for their party's nomination: Attorney General Maura Healey, state Sen. Sonia Chang-Diaz, and Harvard professor Danielle Allen.
Doughty will be making his nomination pitch to a fractured state Republican party.
MassGOP Chairman Jim Lyons, an ardent critic of Baker who has pushed for alignment with Trump-era policy and governance, has faced condemnation from some within his own party at several times over the past year.
Doughty, when asked by the Globe how he would try to win votes from party members with differing ideologies, said his appeal would be to be himself.
"To be honest, genuine, compassionate, and willing to listen, not being dogmatic and unkind," he said. "I think I'll just represent myself, how I really am."
Although he voted for Hillary Clinton in 2016, Doughty told the Globe he backed Trump in 2020 due to the former president's policy positions on trade with China. (Doughty, however, dismissed Trump's lies peddled by some Republicans that the election was stolen or rigged, stating that Biden is "the legitimate president.")
Doughty said he leans against a pro-choice stance on abortion, but he understands that abortion rights are now codified in state law, according to the Globe.
While he said he supports exceptions in cases of rape and incest, Doughty generally rejects abortion occurring after "a fetus can feel pain," he said.
"You'll get a sense that I'm not really an activist," he told the newspaper, pointing to his business-minded approach to politics.
And Doughty appears to have already begun earning dividends on that approach.
A news release from his campaign on Wednesday touted he has the endorsement of state Rep. Peter Durant, a Republican from the 6th Worcester District.
The release made mention of Durant as a "former Geoff Diehl supporter."
"Chris Doughty has the managerial skills and proven leadership from building his business," Dooley said in a statement. "He knows how regulations and expenses are hurting our state. I believe that he has the best chance to win in November."
Newsletter Signup
Stay up to date on all the latest news from Boston.com