Local News
Self-driving Tesla does 'the craziest things you can imagine': Boston man's viral video shows autopilot dangers
"You have no idea what it's going to do next."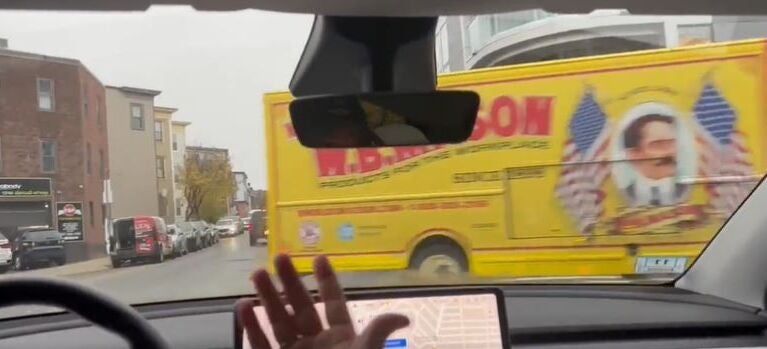 Taylor Ogan says he feels safer driving his Tesla Model Y around the streets of Boston himself than he does using its Full Self-Driving beta program — and for good reason.
Ogan, a young professional in Boston who's had his Tesla since October 2021, posted a video of the car driving itself through South Boston on Tuesday. The video showed what Ogan said are frequent safety issues that occur while letting the car take control.
During the minute-long video, the Tesla nearly steers itself into the wrong lane, doesn't slow down or stop for a turning truck, and does sharp turns that nearly cause the car to hit another parked vehicle.
"It's marketed as FSC, standing for full self-driving. And I think the video exemplifies that it's definitely not full self-driving," Ogan said.
Tesla, which recently disbanded its media department, did not return a request for comment on this article.
The video comes in the wake of conflicting information coming from the company in the last two weeks. Last week, during Tesla's Q4 2021 earnings call, CEO Elon Musk reportedly said he would be shocked if Tesla does not achieve "Full Self-Driving safer than human this year."
Yet on Tuesday, Tesla recalled nearly 54,000 cars and SUVs because its "Full Self-Driving" software lets cars roll through stop signs without coming to a complete stop.
Ogan said he shared the video because he's seen a lot of "perfectly curated" videos of people using the Tesla self-driving feature on beautiful roads in California with no issues. He said he wanted to let people know that the technology is far from perfect.
"It's just the craziest things that you can imagine. You have no idea what it's going to do next," he said.
While Ogan said he's a fan of Tesla as a company, he's been critical of this technology in particular.
"I am shocked that regulators still allow this, especially a progressive city like Boston," he said. "Imagine if Michelle Wu saw that video. She'd be like, 'Oh, this should not be on the road.' And it shouldn't."
Ogan stressed that the video showed clips from a drive of only 22 minutes over 4.5 miles, and even with the short drive, the technology had many issues. Ogan's route started at 371 D Street in South Boston, and ended near the water at 1909 William J Day Boulevard.
"There are companies with actual self–driving cars, but Tesla just is not one of them," Ogan said.
Newsletter Signup
Stay up to date on all the latest news from Boston.com