Local News
Andy the plow driver gets a 'snow-fficial' endorsement from Thomas' English Muffins
Say hello to the "Official Snowplow of Thomas' English Muffins."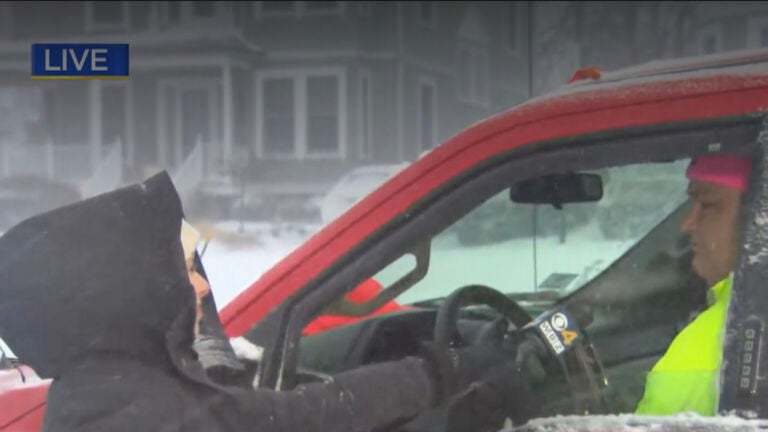 Never mind Tom Brady — Massachusetts has a new champ.
Andy Barr, the man better known online as "Andy the snowplow driver," offered up an iconic take on last week's snow with his indelible Boston accent.
"It's like bread and buttah," Barr, of Swampscott-based A. Barr Construction, told WBZ's Anna Meiler. "It's like a Thomas' English muffin with some jam: It spreads nice and gets all the nooks and crannies."
The clip earned Barr scores of fans on social media, and even made a few rounds on television this week.
"The Daily Show" dubbed Barr "hero of the bomb cyclone," and Barr was also spotlighted on "Jimmy Kimmel Live!"
"I think maybe Andy didn't get breakfast this morning," Kimmel quipped.
But the latest nod to Barr is — if not anticipated — a bit more savory.
"Thomas' is making it snow-fficial – the iconic breakfast brand is making local snowplow driver, Andy Barr, the Official Snowplow of Thomas' English Muffins," a spokesperson for Thomas' said in an email to Boston.com on Wednesday.
In honor of Barr's "love of 'buttah and jam,'" the bakery giant said it promises Boston will get free English muffins for "the next wicked snowstorm to keep everyone warm and toasty."
According to Thomas', Bostonians should be on the lookout for more details upon the arrival of the next storm.
Newsletter Signup
Stay up to date on all the latest news from Boston.com