Local
A boat sank off the Scituate coast, leaving 3 fishermen clinging to gear until their rescue
Scituate's fire chief said a Marshfield woman who reported the sinking boat from shore saved the men's lives.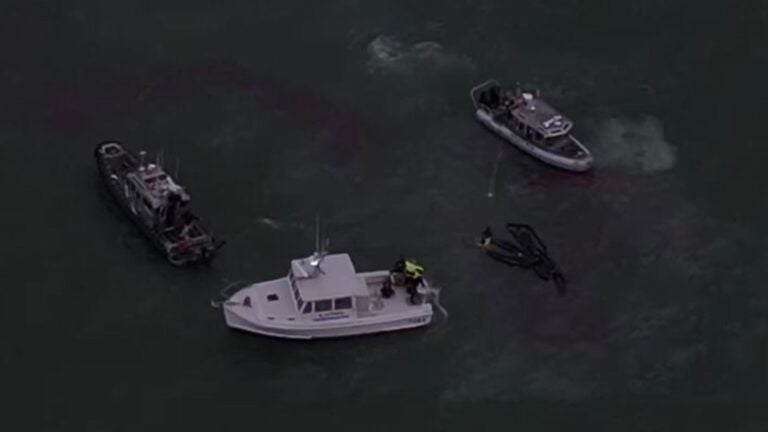 Three clam fishermen were rescued off the Scituate coast Tuesday after their boat sank, Scituate police announced. They were taken to South Shore Hospital with severe hypothermia.
Police said they received a call from a Marshfield woman who lived near Humarock Beach at 2:36 p.m. They said she told them she saw a fishing boat turn over and sink.
Police and firefighters rushed to the scene and called the Scituate Harbormaster, Marshfield Harbormaster, and the U.S. Coast Guard for help.
Scituate Fire Chief John Murphy said the men, who are all around 50 years old, were fishing for clam. He said their equipment likely got caught up on something at the bottom of the ocean and flipped the boat.
"Whatever happened, happened fast. That's all we know, because they had no life jackets, no survival suits, nothing," he said.
With their 55-foot boat sunken beneath them, the three men were found about a half mile offshore clinging to some fishing gear in a slick of diesel fuel, police said. The fishermen were not wearing life jackets or survival suits, and had been in the 40-degree water for about 45 minutes.
"Five more minutes in the water, they never would have made it. It was that close," Murphy said.
"…When we got to them they couldn't do anything. They couldn't even help themselves. We had to get right next to the poor men. They couldn't grab a rope. They lost physical functioning."
Murphy said all three men are now in stable condition and will survive.
This is the fifth water rescue in Scituate in the last six months, Murphy said. He said more people have been out in the water than normal, and among those rescues, there were two fatalities.
But in general, Murphy said, water rescues are not common on the Scituate coast.
Watch the rescue:
Newsletter Signup
Stay up to date on all the latest news from Boston.com