Local
Plans to close Tufts Children's Hospital prompt protest
Parents and hospital staff are angry over plans to convert the pediatric facility to treat only adults.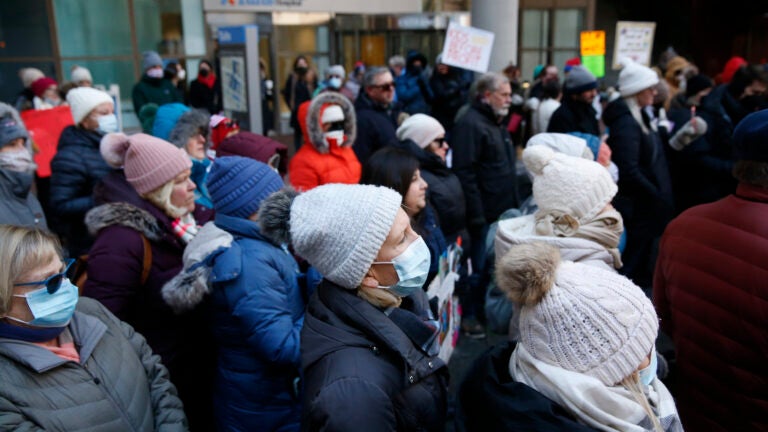 About 100 people gathered early Saturday in frigid temps outside Tufts Children's Hospital in protest of plans to close the pediatric facility to make way for adult patients.
The demonstrators, mostly parents and hospital staff, held signs and spoke out against plans to convert the 41 pediatric care beds to treat adult patients, the Boston Globe reported.
Word of the planned hospital conversion first broke on Jan. 20, rocking staff and families who say the closure will have a severe impact on pediatric patients, from interrupting treatment to causing families to scramble to find new providers. Opponents also say kids who require specialty treatment only offered by Tufts will face hurdles in finding new physicians.
The children's hospital started treating sick kids at its Tufts location in the 1920s. Before that, Boston physicians pioneered health care for pediatric patients with a Floating Hospital for Children, which was established in 1894 as a hospital ship that sailed in Boston Harbor.
Protesters at Saturday's demonstration gathered next to the hospital's iconic bronze teddy bear sculpture, where people spoke out about the hardship patients and staff will face if the plans move forward.
"Shame on [hospital administrators] for the trauma they are inflicting on the dedicated staff who care for your children," said Mary Havlicek Cornacchia, co-chair of the nurses union at Tufts, according to the Globe report. "And shame on them for dismantling a beloved and historical part of the city. I hope they see and hear us today and decide to change course."
Many opponents say the decision to convert the facility to adult care is financially motivated.
"Photos from the rally this morning to protest the decision to end in-patient pediatric services at Tufts Floating Hospital that serves poor children that can't afford to go to Children's Hospital in the Fenway," said protester Julie Perron as she shared images of the demonstration on Facebook. "Apparently, insurers pay more for adult beds than pediatric beds."
City Council President Ed Flynn said closing the children's hospital would be a tremendous loss for Boston families.
"This hospital provides compassionate and exceptional medical care. Honored to attend yesterday's rally to protest plans to close the hospital," Flynn said on Twitter Sunday.
An online petition to stop the hospital conversion had reached more than 62,000 signatures as of Sunday.
"Kids deserve better. Families deserve better. The incredibly amazing staff deserves better and our leaders should KNOW better," petition creator Tim O'Connell wrote on the page.
The hospital has said the decision is meant to increase its capacity for critically ill adults and give those patients access to "much-needed adult ICU and medical/surgical beds."
State leaders must first approve the conversion before it goes into effect in July. If the change happens, Tufts pediatric patients would be referred to Boston Children's Hospital.
Newsletter Signup
Stay up to date on all the latest news from Boston.com