Local News
Here's why Mayor Wu and other mayors say undocumented immigrants should be able to get driver's licenses
"This is a no brainer, right?"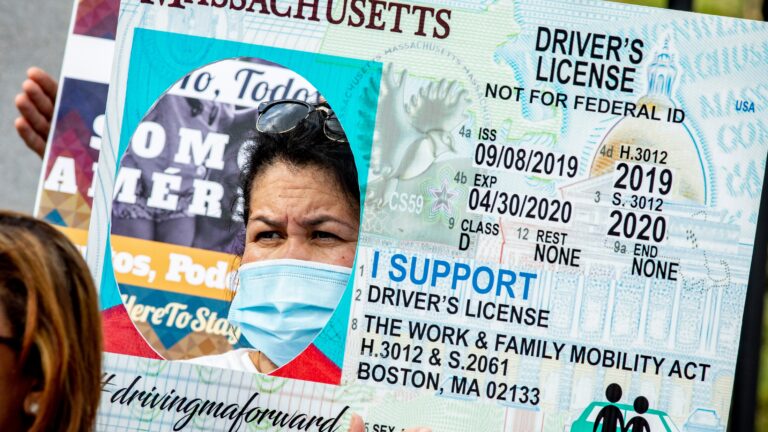 Earlier this year the Massachusetts House of Representatives passed a bill that would allow undocumented immigrants to obtain a state driver's license. The legislation, called the "Act relative to work and family mobility," was well received in the House, and passed with a 120-36 vote, which Pablo Ruiz, the political director of union 32BJ, said gives advocates hope for the future of the bill.
"Never before have we felt more hope for what's in front of us," he said. "Maybe never before has there ever been such urgency for this bill within our impacted communities."
The bill still needs to be passed by the state Senate before it reaches Gov. Charlie Baker's desk, but if approved, it would allow individuals who do not have proof they are in the country legally to obtain a license. The legislation only affects standard Massachusetts licenses, not Real IDs, which would keep the state in compliance with national rules.
The Driving Families Forward coalition, which is committed to passing the act, hosted an online event Tuesday that featured several local mayors and city leaders.
Boston Mayor Michelle Wu spoke first and expressed her support for the legislation.
"I'm here in my official capacity as mayor of Boston to give voice to the many, many residents who need urgently to have the mechanisms for transportation, for safety, for economic mobility that this next step represents," she said. "I'm also here wearing my own identity coming from an immigrant family where I know what it feels like to see the systems that are there, built with programming and services and funding, feel so far away because of the many barriers that stand in the way."
Wu called Boston a city of immigrants, with 29% of the population coming from an immigrant background. Wu said this legislation could help alleviate issues with access to some resources.
"Supporting our immigrant communities is supporting our city," she said. "All the work that we're doing around housing affordability, around educational quality and access, around clean air and jobs will only matter if people can actually get to all of the opportunities we're setting up and working so hard to create."
If passed, Massachusetts would join 16 other states and the District of Columbia that already have similar laws — including Connecticut, Delaware, Maryland, and Vermont.
According to the bill, those seeking a license would still need to provide "satisfactory" proof of identity, date of birth, and Massachusetts residency.
The bill lays out documents that could be used to do this. First, someone must present a valid unexpired foreign passport or consular identification. The second form of identification could include an unexpired driver's license from any U.S. state or territory, a birth certificate, a valid unexpired foreign national identification card or foreign driver's license, or a marriage certificate issued in Massachusetts.
Immigrants eligible for driver's licenses would not be registered to vote as a result of applying, and licenses wouldn't be available until July 1, 2023.
Lynn Mayor Jared Nicholson highlighted the flags that hang in his office representing the over 40 languages spoken in public schools as a measure of the diversity in Lynn and the wide community this bill would benefit.
He also brought up a point in the pandemic where the city's school transportation vendor was unable to transport all the students due to capacity issues and said this legislation would have helped alleviate that.
"That was incredibly frustrating for us as a city, for those students and families, for the school department," Nicholson said. "One of the things that was particularly frustrating and just unfair was that for certain families who were trying to get to school during that time period, specifically, there was this inability to legally obtain a driver's license that would allow for them to lawfully get their kids to school."
For Salem Mayor Kim Driscoll there are three main reasons to support this bill: moral considerations, economic effects, and public safety.
Allowing people to have access to a driver's license provides increased access to work and school opportunities, and to enjoy the "quality of life that so many of us are familiar with." Economically, having access to a vehicle opens doors to apply to new jobs and even start your own business, Driscoll said.
"It doesn't make any sense to have drivers not having access to a driver's license," she said. "Do we want to support individuals who are new to our community and their ability to grow and prosper the way any of us who were born here have that opportunity? I think the answer to that is yes."
Public safety was a consideration for several of the leaders, including Chelsea City Manager Thomas G. Ambrosino.
"I have no doubt it'll improve public safety in our community, having more of our residents trained and legitimately licensed and insured on a road will absolutely make a difference in safety and I think that's why my police chief and the major chiefs and other public safety organizations support this effort," he said.
The Driving Families Forward coalition has a number of endorsements from community, faith, and business groups, as well as Massachusetts Attorney General Maura Healy, the Massachusetts District Attorneys Association, the MA Major Cities Chiefs of Police Association, and a number of other law enforcement agents.
Brockton Mayor Robert Sullivan echoed the other leaders' thoughts and said he is proud to support the effort.
"At the end of the day, as an elected official, we always have to have a moral compass and to work with our constituency as needed," Sullivan said. "So this is a no brainer, right?"
Newsletter Signup
Stay up to date on all the latest news from Boston.com