Local News
A Methuen business owner did a good deed for a customer — who's now splitting his $1 million lottery winnings with him
Eric Cochrane is sharing his prize with John Galvin after he came through for Cochrane's son.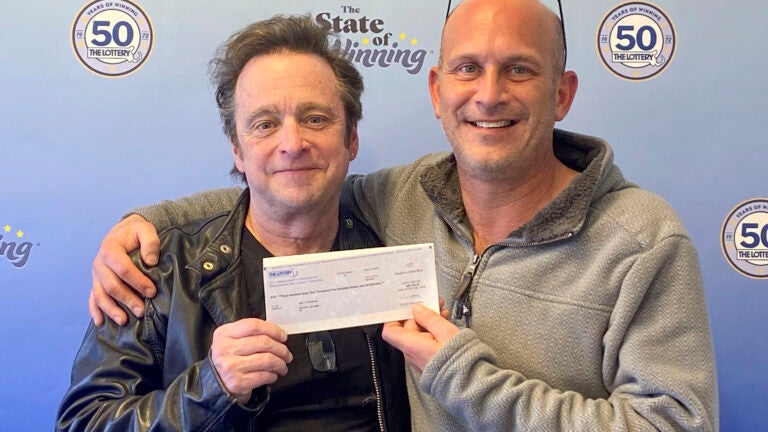 One good deed from a guitar store owner has turned into a big win.
Eric Cochrane recently won the $1 million prize in the Massachusetts State Lottery's "$10,000,000 Winter Riches" instant ticket game. He decided to split the winnings with John Galvin, owner of The Guitar Garage in Methuen.
According to a release from the Massachusetts State Lottery, Cochrane made up his mind to share the winnings before he even knew he had them.
Cochrane had taken his son's guitar in for a repair at The Guitar Garage, but Galvin didn't charge him for the fix because he'd heard Cochrane's son was having a health issue earlier in the week.
"Cochrane insisted that Galvin accept at least $40," the state lottery said in a statement. "When Galvin refused, Cochrane decided that he would purchase two $20 instant tickets and told his friend, 'If I win $1 million, we are splitting it.'"
Just an hour later, the pair was on the way to lottery headquarters to claim the prize.
When Cochrane collected his winnings, he received a one-time payment of $650,000 before taxes.
The store that sold the winning ticket, Howe Street Superette on Howe Street in Methuen, will receive a $10,000 bonus for its sale.
Newsletter Signup
Stay up to date on all the latest news from Boston.com