Local News
State police K-9, suspect killed in Fitchburg standoff
"He was as loyal a partner as any trooper ever had."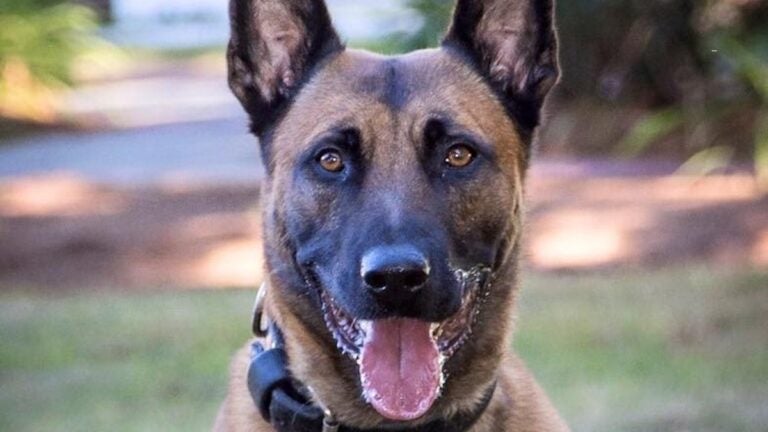 An armed suspect and a police K-9 are dead after a standoff between the suspect and police in Fitchburg Tuesday.
Frankie, a Massachusetts State Police K-9, was fatally shot while local and state police attempted to apprehend Matthew Mack, an armed suspect who barricaded himself in a Fitchburg multi-family home, Massachusetts State Police Colonel Christopher Mason confirmed in a press conference.
The standoff began Tuesday morning around 9 a.m. as local and state police began surveilling a three-story Fitchburg residence on Oliver Street to locate the suspect. Mack, 38, was wanted on charges of firearms offenses linked to a Fitchburg shooting July 21.
Police and negotiators made verbal contact with an armed Mack, who refused to exit the home, Mason said. After approximately three hours, Mack was observed attempting to escape the residence.
K-9 Frankie and his handler were sent with a team to apprehend Mack, who fired multiple shots before retreating into the residence. One of these shots struck Frankie, a 9-year veteran of the force, who was evacuated from the scene. A video obtained by WCVB depicted the K-9 being carried from the residence on a stretcher.
Mack was pronounced dead soon after by an apparent self-inflicted gunshot inside the residence, Mason said.
Frankie, a 10-year-old Belgian Malinois, is the first state police K-9 killed in the line of duty in Massachusetts, and the first application of Nero's Law, a new bill that permits emergency medical personnel to offer life-saving medical treatment and transport of K-9 partners. Governor Baker signed the bill into law in April.
"Nero's Law, named for K9 Nero who was wounded trying to protect the late Sgt. Gannon, allowed Fitchburg EMS to treat and transport K9 Frankie," Governor Baker tweeted Tuesday night. "While his injuries proved too severe, we are tremendously grateful for the swift, quality care that the heroic K9 Frankie received."
"RIP Frankie" was a trending item on Twitter in the U.S. Tuesday night, with hundreds of users showing their support for the fallen K-9. Police departments across Massachusetts, including Boston and Cambridge, also issued their condolences.
Frankie's body arrived at an animal funeral home in Cranston, Rhode Island, Tuesday night, flanked by a police escort. Police saluted the K-9 as a group of officers brought him into Final Gift Pet Memorial Center, covered by an American flag.
"Frankie had every trait we seek in good law enforcement officers, K-9 or human: intelligence, immense courage, and dedication to protecting the public. He was as loyal a partner as any trooper ever had," Mason said.
Newsletter Signup
Stay up to date on all the latest news from Boston.com