Local
Logan Airport workers strike for a day over alleged unfair labor practices, wage theft
The workers are hoping to join the 32BJ SEIU union.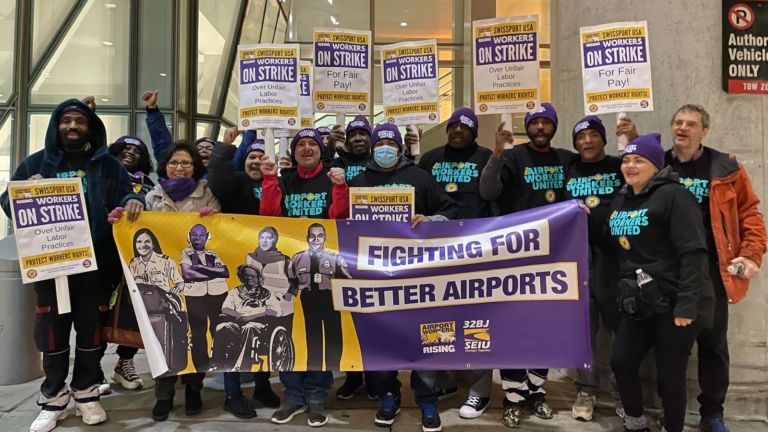 Fifty cabin cleaners and ramp workers at Logan Airport conducted a one-day strike Thursday in protest of alleged wage theft and unfair labor practices.
The strikers also allege that a manager threatened to fire three employees for union organizing, The Boston Globe reported. The workers are trying to join 32BJ SEIU, a national service industry workers' union.
The Globe reported that in November, 32BJ filed an unfair labor practice complaint with the National Labor Relations Board, alleging the manager violated the workers' right to unionize.
In 2022, five employees filed wage theft complaints against the company for allegedly failing to pay them and committing vacation pay violations, the Globe reported. Some workers also allege that they were promised $3,000 sign-on bonuses that they've never received.
"With the holiday travel season upon us, it's more important than ever that employers in Boston and nationwide pay airport workers the money they've rightfully earned while respecting their legally protected right to unionize," Roxana Rivera, 32BJ SEIU executive vice president, said in a statement to the Globe.
"We are urging Swissport USA to stop getting in the way of a full recovery at Logan Airport by treating these hard-working men and women right."
Boston.com could not reach Swissport for comment Thursday night, but in a statement to the Globe, the company said it fully complies with permit requirements in every city in the U.S. where it operates, and that workers' health and safety is its highest priority.
"Swissport denies any unfair labor practices, fully complies with applicable labor regulations, and provides competitive wages and benefits," the company said.
About 400 workers at Logan Airport are employed by Swissport USA, which is headquartered in Raleigh, North Carolina, the Globe reported. Ramp workers and cabin cleaners earn $18 to $20 an hour, SEIU 32BJ told the Globe.
Swissport workers in Chicago and Newark are also currently striking over alleged unfair labor practices, dangerous working conditions, and wage theft, the Globe reported.
Additionally, SEIU is demonstrating at over 15 airports around the country, including Logan, Newark, and Chicago, to pressure Congress into passing the Good Jobs for Airports Act, the Globe reported.
The act, whose lead sponsor is Massachusetts Sen. Ed Markey, is aimed at improving airport workers' wages and benefits.
State Senator and former Boston City Councilor Lydia Edwards, State Rep. Adrian Madaro, District 1 Boston City Councilor Gabriela Coletta, and Boston City Councilor-at-Large Ruthzee Louijeunne joined the workers during a demonstration at Logan Airport Thursday.
Newsletter Signup
Stay up to date on all the latest news from Boston.com