Local
Dog dies after falling through ice, prompting warning about thin ice
Rescuers tried for 45 minutes to rescue the struggling dog before it slipped through the ice on Long Pond in Lakeville.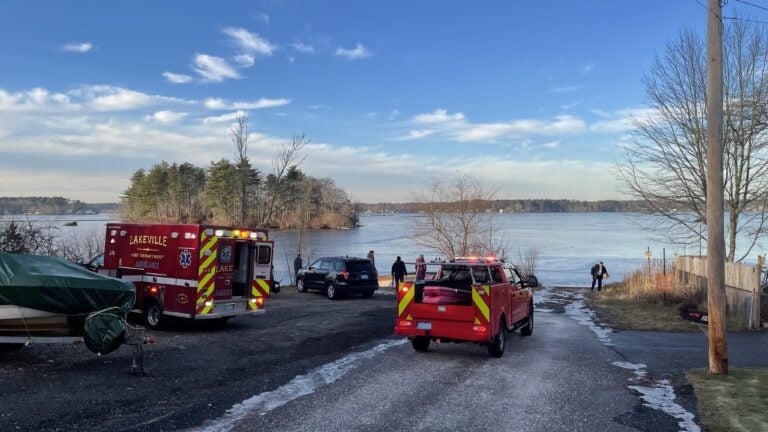 Rescue officials in a southeastern Massachusetts town are warning citizens about the dangers of thin ice on ponds after a failed rescue attempt ended in the death of a local dog.
Lakeville Fire Chief Michael O'Brien released a statement on Facebook Thursday saying firefighters responded to the end of Plymouth Street for a dog through the ice on Long Pond just after 8 a.m. that morning.
"Anyone who follows our page is aware that we frequently share the accomplishments of the department and its members. Today, I must regrettably share a failure with you," O'Brien said.
O'Brien said he was the first to arrive on scene and spotted the dog through the ice about 600 feet from the shore. He stopped bystanders who were trying to rescue the animal. Firefighters soon arrived and were deployed on a rescue sled in an attempt to save the dog. But the pond's thin ice gave way multiple times, preventing rescuers from reaching the dog in time.
Despite the difficult conditions, one of the firefighters was able to get to within 50 feet of the dog's location, but the exhausted animal submerged under the ice before it could be rescued.
"At that time, I made the difficult decision to cease rescue operations and pull the struggling rescuer back to shore," O'Brien said. "The most difficult decision made today was the determination of what is a reasonable and appropriate level of risk to save an animal. The tactics that were used today minimized risk to responders and did not approach what would have been employed for a person."
O'Brien said ice conditions and the distance from shore played a major role in the situation. The fire department said it would review the rescue performance and implement training and resources to continue improving its services.
O'Brien extended condolences to the dog's family, who weren't identified, saying, "While we are grateful that no person was injured today, we are also very saddened by the loss of the dog." O'Brien also reminded the public that it's not currently safe to venture out on ponds.
"Maybe today's incident will remind people to use caution around the ice, and maybe some positive will come from the loss of this pet," he said.
It was the second dog-through-ice death to happen in Massachusetts this week. A dog died Wednesday after falling through the ice of the Malden River in Everett.
Newsletter Signup
Stay up to date on all the latest news from Boston.com