Local News
Wage activists thankful minimum wage has finally hit $15, but say it's not enough
"Inflation is putting real pressure on workers, and the minimum wage needs to keep up with their costs."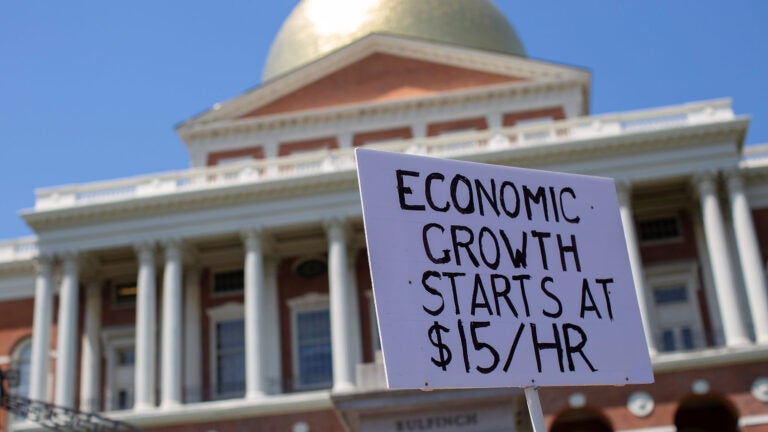 After years of incremental adjustments, Massachusetts finally hit the long-awaited $15-an-hour minimum wage benchmark earlier this month.
Yet while the state's minimum wage ranks among the highest in the U.S., some activists say it's still not enough, especially in light of soaring inflation.
"When we were fighting for this [several years ago], … nobody ever saw $15 an hour as a living wage, but we knew it would help people," Chrissy Lynch, chief of staff of the Massachusetts AFL-CIO, told Boston.com.
"Now, $15 — it's a great accomplishment, but so much more needs to be done," she added. "It has not kept pace with inflation, and the lowest wage workers are still pretty desperately trying to make ends meet."
The last of five annual increases included in the so-called "grand bargain" act raised the state's hourly minimum wage from $14.25 to $15, and the service rate for tipped workers from $6.15 to $6.75.
Putting it in perspective
When it comes to buying power, $15 in June 2018 — when Gov. Charlie Baker signed the act into law — would be equivalent to $17.72 in November 2022, according to the U.S. Bureau of Labor Statistics.
As businesses also grapple with a worker shortage, some have taken steps to increase wages on their own.
"I think there's plenty of workers; what there is is not enough jobs that pay a living wage," Lynch said. "There's not enough access to affordable childcare. There's not enough access to reliable public transportation. It's like you put all of those things together and we've got an economy right now where it's hard to work."
MIT's Living Wage Calculator puts the living wage at $22.56 for a single, childless adult living in the Boston-Cambridge-Newton metropolitan statistical area. In a household with two working adults and no children, the living wage drops to $15.41.
The Worcester area falls closer to the state's new minimum wage at $18.12 for a single, childless adult and $13.19 for two childless working adults.
What's next?
Raise Up Massachusetts, a coalition of community organizations, faith-based groups, and labor unions, pushed to get the $15 minimum wage question on the ballot several years ago. The group, whose community partners include the Massachusetts AFL-CIO, celebrated the wage hike in a recent press release but emphasized that there is still more to be done.
"Despite the progress we've made, the minimum wage is still insufficient to meet the needs of working families, especially amid rising inflation," Massachusetts Teachers Association President Max Page said in the release. "And some workers are still not covered by the minimum wage, including municipal workers who have devoted their lives to public service and deserve more than poverty wages."
The work isn't finished, said Cindy Rowe, executive director of the Jewish Alliance for Law and Social Action.
"Inflation is putting real pressure on workers, and the minimum wage needs to keep up with their costs," she said in the release.
Lynch doesn't believe another minimum wage increase would solve the problem, but said moving closer to a living wage would help. Tying minimum wage to inflation or indexing it could help workers keep up with rising costs, she added.
Lynch said Raise Up Massachusetts hasn't made any decisions about what another minimum wage bill might look like or when a bill might be filed, but said the coalition is weighing options.
If Raise Up Massachusetts or others do pursue another increase, she expects there may be naysayers.
"Every time we try and do a minimum wage [increase], we hear, you know, that the sky will fall and all the jobs will go," Lynch said. "And that's not true."
Newsletter Signup
Stay up to date on all the latest news from Boston.com