Local
The Washington Post created another fake Ed Markey Twitter account, and the senator is not happy about it
Markey called Musk's handling of the verification system an "absolute joke."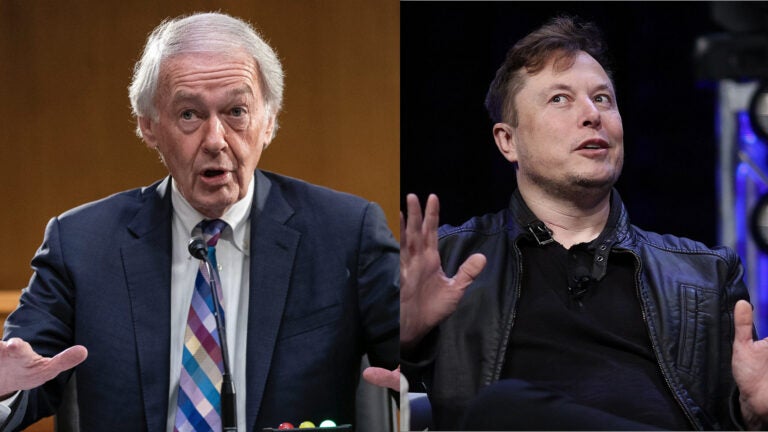 Massachusetts Sen. Ed Markey is not letting up in his fight against Twitter's controversial verification system.
For the second time in about two months, Markey gave permission to Washington Post columnist Geoffrey Fowler to impersonate him on the platform in order to test Twitter's blue check mark verification system.
It worked, and Fowler was able to get up a verified account purporting to be Markey using the handle @SenatorEdMarkey. The profile was complete with Markey's name, an official-looking photo, and a blue checkmark, Fowler wrote in a piece for the Post published this week.
The senator was not very happy. He called out Elon Musk on Thursday morning, who took over Twitter in October. Markey called Musk's handling of the verification system an "absolute joke."
The stunt was spurred by Musk's decision to drastically change Twitter's verification system in the weeks after he completed his takeover of the company. Under Twitter's previous ownership, the blue check mark verification system was used to indicate that the company had independently verified "active, notable, and authentic accounts of public interest."
Instead, Musk moved to monetize the system, allowing anyone to purchase blue check marks through Twitter Blue, a subscription service that costs $8 a month.
The first time Fowler impersonated Markey, also with the senator's permission, Musk got into a heated back-and-forth with the senator on Twitter. Markey sent a letter to Musk demanding that the company clarify its verification process.
"Your Twitter takeover, rapid and haphazard imposition of platform changes, removal of safeguards against disinformation, and firing of large numbers of Twitter employees have accelerated Twitter's descent into the Wild West of social media," Markey wrote to Musk in November.
By Nov. 25, Musk decided to implement a system where all verified accounts would be manually authenticated before receiving a check mark.
Twitter rolled out a multicolored check mark system in December to ostensibly help users identify different types of accounts. Blue check marks now either mean that a user has paid for Twitter Blue or was verified under Twitter's previous verification criteria. Gold check marks are being used to identify official business accounts, and grey check marks certify "that an account represents a government institution or official, or a multilateral organization."
President Joe Biden's account currently has a grey check mark, but accounts belonging to many other politicians, including Markey, do not.
In mid-December, Fowler decided to test the system again. He did encounter more hurdles than his first time impersonating Markey. Twitter stopped allowing newly created accounts to apply for verification. The company also began requiring those applying for verification to link their accounts with a phone number, Fowler wrote.
He got around the first dilemma by using a colleague's old account and switching its handle. After switching the handle, Twitter made Fowler wait a week before signing up for Blue.
After seven more days, the fake account received its blue check mark, Fowler wrote.
Markey, a longtime critic of Big Tech, kept the pressure up on Musk.
"Twitter's current leadership has failed to safeguard the platform from misinformation, failed to provide answers to my simple questions regarding its anti-fraud protocols, and failed to demonstrate an appreciation for the role that their platform plays in our democracy," Markey wrote on Twitter Thursday.
Later on Thursday morning, Musk seemingly responded to Markey by posting a poll on his Twitter account that asked users whether he should "stay out of politics" or "keep shooting his feet." The latter won.
Markey followed that up by posting his own poll on his real account, asking users whether they would prefer Musk to answer his questions or to fix Twitter's verification system. By Thursday evening, more than 71% of respondents said that they would prefer Musk to answer Markey's questions.
Newsletter Signup
Stay up to date on all the latest news from Boston.com