Off Beat
A Connecticut family found a hibernating bear under a deck. They're letting it stay.
The black bear was found nesting on a bed of leaves in a crawl space of their house in Plainville, Conn., last month. A TikTok video of the bear has been viewed more than 15 million times.
On Dec. 30, Vinny Dashukewich and his girlfriend, Olivia Unwin, were playing with his 3-year-old pit bull, Cali, in his backyard in Plainville, Connecticut, when the dog began acting strangely, growling insistently near a raised outdoor deck.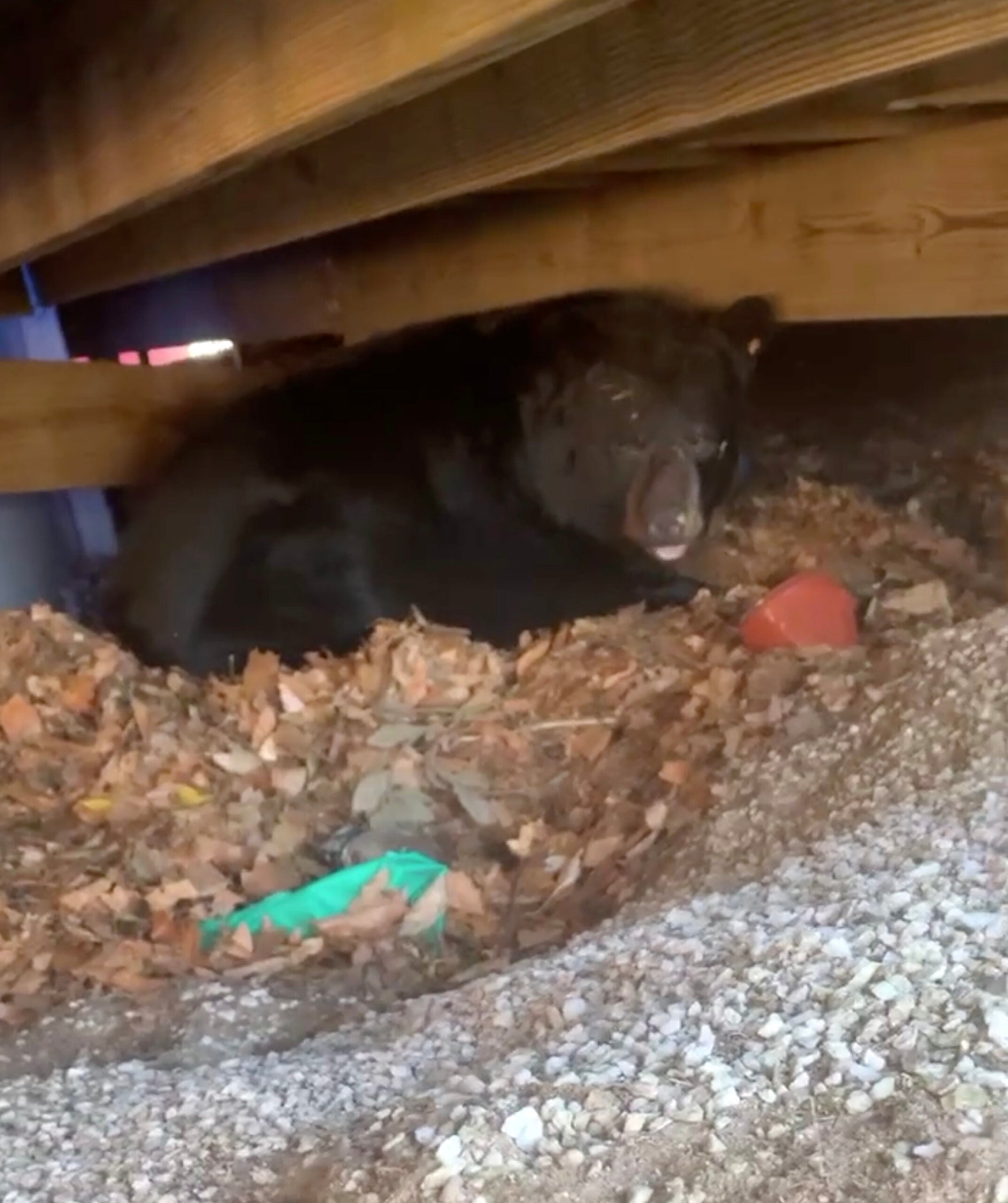 Cali's behavior was atypical, Dashukewich said, as she usually has a sweet disposition. Then, Unwin yelled that she'd spotted a bear.
Dashukewich didn't believe it at first. He scanned the woods behind the house, which he shares with his parents and his sister Tyler but spotted no such animal.
Then he locked eyes with a large black bear underneath the house's elevated deck. The bear, fat and groggy, was nestled in a crawl space, stretched out on a bed of leaves and a tarp.
"He was totally unfazed by everything," Dashukewich said. "As soon as we saw each other he didn't move, he didn't react. He's definitely super comfortable."
A video of the bear that Tyler Dashukewich posted on TikTok has been viewed more than 15 million times. The family has since named the bear Marty Bearnard and given him his own Instagram account with a bio that reads: "Currently I am hibernating until i'm ready for hot bear summer."
The Dashukewich siblings said that they had spotted many bears near the property over the years but that this was the closest they had ever come to one. For now, coexistence has been serene, they said.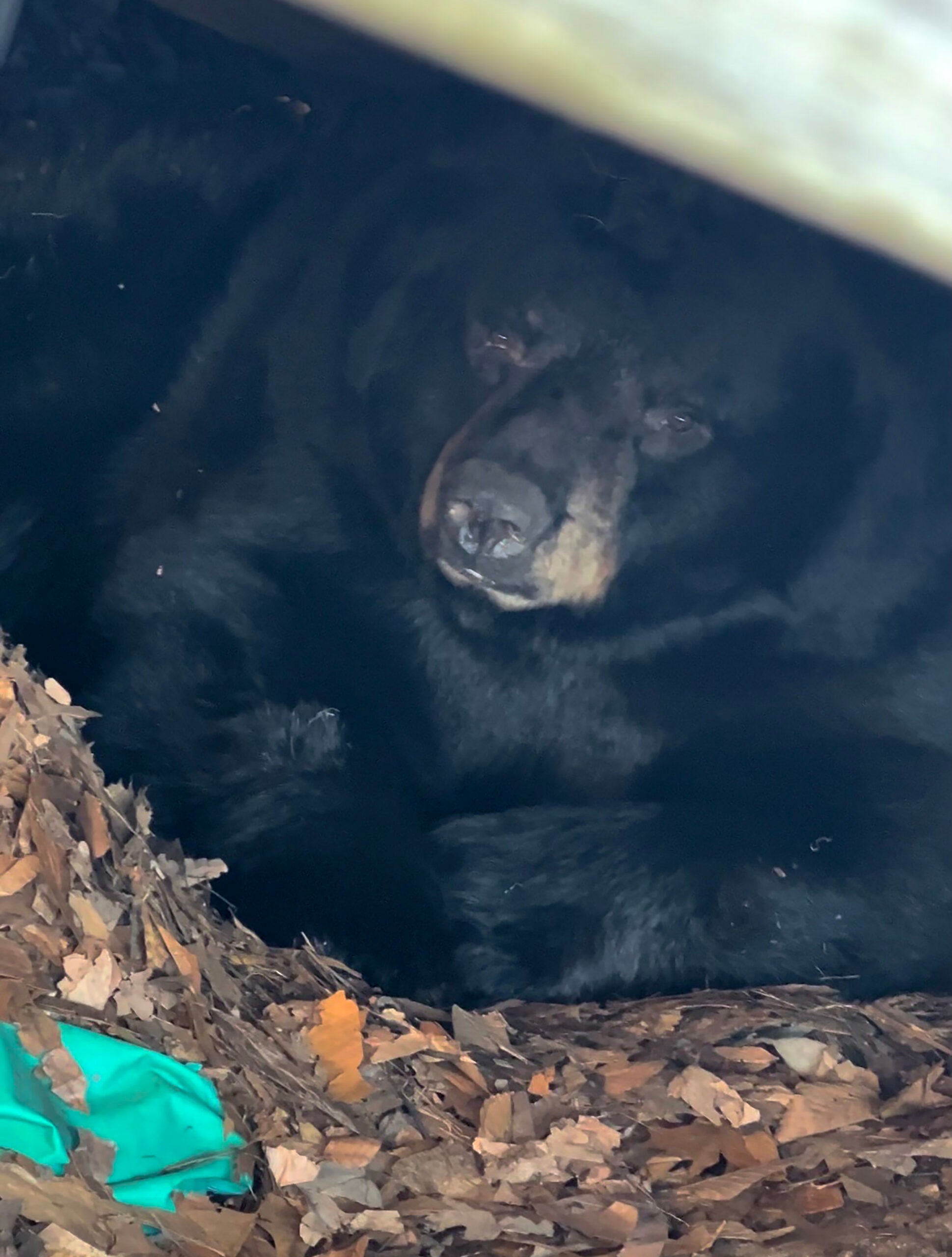 Shortly after meeting their new outdoor houseguest, Tyler Dashukewich said the family contacted the Connecticut Department of Energy & Environment Protection. Upon reviewing pictures of the animal, the agency said it appeared to be a male black bear. Dashukewich said the agency told them they could either harass the bear with noise or stimulation to get him to flee, or let him rest until he is done hibernating, likely in several months.
"He hasn't bothered us at all," Dashukewich, 28, said. "So we feel like there's no reason to move him."
Black bears, the most diminutive type of bear in North America, are omnivores that prefer wooded habitats, according to the Connecticut Department of Energy & Environment Protection. Adult males can weigh more than 500 pounds, it said.
Over the past two decades, there has been a "rapid increase" in Connecticut's black bear population, according to the department, which estimates that there are more than 1,000 of them in the state.
Jason Hawley, a wildlife biologist with the department, said in an email that reports of bears seeking shelter under decks and porches are not uncommon.
"We get 10-20 reports of bears denning under porches every year, and we have never had a negative incident that occurred as a result of this," Hawley said. The agency, he added, encourages homeowners to let the bears stay there before they move on, usually around April.
He emphasized, however, that the department advises people against advertising "the fact that the bear is there to avoid attracting attention."
During hibernation, black bears lower their body temperature and heart rate but can still be responsive and move swiftly if disturbed, said Emily Carrollo, a wildlife biologist at the Pennsylvania Game Commission.
The primary reason black bears hibernate, she said, is to conserve energy during the months when food is scarce. Black bears prefer shelter with adequate cover and often create a den resembling a "giant bird's nest in the ground," Carrollo said, adding that they occasionally create dens using human structures like porches, decks or sheds.
Although black bear attacks on humans are "very uncommon," Carrollo cautioned that living alongside them can lead to conflict.
Vinny Dashukewich said he is no longer taking the dog to the backyard, but overall, he and his sister were not bothered by the bear's presence.
"We're just going to keep checking on him and post updates for everyone," Tyler Dashukewich said, "because they seem pretty invested in him."
This article originally appeared in The New York Times.
Newsletter Signup
Stay up to date on all the latest news from Boston.com