Local
What we know about the fatal Cambridge police shooting of a 20-year-old UMass student
"We want to know what happened and how this tragic event unfolded."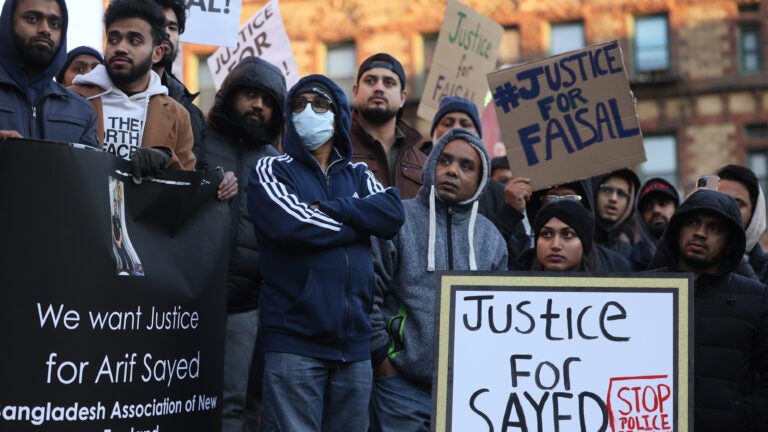 Hundreds of protesters gathered Monday afternoon in Cambridge demanding answers from the city after a 20-year-old UMass Boston student was fatally shot by police last week.
Sayed Faisal of Cambridge was shot and killed by an officer on Wednesday, Jan. 4, when police say they responded to a report of a man jumping out of an apartment window with a knife. Police have said that Faisal was fired on after he approached responding officers with the knife and after a "less-than-lethal sponge round" failed to deescalate the situation.
An investigation into the fatal shooting is underway by the Middlesex County District Attorney's Office, and city officials have promised transparency in the ensuing days as public outcry over the young man's death has grown.
Faisal's family has said the 20-year-old had no history of violence and had no record "of any kind" with law enforcement prior to the confrontation that claimed his life.
Below, what we know about the incident so far.
What authorities say happened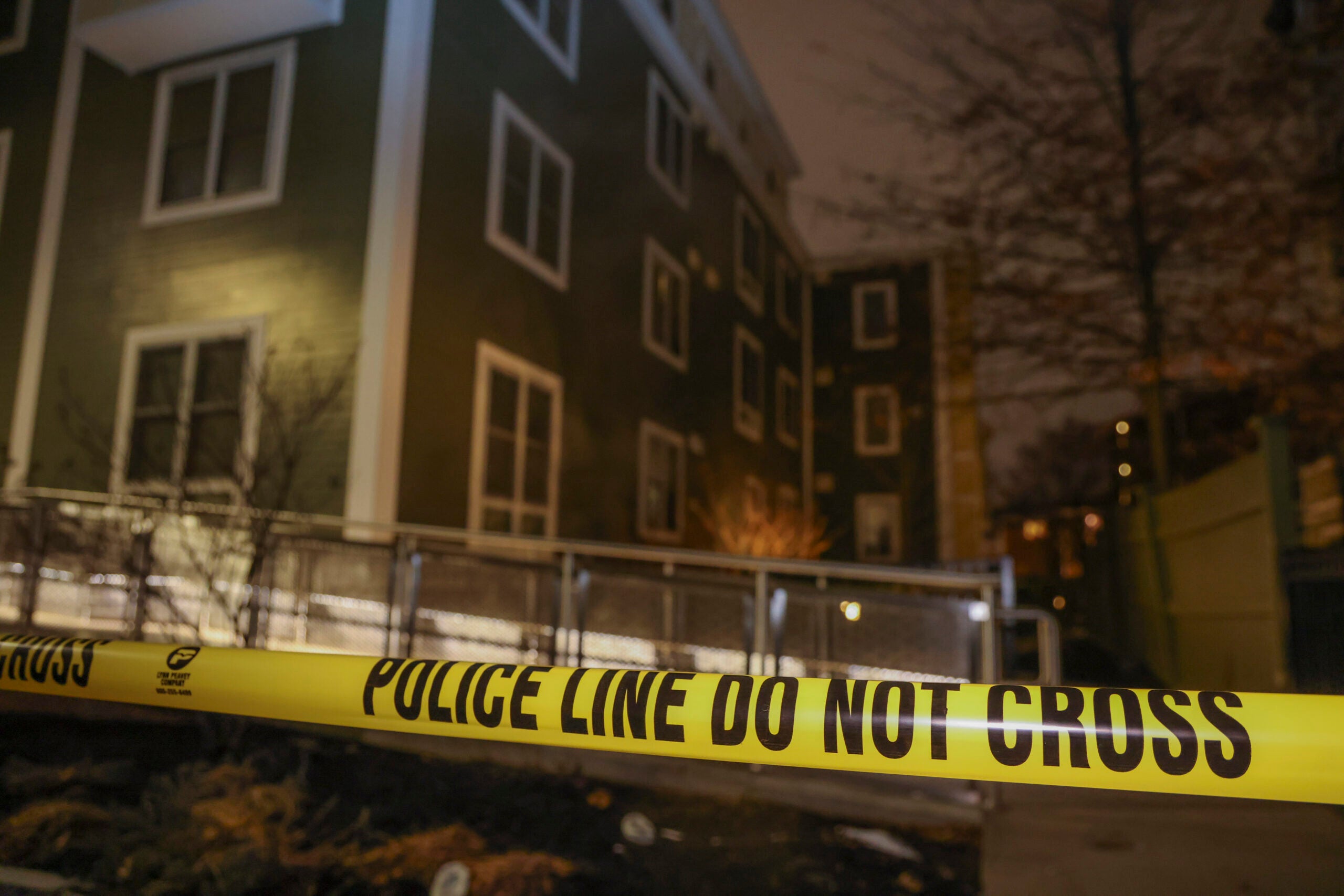 According to the DA's office and police, the incident began to unfold around 1:15 p.m. on Jan. 4, when a resident of the city's Cambridgeport neighborhood called 911 to report seeing a man, with what appeared to be a machete, jumping out of the window of a neighboring apartment.
The caller told 911 that the man appeared to be cutting himself both with the blade, which was later identified by police as a kukri knife, and broken glass from the window.
Paramedics and police officers responded to the scene, according to authorities, where they found the man, identified by authorities as Faisal, bleeding in an alley behind a Sidney Street building.
The DA's office and police said the initial investigation into what happened next suggests that after seeing the police, Faisal ran with the knife through "several blocks" in the Cambridgeport neighborhood. Eventually, officers reportedly attempted to verbally engage with him on Chestnut Street, asking that he put the knife down.
Authorities said when Faisal allegedly moved toward the officers still holding the knife, one of the officers discharged a "less-than-lethal sponge round in an attempt to de-escalate the situation."
"That round was unsuccessful in stopping Faisal," authorities said. "He continued to advance towards officers in possession of the weapon. One officer discharged [their] department-issued firearm and struck Faisal. He was immediately rendered medical aid on the scene by officers until EMS arrived."
The 20-year-old was taken to Massachusetts General Hospital where he later died, authorities said.
"Investigators are in the very early stages of this investigation, which is being conducted by the Middlesex District Attorney's Office, Massachusetts State Police Detectives assigned to the District Attorney's Office and the Cambridge Police," the agencies said in a joint statement on Jan. 4.
Law enforcement officials are asking that anyone with information about the case contact Cambridge or state police.
Cambridge Mayor Sumbul Siddiqui and City Manager Yi-An Huang also issued a statement on Jan. 4 saying they were "deeply saddened" by the fatal shooting, expressing their condolences to Faisal's family and promising community meetings to process the "tragic loss of life."
"The District Attorney's Office will be conducting a thorough and transparent investigation with the full cooperation of the City and the Police Department," their statement read. "We will review all of the facts and findings as they become available and we are committed to learning from this case to ensure the safety and well-being of everyone in our community."
Authorities have not released the names of the officers involved.
A spokesperson for Cambridge police said Monday that upon the conclusion of the DA's investigation and inquest process, a series of public records and documents would be published.
What Sayed Faisal's family has said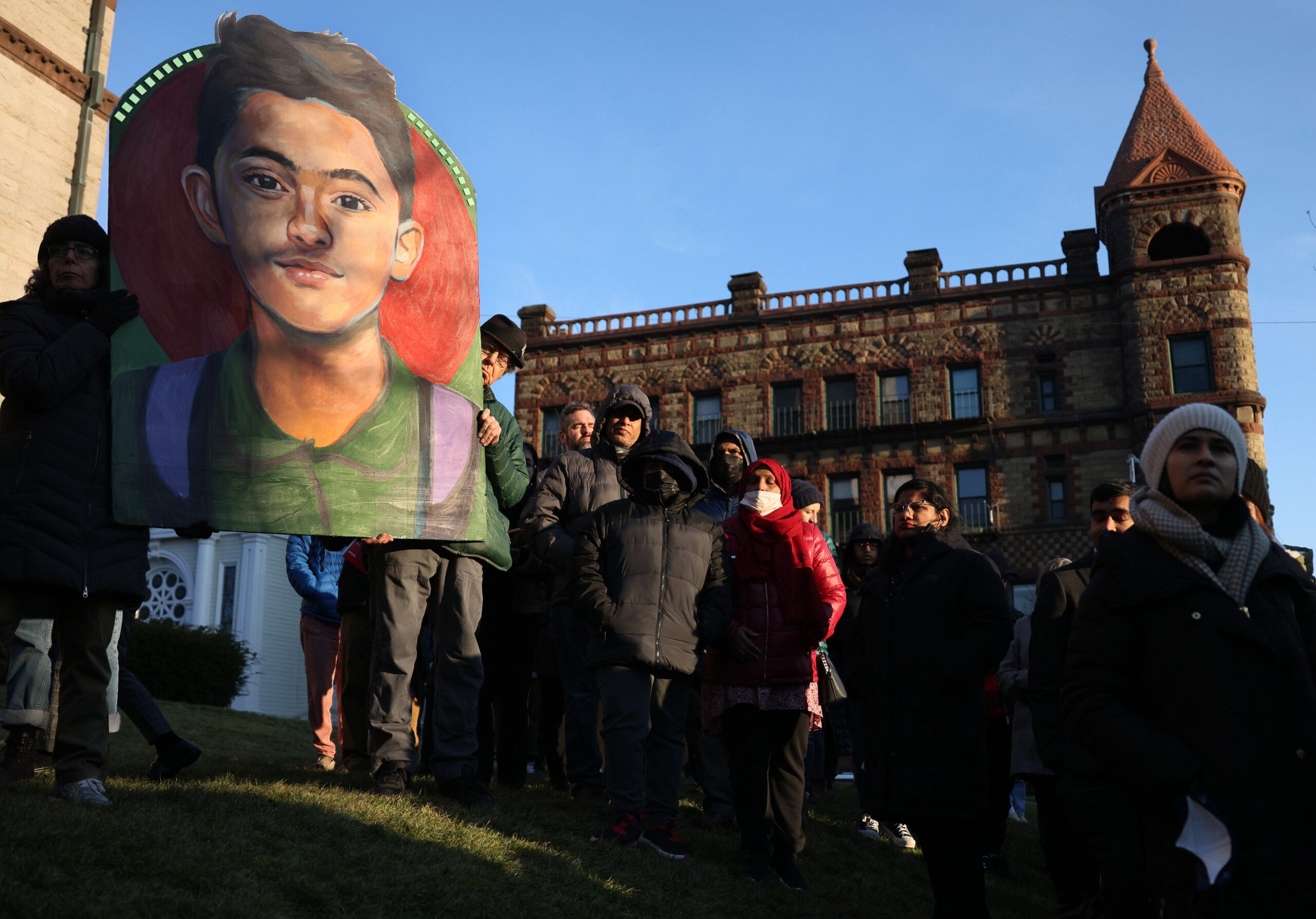 Faisal's parents, Sayed Mujibullah and Mosammat Shaheda, said in a statement they are "completely devastated" by the death of their only son, who they buried on Saturday.
In their statement, released on their behalf by the Massachusetts Chapter of the Council on American-Islamic Relations, they expressed disbelief that the 20-year-old, who they called "Prince," is "gone."
"Prince was the most wonderful, loving, caring, generous, supportive, and deeply family-oriented person," they said. "He loved to travel, create art, and play sports with his friends. He expressed his feelings through gifts; he never forgot special occasions and always made sure that those around him felt appreciated."
Faisal had deep relationships with his friends, family members, cousins, and community members, according to his parents.
"He treated everyone with love, respect, and loyalty," they said. "Prince was a normal law-abiding citizen who had no record of any kind with law enforcement. He was never violent towards anyone. We want to know what happened and how this tragic event unfolded. We will cooperate with law enforcement and the Middlesex District Attorney's office as they investigate to have an understanding of this devastating event."
A fundraiser has been started by the Bangladesh Association of New England to support Faisal's family in the aftermath of his death.
Sajjad Sanid, an organizer with the group, wrote on the GoFundMe page that Faisal was a "bright, hardworking and studious young man who worked at CVS" while he pursued his bachelor's degree in computer science.
Faisal had a dream of joining the U.S. Army after graduation, according to Sanid.
"Being an active member of Bangladeshi community, he used to join all the community activities and helped the community on every aspect," he wrote. "He was a very smart and obedient kid who tried to support himself and the family by working part-time. Now, all this activities become past, and his [family's] dream of seeing him succeed has been shattered."
As of Tuesday, more than $45,000 had been donated to the fundraiser.
How the community and city officials have responded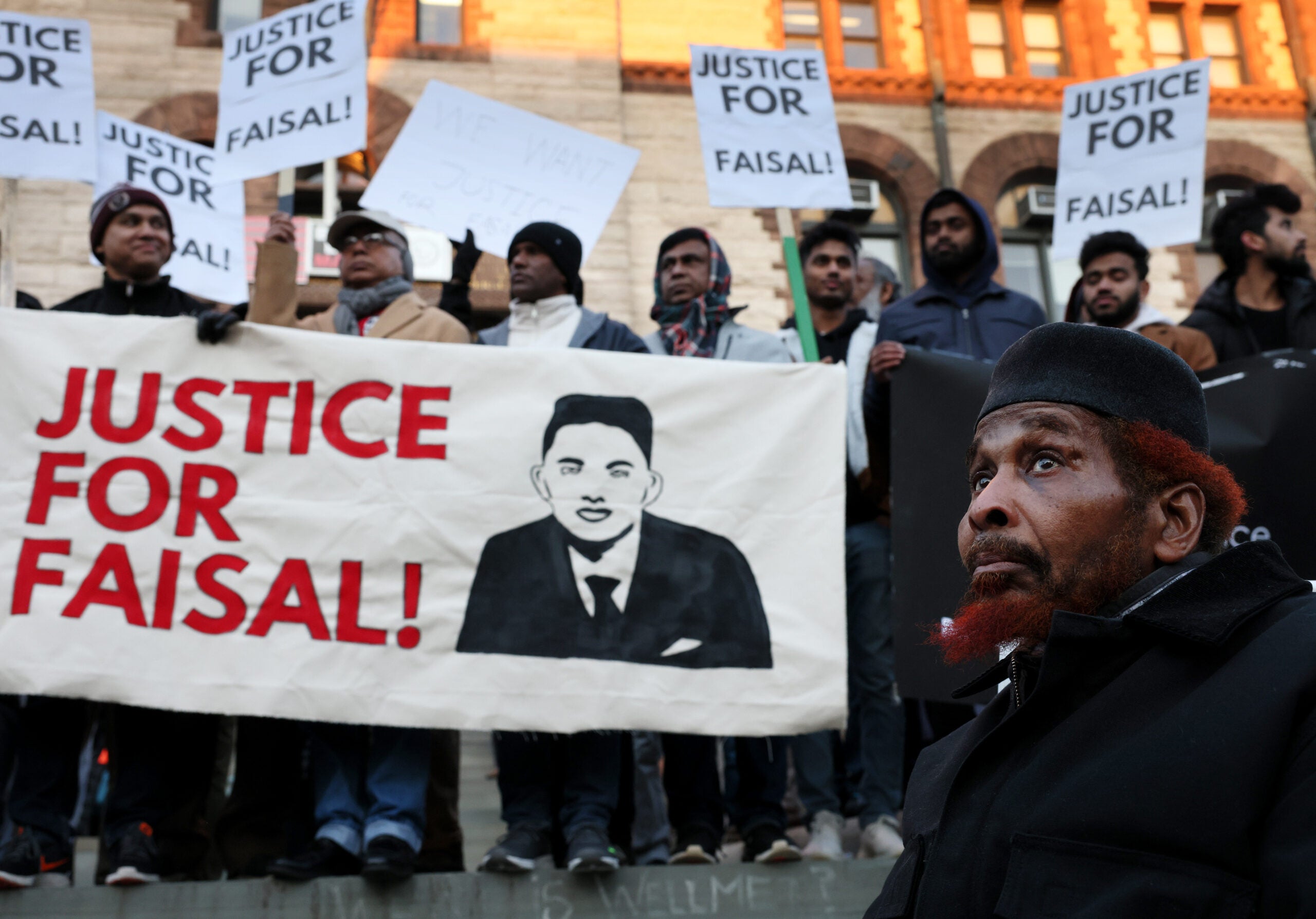 The Bangladesh Association of New England is one of the groups pressing the Cambridge leaders for answers and transparency following the shooting, organizing a door-knocking campaign to draw attention to Monday's "protest against police brutality" outside City Hall, which ended up drawing hundreds of participants, many of whom held "Justice for Faisal" signs.
Amtiaz Uddin, a friend of Faisal's, was moved to tears at the event speaking of his friend, according to The Boston Globe.
"He was my best friend." Uddin told the newspaper. "He was always being nice to everyone. He was always beside me for any situation."
David Fichter, a Cambridge muralist who had Faisal as a student in 2017 on the ongoing Mystic Mural Project in Somerville, was also among those who attended.
He shared remembrances of the young man on social media, describing Faisal as "a sweet kid with a lot of curiosity about life and the world."
In the hours after Monday's protest, officials reportedly addressed the fatal shooting during the evening's City Council meeting.
"Tonight, I share your distress, your confusion, your pain at your lowest point," Mayor Siddiqui said, according to WCVB. "As city leaders, we have a lot of unfinished work to address and we have to do everything we can to make sure this never happens again."
Cambridge Police Commissioner Christine Elow also reportedly spoke during the meeting, promising a complete and transparent investigation, according to the station.
"We've worked hard to build trust," she said. "I understand that this tragic incident may have shaken that trust."
The city is hosting a community meeting with Middlesex District Attorney Marian Ryan, Elow, and the city manager on Thursday evening at the Dr. Martin Luther King Jr. School to discuss the shooting and answer questions.
The City Council will also host a special meeting on Jan. 18 to discuss the "protocols, processes, and training of the Cambridge Police Department."
In addition, the city said the Cambridge Peace Commission is planning a meeting with the Cambridgeport Neighborhood Association related to the shooting.
The Bangladesh Association of New England wrote on Facebook that Monday's protest was "just the beginning" of the efforts to keep attention on the officer-involved shooting.
"As a community we will be united and fight hand in hand to get the justice," they wrote.
Newsletter Signup
Stay up to date on all the latest news from Boston.com