Local News
In Revere, plan to host warming station at senior center ignites heated debate
"Really, they just want what everyone else really wants: A safe place to live and a place to call home..."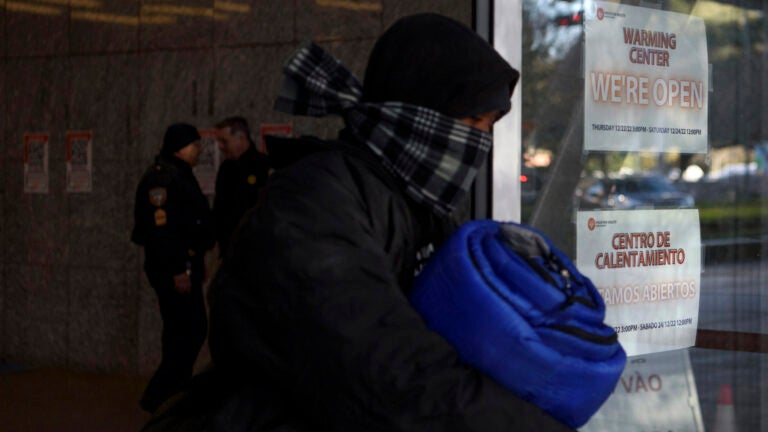 As Revere made plans to bring vulnerable populations in from the cold and open the city's senior center as an overnight warming station, City Councillor At Large Marc Silvestri offered his full-throated support.
After all, Silvestri — a decorated Afghanistan war veteran — remembers what it was like to need a warm place to call home.
"When I came back [from serving], I came back in a very dark time, suffering from post-traumatic stress and opioid dependency and waiting to get my VA claim and a job," he told Boston.com. "I was in need of housing and I could have been a person that needed that warming center."
He cited death tolls out of Buffalo, New York, and Texas, with their alarming stories of people dying in the punishing cold brought on during intense winter storms.
The warming station, Silvestri maintained, "is a life saving opportunity for us here in the city."
Yet while the benefits went largely undisputed during a City Council meeting Monday, the city's decision to locate said station at the Rossetti Cowan Senior Center drew heated debate among councillors and members of the public, some of whom raised concerns that the plan would put older residents at unnecessary risk.
What is Revere's plan?
The senior center has been used as a warming and cooling station periodically over the years, Mayor Brian Arrigo explained during Monday's meeting.
"We haven't done it very well," he acknowledged. "I'll be very, very honest and say when we've done it, it's been poorly planned in the past. We have scrambled to pull it together."
This time around, city leaders have come up with a plan to provide heating and cooling more consistently without impacting the senior center's services, Arrigo said.
Revere has teamed up with Malden nonprofit Housing Families, and the warming station will be able to accommodate up to 15 people from 7 p.m. to 7 a.m., Jan. 14 through March 31. On-site security and daily sanitation are part of the city's plan; beds are not, Arrigo clarified.
However, the clarification seemed to do little to assuage the public's concerns. At times, the councillors were forced to speak over the crowd as attendees shouted back.
What they said
"We're talking about people's lives here," a fired up Silvestri said, raising his voice over jeers from the crowd. "And you know what? If I have to lose some votes to save some lives, then I will do so."
Acknowledging concerns that opening up the senior center could put older residents at risk of exposure to illness, City Council Vice-President Joanne McKenna reiterated that daily cleanings are part of the city's plan.
"I understand that you feel like these people that are coming into the senior center carry diseases," McKenna said, adding, "I want to say, just give it a chance, because we are dealing with human beings."
Chief of Health and Human Services Lauren Buck noted that people entering the building will be screened for COVID-19 symptoms, and there will be rapid tests available to staff. By avoiding overlap between warming station users and seniors, the city is also mitigating the risk of COVID-19 transmission, she said.
The right choice?
Other speakers complained about how they were informed of the city's plans, with resident Francis Sarro saying the warming station was "sprung on" seniors.
"We're not against homeless [people]," resident Frank Schettino said. "But we don't think the venue is the elderly center."
He asked what would happen to those using the warming station when it comes time to vacate in the morning. Buck said the city has talked to Housing Families about providing transportation when the warming station closes for the day.
City Council President Patrick Keefe said he trusts the senior center will remain safe if the city proceeds with its plan.
"I do agree, though … that maybe there's a better alternative for location," he said, while acknowledging the reasoning behind the city's choice, including the center's emergency generator.
Councillor At Large Dan Rizzo suggested that the council vote to investigate alternative locations.
"Why are we digging in on this?" he asked. "I don't want to die on this hill."
Rizzo's motion passed over Silvestri and Ward 6 City Councillor Richard Serino's opposition. Silvestri told Boston.com he voted against the proposal because he felt city leaders had already done their due diligence by looking into all possible options.
What's next?
Nothing is set in stone, Arrigo said.
"This isn't a definitive forever plan; if things don't work out, if people feel uncomfortable and it doesn't work, we're happy to scrap the program," he said.
Silvestri told Boston.com he believes fear of the unknown drove many of the concerns raised on Monday.
"I know a lot of people think that because they [the seniors] push back, they're mean or they don't want to help. It's just the opposite," he said. "I know they want to help and I know their heart's in the right place."
He said he hopes some of the skeptics might visit the warming station once it opens to see the operation firsthand and meet some of the people using it.
"Really, they just want what everyone else really wants: A safe place to live and a place to call home, especially in the winter months when the elements will and can take someone's life," Silvestri said.
Newsletter Signup
Stay up to date on all the latest news from Boston.com