Local
There's a coyote running around Back Bay
After being spotted on Marlborough Street, a coyote evaded animal control officers for hours on Thursday.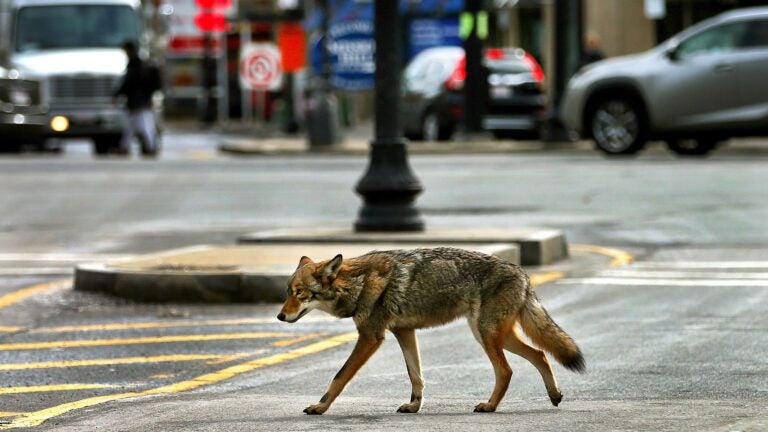 Discontent with stealing lawn ornaments on Cape Cod or terrorizing residents in Nahant, coyotes have set their sights on Boston, one of them evading animal control officers in Back Bay for hours on Thursday.
The city's Animal Care and Control division received a call from a concerned resident who spotted a possibly sick coyote on Marlborough Street Thursday, a spokesperson told Boston.com.
An animal control officer who responded to the scene met up with two Massachusetts Environmental Police officers and noted that the coyote was running around the neighborhood, according to the spokesperson.
Despite sticking around for a few hours, the officers were unable to catch the animal, and another animal control officer who arrived later was also unsuccessful.
Coyote sightings in downtown Boston are rare, but they do happen; Animal Care and Control receives around three to four coyote calls in the neighborhood each year, the spokesperson said.
Coyote mating season is also underway, so the division typically sees an uptick in calls this time of year.
Just seeing a coyote isn't cause for concern, as coyotes are naturally scared of people, according to the state's Division of Fisheries and Wildlife. However, coyotes that become habituated might approach people or pets on leashes and won't run off when harassed or chased, according to MassWildlife.
Those who come across coyotes can help keep them wild by scaring or threatening them with loud noises, bright lights, or water sprayed from a hose, the agency advised.
Similarly, officials recommend "hazing" coyotes by making noise and waving.
"Remember to never corner a coyote or approach one if it appears sick or injured," Animal Care and Control cautions.
Newsletter Signup
Stay up to date on all the latest news from Boston.com